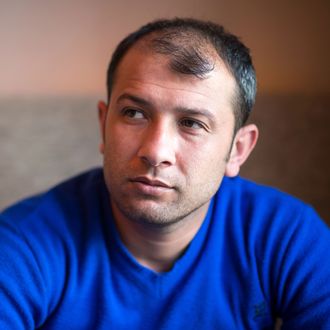 Raed Saleh, leader of the White Helmets.
Photo: BERND VON JUTRCZENKA/AFP/Getty Images
Raed Saleh, leader of the Nobel Peace Prize–nominated Syrian rescue group the White Helmets and subject of an Oscar-nominated documentary of the same name, has announced that he will travel to the U.S. to attend the Academy Awards. The White Helmets filmmakers had previously thought that Saleh would not be able to make it to the U.S. in light of Trump's travel ban, which restricted travel from seven majority-Muslim nations, including Syria. In a statement today, Saleh said:

"We are eagerly looking forward to coming to the Oscars. It will give us an important platform for the voices of Syrian children and women trapped under the rubble as a result of the airstrikes and artillery shelling, and for the voices of thousands of displaced Syrians who have been forced from their homes."
The documentary's cinematographer and a White Helmet himself, Khaled Khatib, will also attend the awards. "It is so important that people see the film," Khatib said. "It is important that people understand that Syria has people who want the same things they want: peace, jobs, family, and to live without the fear of bombs. This is what I hope the film does." Read the rest of his statement on Entertainment Weekly.