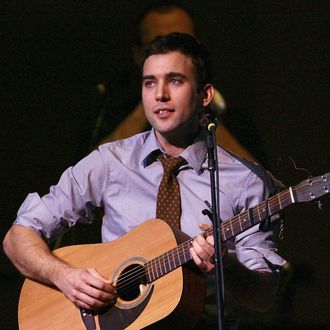 Photo: Scott Wintrow/Getty Images
When Beyoncé's Lemonade lost this year's Grammy Award for Album of the Year to Adele's 25, critics and musicians from across the music-loving spectrum all seemed to agree on one thing: The Grammys got it wrong, again. Though there's been plenty of think pieces about the award show's diversity problem among top awards, Sufjan Stevens cut through the dissent with a simple request. "Friendly reminder: don't be racist," Stevens wrote on his website. Stevens made his case further by calling out the award Beyoncé did take home at the Grammys — Best Urban Contemporary Album — as a weak consolation prize. He posed this criticism as a dialogue:
Q: WTF is "Urban Contemporary"?
A: It's where the white man puts the incomparable pregnant black woman because he is so threatened by her talent, power, persuasion and potential.
While it's unclear if the Grammy Awards were in fact intimidated by Bey's already-super-famous-womb-twins, her pregnancy certainly didn't hold her back from delivering the best performance of the night.