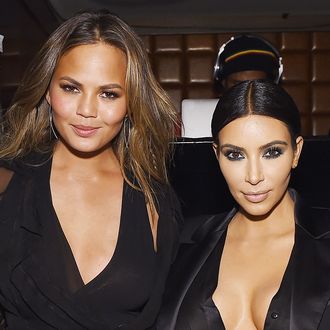 Photo: Dimitrios Kambouris/Getty Images for EMM Group
Earlier this week, Kim Kardashian and Chrissy Teigen just founded what is surely one of the most exclusive book clubs on Earth, and Kim has already revealed the first book on their list: Embraced by the Light, by Betty J. Eadie, a best-selling account of Eadie's near-death experience after surgery in 1973. Now that they've got their spiritual bases covered (though let's be honest, if they're really into NDEs, they should watch The OA) what else could the trio — rounded out by Kim's favorite hairstylist Jen Atkin — add to their to their Amazon carts for the club? We have some suggestions. And no, before you ask, Kim hasn't declared Selfish the hardback du jour, and that was a lame joke to make. We humbly submit the following:
1. Immortal Life of Henrietta Lacks, by Rebecca Skloot
We already know that Kim and Chrissy are into compelling nonfiction narratives, given their selection of Embraced by the Light, so this next book should be a hit. Plus, moms (even young, very famous ones) love biographies — especially when they're being developed into movies starring Oprah. This 2010 best seller tells the story of Henrietta Lacks, an African-American woman whose cervical cancer cells were harvested without authorization and used to create the first human immortal cell line.
2. Swing Time, by Zadie Smith
While Kim and Chrissy's book club will seem hip no matter what, we suggest they also tackle a newer release that's getting the literary world buzzing. Zadie Smith's latest book, about a pair of mixed-race women who were childhood friends who became estranged in their 30s, focuses on the rich inner lives of women who are half-rivals and half-friends — which seems like an on-brand choice for a book club adjacent to the Kardashian fempire.
3. 1984, by George Orwell
President Trump's first few weeks in office already have detractors comparing his presidency to a dystopia — and they've been inspired in large enough numbers to buy the book that it climbed Amazon's best-seller list. Given Kim and Chrissy's support of Democratic presidential nominee Hillary Clinton and vocal distaste for Trump, it's safe to say they're probably fearful of the future. There's no time like the present to give in to peak dystopian feelings, and 1984 is a good place to start. Plus, just imagine Kim discussing the merits of newspeak.
4. Hillary Clinton's Untitled Forthcoming Book of Personal Essays
Here's one way to make your book club ultraexclusive: Read a book well before it gets released to the public. If anyone's getting their manicured hands on the manuscript for this just-announced book of essays before the rest of us peons, it will certainly be Ms. Kardashian-West. She should just tell Hillary she'll leak the juicy bits about the 2016 election on Snapchat to drum up publicity.