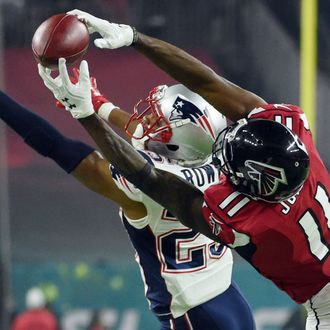 Julio Jones, No. 11 of the Atlanta Falcons, makes a catch over Eric Rowe, No. 25 of the New England Patriots.
Photo: TIMOTHY A. CLARY/AFP/Getty Images
Sunday's dramatic Super Bowl LI may be remembered as one for the record books — but those record books won't be kept by Nielsen. It's not that people didn't watch the Patriots-Falcons matchup: The pigskin classic had an average audience of 111.3 million viewers on Fox, according to the aforementioned ratings-measurement company. It will easily be the most-watched show of the year, and nearly matched the tune-in for last year's game on CBS (111.8 million); add in folks who watched online or on Fox-owned cable networks, and the audience jumps to 113.7 million. But as great as these numbers are, compared to other NFL championships, Super Bowl LI wasn't anything special. That's because the best way to judge long-running TV events is Nielsen's so-called household rating, since it measures the percentage of TV homes that watch a show (and thus accounts for U.S. population growth over time). Fox's broadcast Sunday notched a 45.3 rating, putting it behind 17 previous Super Bowls, including four held within the decade. (The top-rated Super Bowl off all time remains 1982's Super Bowl XVI showdown between the 49ers and Bengals, which earned a 49.1 rating).
Meanwhile, as much as sports fans appreciated the first-ever overtime Super Bowl, the extended length of the game depressed tune-in for the post-game premiere of 24: Legacy. The reboot of the Fox series still drew a healthy 17.3 million viewers, with millions more likely to catch up via DVR replays. But among the network's target audience of adults under 50, the Bauer-less 24 settled for a 6.1 rating, easily making it the lowest-rated post–Super Bowl show ever in the key demo. (The previous record-holder: CBS's older-skewing Elementary, which averaged a 7.8 demo rating in 2013 and actually started 15 minutes later than 24 did. It's possible, though unlikely, 24 will close the gap with Elementary once a week's worth of DVR replays are tallied. Finally, in case you were wondering: Viewers did, in fact, go gaga for Lady Gaga's halftime show. It drew 117.5 million viewers, more than all but one recent halftime show (Katy Perry's 2015 shark-infested performance, which averaged 120.7 million viewers).