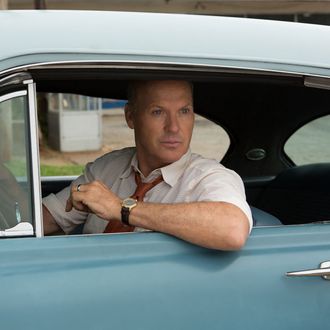 Photo: Daniel McFadden/The Weinstein Company
The Founder and Gold are two movies with a lot in common — both are biopics, both star actors who are in the midst of a critical resurgence (Michael Keaton and Matthew McConaughey, respectively), and both received wide theatrical releases near the end of January. Those close release dates shouldn't have happened though — at least in the eyes of The Founder's distribution company Speedee Distribution, a FilmNation subsidiary. The Daily News reports that Speedee has filed a $15 million suit against the Weinstein Company, alleging that Weinstein had made a deal to not release another film seven days before or after The Founder. The Keaton vehicle, which is about McDonald's founder Ray Kroc, was released January 20, while Gold hit theaters January 27.
Speedee claims that the $15 million is its share of the $25 million budget for the film. "The Founder and Gold both appeal to the same audience," Speedee wrote in the suit. "At all relevant times, the two films have been marketed to potential moviegoers in the same way … conveying an effective binary choice to the viewer: to see one movie or the other."
As Deadline points out, the January release dates were actually the wide release dates. They both received limited releases in December, with Founder on the 7th and Gold on the 30th. Whether this is a factor in Weinstein's defense is unclear.