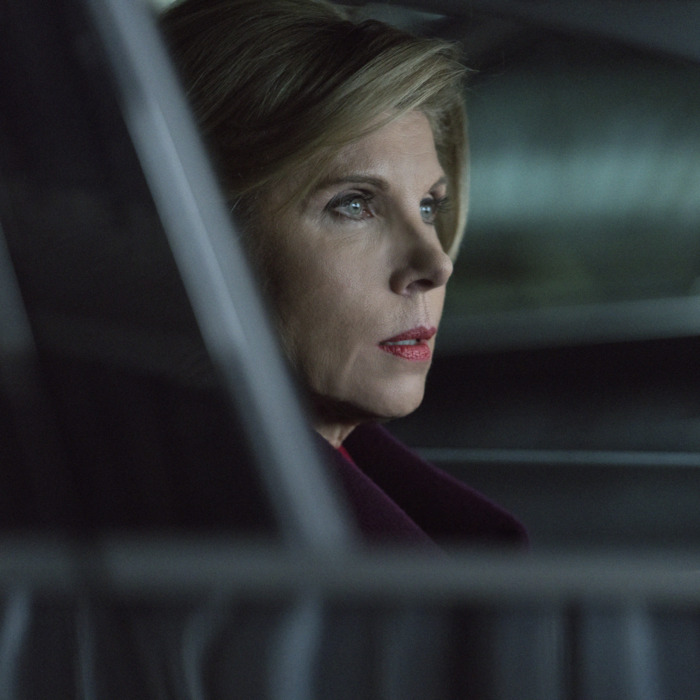 Christine Baranski as Diane Lockhart.
Photo: Patrick Harbron/CBS
Diane Lockhart isn't having the year she'd planned. The Good Fight, a new spinoff of CBS's beloved legal drama The Good Wife, opens on Diane as she watches Donald Trump's inauguration with a look of utter shock on her face. She doesn't say anything, but it's easy enough to read her thoughts: Is this really happening? Unable to get through more than a few seconds, she shuts the TV off and shuffles offscreen.
In a different world, with a different election, the opening scene of The Good Fight would've been a triumphant one. The series was initially conceived on the premise of a Hillary Clinton victory: Satisfied that she'd helped Hillary win the general election, Diane would feel inspired and empowered to take a victory lap of her own. According to Michelle and Robert King, the showrunners of both series, the pilot as originally written had Diane announcing her retirement. "Like most pollsters, we thought Hillary Clinton would win the presidency," the Kings told Entertainment Weekly, "so we wrote scenes about Diane retiring from the law because she 'broke every glass ceiling.'" Donald Trump's surprise electoral win came eight days into filming, which prompted sudden rewrites and reshooting.
As anyone who watched The Good Wife knows, Diane's commitment to progressive politics goes much deeper than voting. Her staunch beliefs are a cornerstone of her character: On The Good Wife, she was dedicated to pro-choice causes and a strong supporter of EMILY's List. It's not even a stretch to think she and Hillary would be friendly acquaintances — a theory corroborated by a photo of Hilary and Diane together that's seen on Diane's desk in the second episode of The Good Fight. Clinton's run for the presidency owed a lot to the work of many women of her generation, the women who fought back against sexism in male-dominated fields, and Diane embodied that fight. That's why the Trump presidency utterly devastates Diane — and, in the rewritten pilot, why it motivates her to leave the country for a villa in France. Diane's plan is thwarted when she loses her life's savings in a Ponzi scheme, but her desire to flee is wholly understandable.
Beyond Diane's political convictions, Hillary Clinton herself was a thematic staple of The Good Wife. (Clinton was also a fan of the show, which she mentioned in … yes, her emails.) In the early seasons, Alicia's decision to stand by her philandering husband was often likened to Hillary's choice to stay with Bill. Season seven even saw Alicia's husband Peter mounting a run for the White House in hopes of becoming Hillary's running mate. The Good Wife treated Hillary as the presumptive Democratic nominee long before the primaries were over, and so it makes sense that the Kings treated a Hillary victory as a foregone conclusion, too. This same certainty (which now reads as hubris) was evident in BrainDead, the political thriller created by the Kings that ran on CBS this summer, which depicted scores of D.C. politicians becoming unhinged as alien ants devoured their brains. Bonkers premise aside, what's notable about BrainDead is that it, too, treated a Trump presidency as a laughing matter.
Now, The Good Fight sits in a tricky position: By incorporating Trump into its narrative, the show must try to anticipate the actions of the most unpredictable president in American history. The second episode features a newspaper headline that reads, "Trump Policies Face Pushback From Civil Rights Groups" — accurate, yes, but a bit of an understatement. In that same episode, a client of Diane's firm bemoans how nothing good ever happens on his phone anymore, and it's better just to ignore everything. It's a pretty effective approach so far, but it's also a bit of a risk. If Trump does something truly unimaginable while The Good Fight is still plotting a more cautious version of what his presidency might look like, the contrast will be jarring.
What's most fascinating, though, is how the lens of the Trump victory affords the show an extra level of emotional resonance. Diane isn't just getting up every day to try to rebuild her career and come out from under financial ruin — she's doing it in a political and cultural climate where it's punishing enough just to wake up, eat breakfast, and get out the door. Under a Trump presidency, The Good Fight becomes much more than a story about an affluent woman who loses her job and savings and has to recoup her life. It's about how difficult it can be to do good work these days, under these circumstances, but how essential that good work is. This isn't a story the Kings planned to tell, but The Good Fight is already better for it.