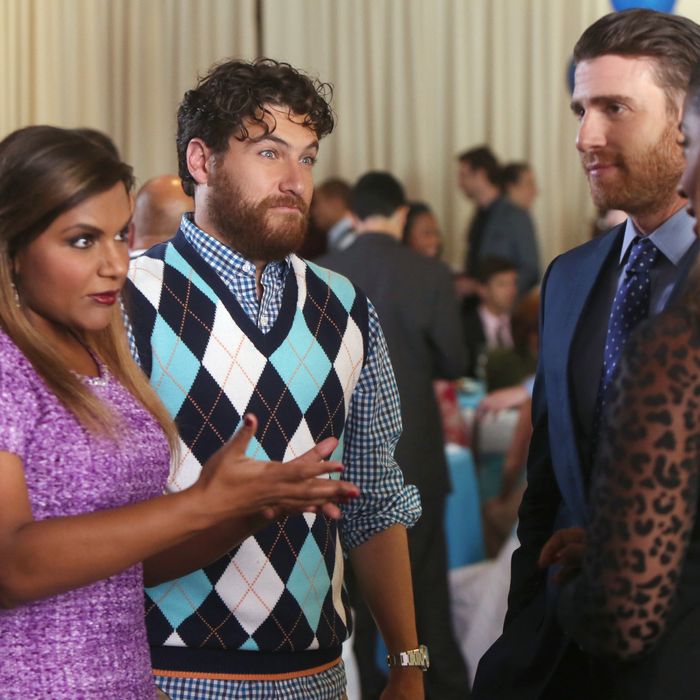 Mindy Kaling as Mindy, Adam Pally as Peter, Bryan Greenberg as Ben.
Photo: Jordin Althaus/Hulu
Happy second one-month anniversary, Ben and Mindy! It's their second time because they broke up after she kissed B.J. Novak, but as Mindy says, "I ignore things that don't follow my emotional narrative."
The line is perfect Mindy, and a harbinger of things to come in this episode. The main arc is firing on all cylinders, with tossed-off one-liners everywhere, a compelling story line, and one of Mindy's odd specialties: a religion-driven plot. The secondary story, about Jody's lingering feelings for Mindy, plays out a little less perfectly, but is still fun because it involves a Mindy clone. Two Mindys for the price of one!
Also, Peter is back for a visit, which is always a good thing. Of the many co-workers and love interests who have passed through The Mindy Project, he fit in better than most, and always slips seamlessly back in with the gang. Mindy accurately describes him to Ben as "like if Bud Light was an OB-GYN." She and Ben don't even have enough time to do their role-playing with Mindy as "boy-band sleazy manager" before Peter shows up at Mindy's window. Ben, startled, yells that there's a man at her window. "That's not a man," she says, "That's Peter!" (See what I mean? Solid jokes every other line.) Peter lets himself in, heads for Mindy's bedroom, and strongly implies that he'll be in there jerking off. Ben, stunned, asks, "Is he really …?" Mindy's reply: "Staying here? Masturbating? A doctor? Yes."
The next morning, we see Mindy and Peter's intense intimacy on full display as he sits on the toilet, brushing his teeth with her toothbrush while talking to her as she takes a shower. (Mindy has an interesting pattern of inappropriate intimacy with her male friends, a dynamic also present with Morgan.) He comes to work with her, even though he doesn't work there anymore, and we get still more throwaway jokes. The office needs a new receptionist because Ida, whom we've never met, is retiring. ("Her Cosby money finally came through," Jeremy says.) Colette has brought her new girlfriend, Karen, to the meeting and declares that she has hired Karen as the new receptionist because Peter said it was okay. When this office is funny, it is funny.
During Ben and Mindy's lunchtime hookup at the hospital, Ben mentions that his daughter, Lindsay, is having her bat mitzvah that weekend. At first, he convinces Mindy that she doesn't need to come because it will be a quiet, small, boring family affair. But as Peter and Mindy hang out over the weekend, Peter presents another idea: They should crash the bat mitzvah! Lindsay said via text that she wanted Mindy there, so it was almost like not crashing, right?
This doesn't go over super-well with Ben, of course, but he doesn't want to make a scene, either: "This is a bat mitzvah. We only argue about how drafty it is." He claims that he didn't invite Mindy because his ex, Patricia, can get kinda crazy. (Having seen the whole episode, that seems correct.) To cover for him when she's introduced to Patricia, Peter blurts out that Mindy is there because she's a rabbi. (Note: He is also on shrooms, so.) This lie works extra-well as a joke since the episode is already about a young black girl being bat mitzvahed. Why shouldn't Mindy be a rabbi? She explains that she's from a progressive synagogue that merged with a mosque, "which turned out to be a bad idea."
The lie turns out to be an even worse idea when Patricia comes to Rabbi Mindy for advice about Ben … and reveals that they split up because Ben had an affair. Soon, Lindsay spots Mindy and comes over to say hi, thus outing Mindy as Ben's girlfriend. (Ben's throwaway line to get rid of Lindsay is perfect: "Why don't you go talk to Nana Renee about how much movies used to cost?" This guy is really growing on me.)
There's also subplot in which Jody is dating a Mindy clone, which is obviously entertaining, even if it concerns me a bit the more I think about it. (Do we want to go back to a love triangle here? I'm not feeling it.) Anyway, the Mindy clone, Claire, wants to break up with Jody, but he keeps buying her gifts. Really expensive gifts, like a Mercedes. The medical office staffers, including that hot blonde doctor whose role has mainly been reduced to eating celery, have an intervention for Jody, who claims Claire and Mindy are "as different as a yam and a sweet potato." Then he sees the error of his ways, but I'm still not wanting this to go any further.
Meanwhile, Ben and Mindy make up back at her apartment. All's well until the next day, when Patricia visits Mindy at work … and reveals that she's moving back to New Jersey. Let's hope this is the only love triangle The Mindy Project tangles with going forward.