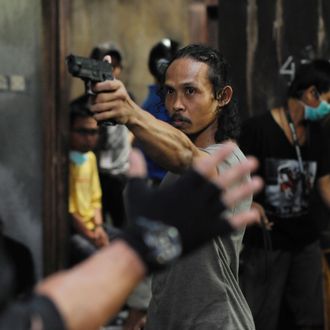 Photo: Sony Pictures Classics
If there's one thing we can all agree the dazzling 2011 Indonesian movie The Raid was missing, it was … absolutely nothing. The Raid is essentially a perfect pure action film, with damn near every minute filled by stunning fight choreography the likes of which we had rarely ever seen here in the United States. So, naturally, it's getting a domestic remake. Well, it's not a remake so much as it is a reimagining, according to director Joe Carnahan, who will also produce alongside Gareth Edwards.
The original movie, which The Hollywood Reporter called a "cult action hit," follows a SWAT team as they fight their way to the top of an apartment building that houses a drug lord. In a tweet about the news, Carnahan said, "It's not a remake. It's a reimagining of the same scenario. Everybody take a deep breath. We won't disappoint you, rabid-fanboy-from-Hell." That's fine, but a reimagining of the same scenario (except with white people) was kind of already made in 2012. It was called Dredd, and in it, two judges had to ascend a criminal-infested super-high-rise apartment building in Mega City 1 to reach the grizzled and ruthless drug lord at the top, played by Lena Headey. But, hey, as long as the fight choreography is on point, Carnahan's white Raid should be fun, especially if Iko Uwais can just reprise his original starring role.