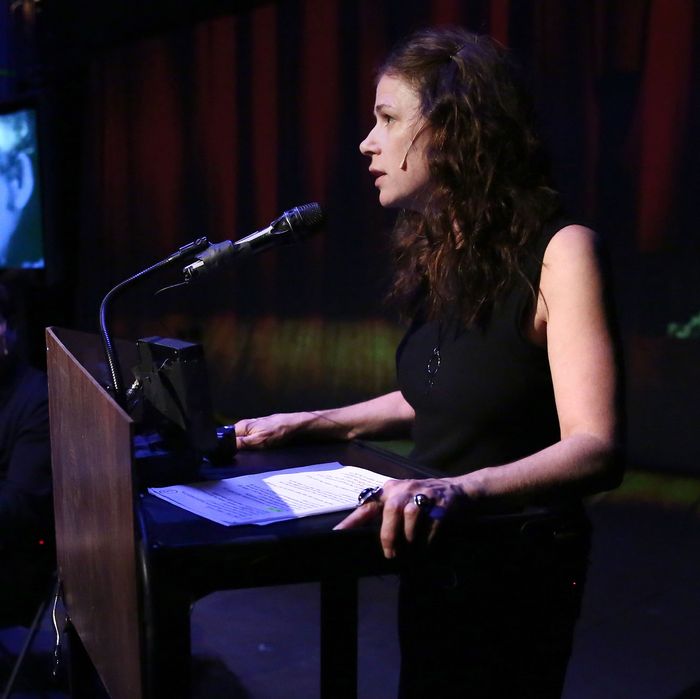 Maura Tierney in The Town Hall Affair.
Photo: Paula Court
On April 30, 1971, at New York's Town Hall, Norman Mailer, of all people, moderated a program billed as a debate on feminism. In the audience, having paid $25 each, were the would-be cream of the local intelligentsia, come to see what would happen when the author of The Prisoner of Sex, Mailer's recently published gynophobic treatise, wrangled with Germaine Greer, Diana Trilling, Jill Johnston, and NOW's Jacqueline Ceballos about women's lib. Johnston, who appeared stoned and spoke throughout in the breathy cadences of a coffeehouse poet, later described the event as "a disaster for women" because it occurred at all, yet she also called it the social event of the season. Mailer was the reason for both, being both condescending and glamorous. Trilling he called "our leading literary lady-critic"; his response to one heckler began, "Hey, cunty." But beyond the name calling, Mailer distinguished himself as the clownish misogynist everyone expected by framing feminism as a humorless stalking horse for a left-based totalitarianism. To his provocations Trilling remained tartly aloof; Johnston merely giggled and muttered like Louise Lasser. It was left to Greer, whom Life had recently dubbed the "saucy feminist that even men like," to snap the tongue out of Mailer's mouth, even while seeming to flirt with him. She wore a fox boa.
The evening was filmed by Chris Hegedus and D.A. Pennebaker, who eventually shaped it into the fabulously chaotic 1979 documentary Town Bloody Hall. Watched today the movie makes you gasp at Mailer's antique sexual politics (and homophobia!) but also leaves you astonished that a time existed, not long ago, when such a discussion could in fact be a sold-out social event and, however silly, serious and influential. Those conflicting qualities must be what drew the interest of the director Elizabeth LeCompte and the Wooster Group, whose amusing, somewhat random stage deconstruction of the debate, called The Town Hall Affair, opened on Thursday at the Performing Garage in Soho. Though the Wooster Group's brand of avant garde is more agreeable and engaging than that of many other companies, it nevertheless requires of its audience a certain tolerance for randomness, and a willingness to tarry and teeter at the point where pretension threatens to tip into obscurantism. You know it's experimental theater when the complex provenance of the text is treated as an art form, perhaps even more than the text itself.
In the case of The Town Hall Affair, that means throwing several layers of narrative, and several modes of narration, at the audience at once. Part of the hourlong play is a fairly literal recreation of excerpts from the debate, paired up and synced perfectly by actors performing in front of the corresponding clips from the documentary. While Greer is seen (and faintly heard) speaking in the footage, Maura Tierney doubles her live, down to the verbal stumbles and acknowledgments of applause. That Trilling is likewise embodied onstage, but by a man (Greg Mehrten), is a tactic I find impossible to parse. (Surely it's not a joke on Trilling's dowdiness — right?) As Johnston, Kate Valk somehow makes a case for the confused-seeming character that Johnston, seen simultaneously in the film, cannot make for herself. The acting is fascinating, which may be why Ceballos is omitted from the live presentation; she made only sensible, nondramatic remarks and would have been no fun.
But if a faithful reproduction were all The Town Hall Affair was up to, the Wooster Group would not have bothered; anyone can read a transcript of the debate online. Instead, LeCompte and company treat the underlying material as a two-dimensional armature on which to build a three-dimensional sculpture. Among the many things added in that process is a second Norman Mailer; he's played by both Scott Shepherd and Ari Fliakos, splitting the material according to some plan I could not decipher. (And why do they have different accents?) We also get "digressions" in the form of bumpers from Johnston's Lesbian Nation, snippets of songs (including "Dream a Little Dream of Me"), and excerpts from Mailer's 1970 film Maidstone, in which Mailer starred as a director running for president while making a sex movie. You may find yourself mystified when one of the Town Hall Affair Norman Mailer figures suddenly turns into the Maidstone Norman Mailer character (called Norman Kingsley) while the other Town Hall Affair Norman Mailer figure turns into the Maidstone character of Kingsley's brother (called Raoul Rey O'Houlihan and played by Rip Torn). As happened in the actual filming of Maidstone, Shepherd-as-Torn takes a hammer to Fliakos-as-Mailer's head and a brutal wrestling match ensues. (But they are also O'Houlihan and Kingsley wrestling, and also the two halves of Mailer in the current play.) Still copying Maidstone, in which one of Mailer's children starts to cry seeing her father thus injured, a little girl appears onstage at the Performing Garage — Fliakos's actual daughter — and does the same thing. And so might you reading this: hammer or tears.
The avant-garde is easy to mock; one of its best qualities is that in its search for new kinds of meaning it leaves itself so open to ridicule. But that doesn't make it mean more. In this case, I'm afraid, despite the superb work of the actors — the women especially — the added material mostly detracts. Leave aside its hermeticism; every play has its secrets. The editing of the underlying debate material actually flattens what it means to enhance. While the doubling of Johnston and Greer does expand our feeling for those women, the reverse occurs with everyone else, especially the bifurcated Mailer. His awfulness is multiply represented but his intelligence (which was part of what made him awful) is not. The predicament of feminism in 2017 makes that a feel-good choice, suggesting that cocky bullies are the sum of the problem. (At one point Mailer offers to "take out my modest little Jewish dick and put it on the table.") But making a spectacle of Mailer's macho allows us to miss the subtler idea that gets muffled beneath his ridiculous chauvinism: that our society makes most men miserable too. We all need liberating together.
The Town Hall Affair is at the Performing Garage through March 4.