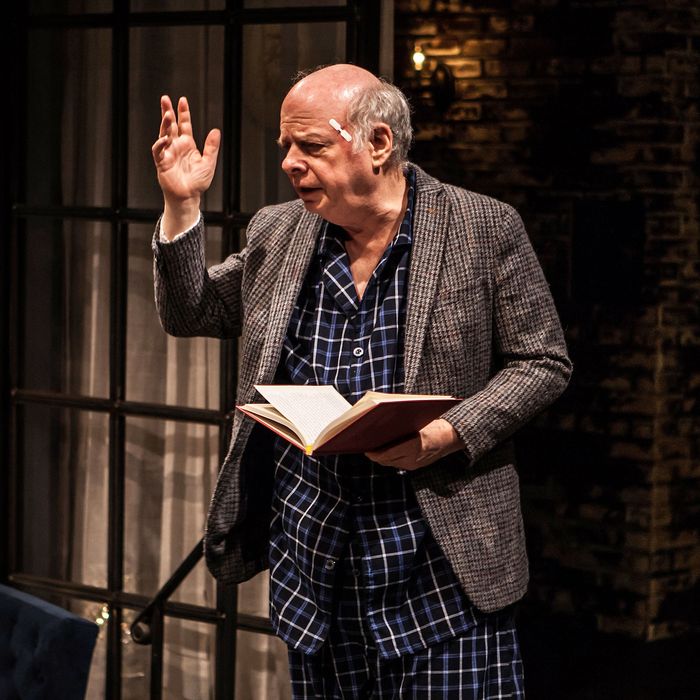 Wallace Shawn, playwright and co-star of Evening at the Talk House.
Photo: Monique Carboni
For at least 30 years, Wallace Shawn has been warning theatergoers about totalitarianism: how near it is, how easily we might acquiesce in it. I have to admit I've sometimes found his alarm to be a little, well, alarmist. In plays including Aunt Dan and Lemon (1985) and The Designated Mourner (1996), which were set in dystopian versions of our own society, intimations of strongmen with final solutions materialized within genre frameworks that barely seemed able to support them. Aunt Dan and Lemon begins as a family drama and The Designated Mourner as an academic satire; I wanted them to stay that way. Still, something always stuck with me about the nervousness and dawning horror of those plays, the way they suggested that our comfortable world is always just a series of smallish blunders away from disaster. Even dear, cosmopolitan New York, in Shawn's vision, could turn unresistingly into a post-Soviet or South American–style nightmare. Like the playwright himself, who makes his living impersonating cute gnomes in movies and television, these works were adorable in précis but tremendously darker upon inspection.
And now I see that he was right. His latest play, Evening at the Talk House, which opens tonight in a terrific production directed by Scott Elliott for The New Group, is perhaps his most perfect alarm, arriving at the necessary moment and focusing on its own medium: the theater. That focus is part of the clever bait, leading us to expect a convivial backstager. Also clever is the scenic design by Derek McLane, which depicts the cozy main parlor of a once-well-known theatrical club called the Talk House; when you enter the Signature Theater's Linney space, you are welcomed directly onto the set with drinks and smiles like guests at a reunion. What could go wrong amid such warmth?
That's an especially nice touch from director Elliott, because the action in fact begins with a gathering of theatricals ten years after they worked together on a fancy purple dud called Midnight in a Clearing With Moon and Stars. The author of that play, Robert, portrayed by Matthew Broderick with his usual befuddled look — here apt — genially introduces us to the others. Over at the piano is Ted, the composer of Midnight's incidental music (John Epperson). On nearby easy chairs and sofas, sipping cocktails and laughing over old times, are Tom, the bluff leading man (Larry Pine); Annette, the wardrobe supervisor (Claudia Shear); and Bill, the genial producer (Michael Tucker). Also present, and working constantly, are Nellie, the Talk House's maternal proprietress (Jill Eikenberry) and Jane (Annapurna Sriram), a waitress-actress whose career flipped the other way for a while before flipping back.
And then there's Dick, played by Shawn himself in a haunting self-parody: "a sort of rather pitiful theatrical hanger-on," as Robert describes him, who was once a dandy but is now wandering about the Talk House in a ratty jacket over pajamas. Moreover, Robert says, he is "almost fat," trembling with what could be drunkenness or neurological impairment, and visibly bruised about his face. Despite having achieved fame years earlier as a mustachioed character called Chico on "the nation's most beloved show," Carlos and Jenny, Dick went into a tailspin after Tom beat him out for the lead role in Midnight; he is now living in a room above the club, where Nellie takes care of "certain people" who need temporary help. The nature of Dick's particular need becomes clear when he casually tells Robert that he was "beaten, rather recently, by some friends" — a beating he says was justified. That explains his appearance, and possibly his less than nostalgic take on the play the others have come to celebrate. He is, in short, the one person you most don't want to see at your reunion.
But the reunion, it turns out, is in any case more of a wake. In the decade since Midnight, it seems that the theater as a business has mostly ceased to exist. "Eleven people still put on plays," says Annette, "if you call what Freddie Tinkle and his little friends do 'plays,' and nobody sees them, and nobody gets paid." She herself has gone from supervising costumes to doing private tailoring for wealthy clients — and more recently to something even more degraded that I will not spoil except to say it involves drones and quasi-secret antiterrorist initiatives. Not that Annette is embarrassed by this new work, for which paychecks arrive on time; nor is she the only one doing it. It seems that anyone who hasn't succeeded, like Tom and Robert and Bill, in the theater's successor industry of beloved sitcoms is either engaged in this nefarious employment or likely to become, like Dick, one of its victims.
The collapse of the theater, concomitant with the rise of a vaguely described power-sharing presidency, is played for plenty of humor. The titles of plays and sitcoms — always part of backstage japery — are as ridiculous as always here, but also strangely unsettling: Paper Towels, Deodorant Highway, The Elephant Does Forget (with its famous "dialysis scene"). The dark work that Annette and others do in the name of protecting the country from harm is likewise laughed off with nervous titters and bland rationalizations: "Don't you know that children are being trained to do it in school?" But beneath the humor, eventually oozing up and drowning it, is Shawn's warning about the uselessness of art, and in particular of the theater, whose inherent elitism renders it incapable of responding meaningfully to politics, and whose general tone of hysteria leaves it singularly susceptible to co-optation. What is a play, Robert the former playwright asks, but "a small group of humans sitting and staring at another small group of humans"? And what is a playwright but a man whose role is merely to choose whether "the cows onstage" say "Moo" or "Moo-moo"? When evil is afoot all that show folk can do is drink and sing Sondheim — in this case, Elliott's wonderfully interpolated "Good Thing Going."
In fact, show folk today — and slowly, slowly, the theater itself — are becoming more alert than they have been for decades to the need to be, or re-brand themselves as, active participants in democracy. Recent resistance demonstrations, and the greater presence, especially Off Broadway, of topical plays, are examples of that. But topical plays are peculiarly difficult to pull off as plays or topics. Where Evening at the Talk House achieves its unique power is in the slippery subtlety of its contradictory arguments. Surely Shawn would not waste his time writing a cautionary tale for a world beyond caution, or making it so deceptively funny (until it isn't) if he did not believe in the power of words to do more than moo. And yet Evening at the Talk House is, as its title suggests, uncommonly pessimistic about the theater: It's late in the day and it's all gas. Worse, plays may be a part of the problem, helping to preserve a state of zombielike inertia that permits or possibly invites atrocity. In Shawn's world, the theater isn't merely dead; it's undead.
* * *
Caryl Churchill does not seem to have given up on plays — just on humans. Far longer even than Shawn, she has been dramatizing, in ever more abstract ways, the dissociations and dreads of modern life, and the fascist tendency of the modern state. With her latest, Escaped Alone, which opened last night, she has pushed those concerns to their contrasting limits: The life she depicts is as bleak as the form she employs is brilliant. In both, her economy is breathtaking; pretty much all that happens over the course of an hour is that four late-middle-aged English women sit yakking away a summer afternoon, or several afternoons, in a fenced-in backyard. It's more than enough to gut you.
At first, the chatter is exactly what you might expect: banal and hilarious and interpenetrating. But as the talk of children's jobs, bad teeth, and lost keys gives way to cloudier topics like boarded-up shops in town and failing medications, Churchill springs her big formal trap, a series of "we interrupt this play" bulletins from an apocalyptic future in which disasters both gruesome and absurd have occurred. These bulletins are reported in the form of warped Dada one-liners ("Birth deformities outpaced the immigration of plastic surgeons") by one of the women, a Mrs. Jarrett, who alone seems to possess this peculiar information. (The play's title echoes a haunting phrase from the Book of Job: "I only am escaped alone to tell thee.") As expertly staged by James Macdonald in this Royal Court production at BAM, these monologues take place in a separate stage world whose witty design — a collaboration among Miriam Buether (sets), Peter Mumford (lights), and Christopher Shutt (sound) — suggests the red-hot filaments inside a toaster, and the noise you imagine your flesh would make if you lived there.
The frequent and regular alternation of backyard and toaster could easily become rote, but the astonishment of Churchill's language, both the heightened and the hackneyed, keeps your ears from settling. Furthermore, a subtle change gradually alters the "realistic" scenes, as if they'd been infected by the others. Primed by the environmental-political disasters of the not-very-remote future, we gradually become aware of the disasters lying dormant, or not so dormant, in each of the women. One harbors a psychotic fear of cats, one unmitigated rage; one is so depressed she hardly sees the point of talking, and one — well, you should find out for yourself. Though some of this is quite funny, Churchill never condescends to her characters, nor does the superb cast: Linda Bassett as Mrs. Jarrett; Deborah Findlay as Sally, the ailurophobe; Kika Markham as Lena, the one who's depressed; and June Watson as Vi, whose garden they all visit. Together they counteract the idea that calamity is what happens later, discontinuously. Or even what has just started happening now. (Both plays were written well before the recent election.) Rather, calamity is what has always been happening, Churchill shows, with her terrible ability to make disaster, and complicity in it, seem commonplace.
Evening at the Talk House is at the Signature Center through March 12.
Escaped Alone is at the BAM Harvey Theater through February 26.