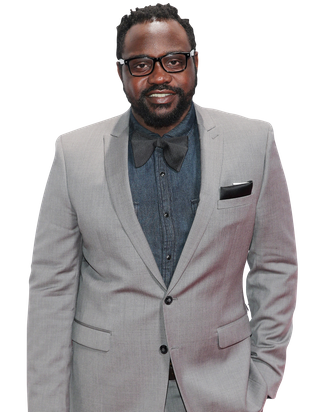 These days, it's hard for Brian Tyree Henry to go anywhere without someone yelling "Paper Boi!" But after tonight's heartbreaking episode of This Is Us, fans might start asking the versatile actor to slow-jam with them instead.
In "Memphis," Henry plays a cousin of William Hill (Ron Cephas Jones) in both past and present timelines. He also belts out a gorgeous original song, "We Can Always Come Back To This," which connects William's childhood in Memphis to his new relationship with his biological son, Randall Pearson (Sterling K. Brown). Working on the episode was like a "coming home" of sorts for Henry, who is godfather to Brown's elder son, and knows Jones from the New York theater circle.
While filming Irreplaceable You in New York City, Henry spoke to Vulture about finally performing with his best friend, getting emotional on set, and why he's nervous about unveiling the song, which is now available on Spotify, iTunes, Apple Music, and Google Play.
You and Sterling K. Brown are best friends. You're both having a lot of success at the same time. How did you end up on his show?
It's a dream come true, man. I really, really have been waiting for the day to share this opportunity with him. And what better way to jump on the show and play his distant cousin? The people at NBC were just so gracious and so kind to allow me the opportunity to be a part of the show and work with Sterling and Ron Cephas Jones, who I have a history with in theater back in New York. It was so much fun. I've been hanging out with Mandy [Moore] and Milo [Ventimiglia] and Chrissy [Metz] and them before filming. We've been at a lot of events together, and we all just really hit it off. It was like going on set to be with family. Go play. It was an amazing experience, all around.
When you say you had been waiting for this opportunity, what do you mean?
To act with Sterling in this way. We'd always have the opportunity to share the stage, but we never shared scenes together, which I always thought was hilarious. So to finally get a chance to be in a show where we actually get to play with each other, it's great. And also to play family members, know what I mean? Because he is my family. It was just an awesome opportunity. Also, I got to be in really dope '70s clothes. I feel like that was my era anyway, so when I got to put on the costumes, I was in heaven. It was so much fun.
How did you and Sterling meet?
We met in the New York theater scene over ten years ago. You know Tarell Alvin McCraney, who wrote Moonlight? He and I were classmates at Yale and he did a play he was workshopping at the Sundance Theater Lab in Park City, Utah, so he cast Sterling and me. That's where we met. We've all known each other for so long and it's so great to see all of us shining at the same time. It's so great to see this happening for all of us, because we've always supported each other artistically and creatively for so many years. They're my brothers. [Editor's note: McCraney wrote a drama school project In Moonlight Black Boys Look Blue, which director Barry Jenkins used as the foundation for Moonlight.]
When did you work with Ron Cephas Jones?
We used to do workshops in plays together in New York. I think it was a workshop at the Public Theater around 2009 or 2010, and we also did a workshop of a Tarell Alvin McCraney play together, actually. Tarell brings people together, man. His work is so phenomenal. I'm so glad that everyone is finally recognizing how amazing he is and, you know, he's got so much more to do. It was like a big reunion for me to be on that set. One of my classmates, Amanda Warren, is also in the episode. She plays William's mom. It was one big reunion of all these brilliant talents that I've known for a very long time in this one episode.
Your song was so beautiful. It really showcased what a beautiful voice you have. Do you find yourself singing it sometimes?
It's so catchy. I'm always singing it in the shower. It's so reminiscent of Otis Redding and Sam Cooke. Those guys could sing these ballads that break your heart, but it's just so smooth, like you know they're singing from the bottom of their hearts. It's a beautiful, beautiful song. Sometimes it was hard for me to get through it because I would get choked up.
Did you help write it?
No, [This Is Us composer] Siddhartha Khosla and Chris Pierce wrote it and then they brought it to me. They trusted my voice to put my flair on it. We wanted it to showcase the relationship between Randall and his family and his father, you know? We have that verse that says, "Look up, look up, not down," which is what William tells Randall all the time, which is what William's mother told him. It's beautiful.
In those club scenes, you're working with Jermel Nakia, who plays the younger William. It looks like a lot of fun. Was it?
I wanted to have as much fun as I could with Ricky. He's not much different from [Atlanta's] Alfred in certain ways, because he has this cousin who is also in the music business, and he sees the potential of his cousin, and he wants him to just be great and go out and get everything he wants in life. I feel like Ricky is the guy who always believed in William, and really wanted to show him that life is to live in it. He reminds me so much of those friends and those family members that see more in you than you see in yourself. Also, Ricky is just the coolest dude in the world. He was really fun to play.
And you get to play him as an old man, too. I thought the make-up artist did a great job.
I showed them a picture of my father because they aged Ricky to 76 years old, which is the age of my dad. They made me look exactly like my dad. It was the most uncanny, craziest thing. That makeup and hair department is the bomb. I got kind of overwhelmed from time to time when I was looking at myself in the mirror. I was like, Oh my god, I'm looking at the face of my father. Which is basically the storyline of this episode, you know what I mean? No matter how far you go, the face of your father is right there with you. It was remarkable. I was very emotional some days when I was on set in my older makeup. I can't wait to see what my father's going to say. I know he's going to drop to the floor when he sees me. He's going to go crazy. I mean, they made me look exactly like him, from the glasses to the haircut to the mustache. It was unbelievable.

Were you bummed you didn't get to go to Memphis with Sterling and Ron?
You know what? A little bit. It's so funny because my friend Amanda Warren, who plays William's mom, she went to Memphis. Since I didn't get to go, she shipped me a box of ribs and barbecue from this spot called Rendezvous. And I was like, You know what, that's just as good, thank you. I'll just take these ribs.
As an old man, you have the jam session with Randall and William. You finally get to act with Sterling. Was that a big party?
It was the hardest thing not to break character. I was like, Is he scatting? It was really funny to watch Sterling get up there and take over the stage with us. There were a lot of takes because I was like, I'm going to break. This is hilarious. But it was unlike anything I've ever experienced. He's such a pro. He and Ron are such pros. Everything I learned about how to be an actor and how to do what I'm doing right now, I learned from Sterling. To watch him work like that, it was really cool. For us to get a chance to watch each other work, it was definitely one of the best moments of the year for me so far.
They're totally believable as father and son, right? They just have it.
They're absolutely fantastic. I had to make sure that if I went on this show, I was like, You gotta make them look good. Don't embarrass them. I hope it came through that way. I feel like it did.
I really like the scene when William tries to apologize to Ricky and Randall keeps geeking out that he's meeting his cousin.
That's Randall. He's just such a loving person. He looks at everybody with fresh eyes. He doesn't pass any judgment. He really wants to see the good in everyone. This episode really shows him that family is important, even if you haven't known them for a long time. Family is where you make it. You get to see Randall and William experience that journey. That's why I love that it's a road trip — I love taking road trips all the time. You get a chance to discover all these different things about yourself that you didn't know. That's much like life: If you're willing to sign up for the journey, it makes it so much more worth it.

Let's talk about how busy you've been since Atlanta. A lot has happened in less than a year.
I'm very grateful, first of all, for my friends and my family because they keep me grounded and they make sure I'm taking care of myself and that I'm keeping my sanity about me. The fans have been the most unbelievable people in the world because they got the news that we won't be back until 2018 and they took that with such grace. But you know, I've been busy. I'm here in New York right now, filming a movie, and I've got some other projects on the burner that I'm excited to get going. I stay in contact with my castmates from Atlanta almost every day. I'm still in shock about us having two Golden Globes. It's so strange that it's now two Golden Globe–winning Atlanta. And we just won the Writer's Guild Award the other night. I'm just glad the people are recognizing that we made this universe and this world of these stories, of these people, and they're giving us their props. They're willing to go along on the ride with us.
What movie are you working on?
It's Irreplaceable You and it's starring Gugu Mbatha-Raw, who is one of my favorite actresses. She's an absolute delight to work with. It's a romantic comedy, but the subject matter is a little dark. It's all about what happens when life throws a wrench into the plans you thought you had with the love of your life. How do you move on and make sure that they're okay, if you have to move on apart? It's been a great project and I like that I'm filming in New York for once. It's so rare that I get to film in the city that I live in.

What about Vice Principals? Will you be on that again?
I'm only on the first episode of the second season because at the end of the first season, they ran the Brown family out of town. So they definitely succeeded in getting her fired.

You were also on How to Get Away With Murder as a lawyer. Very different than This Is Us or Atlanta.
I still can't believe that happened! The first day on set, it's just me and Viola Davis and Cicely Tyson. Am I really in this courtroom with Viola and Cicely Tyson on my first day? That cast is just so incredibly welcoming. Aja Naomi is one of my good friends. She's a fellow Yalie and I've known her for years, so it was so fun to have this opportunity to jump on these sets of my friends who are doing so well on these great shows. To play a lawyer, that was just icing on the cake. You couldn't beat that one. It was really a cool experience. I will say that law jargon is really hard. I have to tip my hat to these cast members because I was like, If I have to say the word "impugn" one more time …

I don't think "impugn" came up on This Is Us. But sadness sure did. Did you cry when you saw tonight's episode?
Of course I did. I don't think people are ready for what this episode is going to dig up. This Is Us is so good at giving you a reason to have your Kleenex next to you every week, but this one, I can't wait to see how people react to it.
Do you think people will be surprised that Paper Boi has those pipes?
Yes! I'm nervous but I'm excited at the same time. I love the element of surprise, throwing people off of what they think they know about what I can do and who I am. I just want to keep doing that.