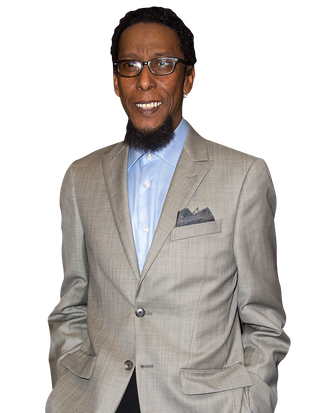 Last night's episode of This Is Us gave viewers the moment everyone knew was coming, but no one wanted to see. During an unforgettable road trip to his Memphis birthplace, William Hill (Ron Cephas Jones) died in a hospital, with Randall (Sterling K. Brown) by his side.
The poignant hospital-bed scene came up first in the shooting schedule, which meant the actors had to dig deep for their farewell before filming anything else. Although Jones says he and Brown weren't ready to start with their last conversation, "in the end, it was good to get it out of the way." Brown agreed it was a "tough" scene to work through. "I wasn't looking forward to it. I didn't want to say good-bye. Sterling didn't wanna say good-bye to Ron! It was exhausting, but I'm glad we got it over with. The rest of the time we just got to enjoy each other's company," he wrote in an email to Vulture.
Written by series creator Dan Fogelman, the episode covered William's life from birth to death, and showed how the death of his mother derailed him from his shot at a successful musical career with his cousin Ricky, played by Brian Tyree Henry. Jones, who says he is still mourning William, spoke to Vulture about his hope that the character will return to This Is Us, his father-son rapport with Brown, and the "special" experience of filming in Memphis.
I'm so sad about last night's episode. We won't be seeing you anymore on the show!
Well, at least not in that incarnation anyway. You never know, with the way the writers are, but it's all exciting, you know? The show being picked up for two more seasons and the success that it's had. So, whatever the case may be, I'm blessed.
Do you think we might see William again?
I don't think anybody knows what's gonna happen in season two. But I do know the way they write the show, with all the different flashbacks and pieces of life that you don't know about William yet, that could very well be the case.
How hard was it to get into the right place mentally and emotionally for the death scene?
It was difficult. Sustaining those emotions over a period of time, and having to work through the technical stuff, that's where most of the difficulty comes in. Everything that goes into it comes from inside, so you have to be prepared to open yourself up and let those feelings flow, and let them happen naturally so that it just looks real — because it is. Sterling and I work in very similar ways, so we both were very trusting in being able to open up to each other. It's about trust when you do scenes like that, to make it connect not only in a visual way but also in an aesthetic way. It touches a deeper chord in everybody.
You knew Sterling before you started on this show, right?
I knew of Sterling, and we had worked together. We did a workshop together. Actually, it was a play by Tarell Alvin McCraney, the guy who wrote Moonlight. [Editor's note: McCraney wrote a drama-school project In Moonlight Black Boys Look Blue, which director Barry Jenkins used as the foundation for Moonlight.] I also knew of Sterling because he was in a production at the Public. You know, the circles are small in New York. You hear about actors who are doing wonderful things, and he was one of those shining lights that came through New York, and then went on to L.A. to do some really good work.
You have such an easy father-son rapport. Was that an immediate thing?
Yeah, it all comes from how you work and how you are with people when you're not shooting. Instantly, Sterling and I connected because we had a very broad and deep respect for one another's work, and that's always a great place to start. You start understanding what the scene needs and what the relationship is, so it's sustained throughout. We were having coffee together, eating together. We felt good about being around each other, and that says a lot.
You mentioned that you and Sterling work similarly. What do you mean by that?
It's more like a technique; it's derived more from the Meisner technique, but it's developed into something so much more. It's about truth. It's about always seeking the truth in the material. You've done all the homework and you've memorized your lines, so it becomes about trusting what happens between the eyes and the actions. You're going to react appropriately, and that's what makes it look so real. That's what I mean about working with Sterling. You can feel that from another actor. It's about a nod or an adjustment or, I really like that thing you did with your lip or your eye, acknowledging those little things that make the scene or the characters more honest and truthful.
Sterling was so great in that hospital scene. I don't know how you held it together.
I know! He has a commanding and powerful eye. He has tremendous eyes. A lot of his work extends from the way he's able to use his eyes. Very active and powerful. Powerful. And you can see it in those scenes that he does. It's just wonderful to watch him work.
What has it been like playing William?
I knew instantly I wanted to do it. When I got the sides on the first script and I read it, it was hard to believe I was reading something so good. So I put in the word for the audition, and when I got the role, I felt great. I felt honored. I felt like I had an opportunity to work on something really good. And then in developing William, talking with Dan [Fogelman], and John [Requa], and Glenn [Ficarra], the other two directors — and many of the writers — we had an opportunity to pull together a man who was fleshed out, so to speak. I had an opportunity to actually put in a lot of my history, and do a lot of stuff that actors love to do when you have a character like that. So, yeah, I felt wonderful.
Were you ready for William's death?
No, I'm a big fan, just like everyone else. So of course not, no. It was an awful feeling, you know? A tremendously awful feeling. Not only as an actor, because you fear you're going to lose a role you got so attached to, but also it was excruciating to know that the character wasn't going to exist in the way that he had. I'm in mourning just as much as all the other fans, if not more, because the actor is also mourning the character. It's a hefty, heavy feeling. The reality is that it's a beautiful thing to be a part of, and also having hope that the character will continue to sustain next season and the season after. I have a lot of faith in Dan and the writers. They're just so brilliant. The way they're writing the show and all the gaps that are in William's life, we may very well see those things coming in the future. I have a lot of faith in that, and I believe that surely may happen.
What was your favorite thing you learned about William in the episode?
I think his love for Randall. It was like the family and the children and Randall gave him life so that he could get that love he needed to move to the next place. His son and Randall's family built him up with their love. That's what he learned, and I hope that's what the audience sees. Also, it's a beautiful passing.
It is.
Knowing that your life is going to remain, that a piece of you is going to remain. You know, when I think about my daughter and the day that I move on, there is a piece of me that will remain with her. So that's how I saw it and felt it.
The most beautiful thing about it, I thought, was that moment when we see him embracing his mom, and she's a young woman.
That's right. It's like he's meeting his mother in the afterlife. It's fantastic writing. William is like a little boy, even though he looks older. When she hugs him, he all of a sudden looks like he's a little boy. By the time you get to the end of the episode, it's like he's reborn.
How long were you in Memphis filming with Sterling?
It was only two days, and it was very busy, you know? They got a lot of stuff in. The days were long, but the second day when we were on Beale Street, that was the most lifting and beautiful part of the trip for me.
Why was that?
Beale Street is a very famous street in the history of America. You know, American music in particular. From the blues to jazz, it's a connecting city from New Orleans that goes all the way up to Buffalo through New York. And all the great music that has come out of Beale Street — the Sound, Stacks Records, and Sun Records, where Elvis Presley used to record many of his greatest hits, as well as some of the greatest R&B bands in the history of music. Beale Street is where all the clubs used to be, all the music clubs where the musicians would hang out, so that street has a lot of history, like New Orleans and Basin Street, or The Village in New York, or Washington Avenue in Los Angeles. So that's why it was special.
Did you really play the piano? It looked like you did.
No, they had a soundtrack. I do play a little, but not enough to put it on film. I memorized the song, and kind of played it on the piano with the sound down so you wouldn't hear the bad notes. I played maybe 40 percent of it, 45 percent.
That jam session with Brian Tyree Henry and Sterling seemed really fun.
Oh, it was really a gas, man. I had a great time with those cats. And Brian Henry, he's such an amazing actor and wonderful guy. He killed it in that role. The way he sings that song, like Otis Redding? It reminded me of Otis Redding. It just put a special feel to the episode. A really special feel. As well as the food — we had some of the best soul food in Memphis. We had rib sandwiches and famous bologna sandwiches they make with this sauce on it. The food is incredible. So, that's another famous thing about Memphis.
It was heartbreaking when William told Randall that he hasn't had a happy life.
It can take a death in your family to turn your life around, you know? One false move and you're on the wrong road. Not because you wanted to, but because your emotions and your fear take you there. It happens to people, millions of people, all the time. He's never been a bad person. He's never really been, you know, what we term a drug addict. He got involved because he was emotionally distraught. His mother died. The next thing you know, you're addicted, and you don't know what changed it. That's why I think the revelation that he comes back in the life that Randall gives him, that's just brilliant the way Dan wrote it.
Everyone talks about how the show makes them cry. Why do you think it resonates so much?
I have a lot of answers to that question. I just think it opens up an opportunity to feel and sustain the feeling. It makes you feel, but it also makes you sustain that feeling enough to recognize that it's there — and there's very little opportunity to do that unless you go to therapy once a week. You know what I mean? Unless you're someone who's experienced therapy, there's no other place or outlet where you can actually let yourself feel the comfort of people that you love, and that's what the show does. It gives you an opportunity to do that within the safe quarters of your home.
When you were preparing to play William, what did you want him to feel like?
Most of those things about William, I do. I've lived through people who've been that way, or sound like that, or move like that, or think like that. You know, it's all a part of that whole Memphis history that I was telling you about. I'm an older man. I'm 60. I remember the civil-rights movement and when JFK was assassinated, and Malcolm and Martin. All that history is in William. Especially coming from Memphis. It's where Martin Luther King was assassinated. It's also where the "I am a Man" movement started. William carries with him a lot history; you can hear it in his voice. It's that kind of stuff that I did and worked on, and really just opened myself up to. And William kind of just came to me.
Are we going to see you in anything else soon? It's a shame your character also died on Mr. Robot.
That was another tough phone call. But that's another show where you never know. A lot of that stuff that's in Elliot's head, you don't really know if it's real or not. So, I've already gotten called this year about revisiting Mr. Robot. I don't know how, but it was interesting talking about that show. Still, I was very sad when I found out, because it was kind of my first recurring lead. The show was so popular, I was very fortunate there. You'll also see me on the two Netflix shows, The Get Down and Luke Cage.
What do you think you'll miss the most about playing William?
Geez, I don't know how to answer that. I'm just missing everything the most at this point. I'll just miss doing him the most. Getting up, going to early calls, putting on the makeup, talking to people, preparation. I'll miss the prepping. You know, doing the homework. Coming home and reading the script and making my notes. Working and memorizing and having coffee with the cast and the crew. A lot of the behind-the-camera stuff. The bonds that you make. But it's also exciting to see what the future's going to bring, and that looks really good, so you never know.