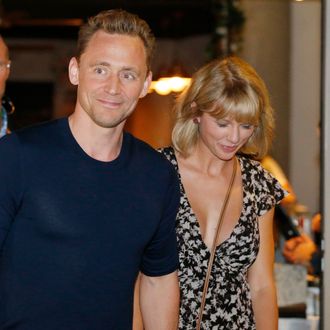 Simpler times.
Photo: Newspix/Newspix via Getty Images
Throughout the three-month whirlwind and traveling circus that was the Hiddleswift fling, the only time Tom Hiddleston ever spoke publicly about his much more famous partner, Taylor Swift, was a totally unprepared statement delivered mid-interview. "We're very happy. That's the truth. It's not a publicity stunt," he wasn't instructed to say to The Hollywood Reporter back in July when the relationship was still in bloom. Seasons have passed, the flowers are dead, and now Hiddleston has a bit more to say about the weight of defeat. But mostly he'd just like you to know that at one point, he and Taylor were very happy, and it wasn't a publicity stunt. "Of course it was real," Hiddleston now insists to GQ. But that wasn't the reason he says he wore that now-infamous "I ♥ T.S." shirt that non-arranged paparazzi caught him wearing while vacationing with Taylor over Fourth of July weekend. Yes, he did heart Taylor at the time. But her squad is to blame for the cheesy sartorial PDA.
"The truth is, it was the Fourth of July and a public holiday and we were playing a game and I slipped and hurt my back. And I wanted to protect the graze from the sun and said, 'Does anyone have a T-shirt?' And one of her friends said, 'I've got this.' And we all laughed about it. It was a joke … I don't know. I just, I was surprised. I was just surprised that it got so much attention. The tank top became an emblem of this thing."
In the wake of such humiliation, Hiddleston now says he's just trying to be "psychologically strong" and, you know, probably never date another pop star again until he can match her fame: "We will always know what it was. The narratives that are out there altogether have been extrapolated from pictures that were taken without consent or permission, with no context. Nobody had the context for that story. And I'm still trying to work out a way of having a personal life and protecting it, but also without hiding. So the hardest thing is that that was a joke among friends on the Fourth of July." Capisce?