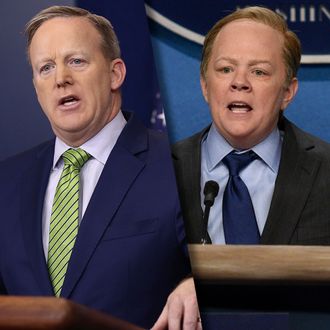 Aside from the reports that President Trump continues to watch far too much cable news, the biggest takeaway from the near-daily leaks from the White House is that Sean Spicer's job is absolutely terrible. From the start, there were rumors that Trump wanted a woman to serve as White House press secretary, but was forced to settle for the former Republican National Committee communications director. To make matters worse, Spicer has taken on two jobs, acting as communications director in addition to press secretary.
Then, during his first full day on the job, Spicer was transformed into a meme when he fumed at the press for misreporting the size of Trump's inauguration crowd. Trump reportedly demanded that Spicer do the press conference, then complained about Spicer's demeanor and ill-fitting suit. Over the weekend, the New York Times reported that the president makes time to watch Spicer's daily press briefings, then summons Spicer to critique his performance.
Now Spicer is said to be in trouble for being hilariously spoofed by Melissa McCarthy on Saturday Night Live — and not because he was portrayed as an unhinged, furious purveyor of "alternative facts." Politico reports, "More than being lampooned as a press secretary who makes up facts, it was Spicer's portrayal by a woman that was most problematic in the president's eyes, according to sources close to him." A top Trump donor added, "Trump doesn't like his people to look weak."
On Monday Spicer said he's fine with the skit, though he told Politico he'd "much rather have the focus be on the president's agenda and the success he's having." While the president habitually attacks SNL on Twitter, he had nothing to say this weekend. That was reportedly "seen internally as a sign of how uncomfortable it made the White House feel."
If true, the report adds another bizarre layer to how the president views gender roles. While he may have wanted a woman to fill Spicer's role, multiple reports suggest that he's particularly irked by women who stand up to him, or generally behave in a manner he disapproves of. On Sunday, the New York Times noted that while McCarthy's comedic talent is what makes the skit so funny, seeing the president's spokesman skewered by a woman gave it an extra edge:
While her gender isn't the center of her performance, it matters. There's a bit of an extra bite in a woman lampooning the spokesperson of a president who once bragged about grabbing women's genitals, and who was reportedly moved to rage last month when attendance at women's protests around the world dwarfed attendance at his inauguration. Add to that the fact that President Trump reportedly wants his female staffers to "dress like women," and Melissa McCarthy dressing like a man to play his press secretary feels like a particularly astute way to needle the White House.
In light of Politico's report, people are clamoring for classic Trump nemesis Rosie O'Donnell to replace the Grim Reaper as SNL's Steve Bannon. O'Donnell said she's game:
SNL gave us Larry David as Bernie Sanders, and Alec Baldwin is hosting the show next weekend. A week from now, Spicer might not be the only White House aide taking flak for a spoof he has no control over.