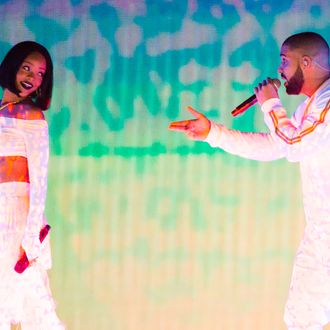 Always chasing after her.
Photo: Samir Hussein/Redferns
Though the decade-long Drake-Rihanna relationship is shrouded in mystery and rumors, two things have remained pretty constant: Drake has a lot of love for Rihanna and a love for making sweet, sweet music with Rihanna. Since he had to work on RiRi's birthday (evidently it's not a holiday in Ireland yet), Drake "paid tribute" to the singer at his Dublin concert with a medley of their songs together "Work," "Take Care" and "Too Good." Unfortunately, the diva was not there to hop onstage, but Drake seemed happy enough to cut loose while the recording of her voice, and thousand of screaming fans, reminded him of better days on a sweaty stage in Miami.