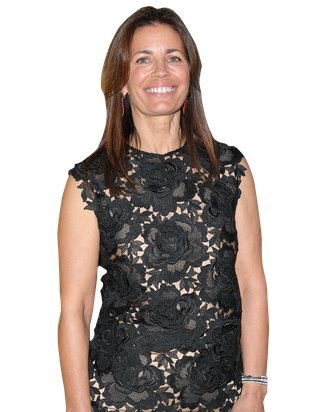 On February 19, the Writers Guild of America will present its annual awards for writing achievements across film, TV, digital, and video-game formats at dual ceremonies in New York and Los Angeles. It will also honor a handful of industry luminaries whose careers exemplify the best of their guild, including Susannah Grant, whose script for HBO's Confirmation, the saga of Anita Hill's 1991 accusations of sexual harassment by then–Supreme Court nominee Clarence Thomas, has earned her the Paul Selvin Award for its depiction of civil-rights themes.
Grant, whose credits also include Erin Brockovich and In Her Shoes, talked to Vulture about what's good and bad about the screenwriting biz today, how she got hired to write Disney's Pocahontas, why so few women see their scripts made by major studios, and how she persisted her way into the gig that ultimately landed her an Oscar nomination.
In December, before you were named recipient of this year's Paul Selvin Award, I noticed and tweeted that at the time only men — including Oliver Stone, Aaron Sorkin, John Waters — had been announced as honorees. I received some lovely tweets back including that I was a "pretentious c-nt" and that I should "go in the corner and cry in my pillow." Have you ever experienced such woman-hating unpleasantness in social media?
No, and that is exactly why I avoid it! I don't do Facebook, I only do Instagram with friends, and I think I have eight followers on Twitter. I only follow two people: Gloria Steinem and a writer whose work I have the nerve to say I have not even read. [Laughs]
Your first writing credit was Disney's Pocahontas in 1995. How has the business most changed for screenwriters since then?
On the most negative side, development budgets at studios have been slashed so the middle class of writers — like the middle class of our own country — has been gutted. It's a lot harder for a straight-up screenwriter to make a living.
So the money that writers used to receive up front simply isn't there anymore?
Yeah. Or, it's "We're going buy this script and keep it in our pipeline, but we don't have a production or a release date for it." Meanwhile, the profits of the entertainment industries have never been higher; companies are doing better than they ever have, but the downside is they're making half as many movies as they used to. So that means half as much work for us. And I would say even less than half as much work because they're also developing fewer films as well. On the upside, and there is a significant upside, changes in technology in the last 25 years have made the making of a movie really available to anyone. The democratization of the process is wonderful in that a creative voice like, say, Lena Dunham's can emerge really quickly. She would have found her way eventually, but it was her ability to make her first movie inexpensively and powerfully — without interference from other people — that made people notice her enormous talent.
How did you land such a high-profile gig in Pocahontas so early in your career?
When I was still in film school, I'd won the Nicholl Fellowship, which I guess gets you a fair amount of attention. I met with folks at Disney Animation and they'd thrown out numerous scripts for the movie at that point, so they hired me, Carl Binder, and Philip LaZebnik. None of us had ever met. [Laughs] They said, "We have a release date and your first meeting is seven o'clock on Sunday morning."
That's an enormous job to land right out of film school.
It absolutely was; it was like boot camp. They worked us very hard. There isn't a scene in that movie that was rewritten fewer than 30 times. To learn right out of film school that you can take a scene you think is good and then continue to rewrite it is priceless. Any notion of being precious about your work goes out the window immediately.
You then went on to write for Fox's Party of Five. How did that compare?
It was remarkably wonderful. No one was jaded and I'm still friends with everyone who was on that show. The specific rigor of TV writing — having to work fast and get it into production immediately — was amazing, but also being able to say, "I don't like how that sounded," and then making an adjustment next time was incredible.
The ability to improve your work as it evolves is not a luxury you have in film.
Definitely not.
I've thought a lot about Erin Brockovich lately with the water crisis in Michigan reaching such catastrophic heights.
Yes. Erin herself is now only more active in her work. It's been depressing, but she manages to make it galvanizing.
How did Erin's story evolve into a script? Did director Steven Soderbergh hand-pick you to write it?
No, he came on later. One of producers was a woman named Carla Santos Shamberg, whose husband, Michael Shamberg, was a producing partner of Danny DeVito's at Jersey Films. Carla had back pain and went to a chiropractor, who told her, "Hey, I've got this other client, Erin, whose story would make a great movie." Erin had been seeing the chiropractor for the neck injury that actually we show at the beginning of the movie. So they optioned the rights to tell Erin's story and were looking for a writer. I think I had just written the movie Ever After, starring Drew Barrymore, but it hadn't come out yet. The only work of mine that had been seen was Party of Five and Pocahontas. I called Jersey Films every two weeks to see who they were considering. "Oh, we're looking at [Thelma & Louise screenwriter] Callie Khouri now." Then I'd check again. "Actually, we're going after [Out of Sight screenwriter] Scott Frank now." Finally Michael Shamberg said, "Okay, you can meet Erin." She had final writer approval. We got along great and she said, "I trust Susannah to do it." It's funny, I didn't think I really knew at the time why I wanted to write it so badly. I just know the minute I heard about it I said, "That's mine. If anyone else writes that movie I'll be really pissed off." [Laughs]
And your perseverance netted you an Oscar nomination.
Yes, it did.
You are on a very short list of female screenwriters who've seen their work actually get produced by big studios in the last 20 years, among people like Aline Brosh McKenna, Melissa Rosenberg, and Nancy Meyers. Where do you think the process breaks down?
The Geena Davis Institute on Gender in Media would have the specific data, but it's a pretty even distribution of gender in film school right now. And then in terms of quality of life for having a family, there is no better job than screenwriting; you work at home and as much as you want. What I do know is that political pressure about whom to hire has an enormous impact. Appearances are important. I also think there is a notion that women write soft, character-driven emotion pieces that may work for TV, but not necessarily for big movies.
To me, having a woman tell the particular story of Confirmation would have been very top-of-mind. Was it a mandate?
Yes. HBO had very strong intentions of achieving real parity all around. If you looked around on set, it was 50–50 women and men, and a great balance racially as well. I mean, the movie is about race and gender bias, so it had to be this way.
After Brockovich and The Soloist, this was your third script about real-life people. What were the most effective strategies you employed in writing it? Were all the key parties willing to participate?
There were a few questions the script had to address: Who was actually telling the truth? How expendable are humans who were doing their civic duty? The larger goal became infusing compassion into every character. Many people didn't want to talk to us, but once they realized we were going to tell their story without or without them, they suddenly became more amenable. But it's always a challenging, presumptuous process to tell someone else's story. Thankfully, everyone who's been dramatized in a script of mine has felt their stories were fairly depicted.
Are there films you've seen this year whose scripts made you wish you'd written them?
I can never imagine writing something that I didn't. [Laughs] But the opening scene of Hell or High Water was amazing, and the rest of the movie really delivered, too. I thought La La Land was spectacular. And Moana. I loved how she was drawn to have such a strong body. It made me remember my first day on Pocahontas. She was already drawn, and had this crazy, hot body. A very Disney body. And immediately it became my mission — though I didn't have kids at the time, I was close to two young daughters of a friend — that if kids were going to see this girl, I wanted to show that her body was first and foremost of great use to her; that she was in control of it. That's why the movie opened with the scene where she's diving and swimming. To see Moana depicted as a such a healthy girl, with strong, earthy legs, I think is a huge victory.
Finally, under what conditions do you generally do your best writing?
When the rest of the world is asleep, and I shut off my internet using this great program on my computer. Otherwise, since I'm a very early riser, like at 4 a.m., I had to finally invest in a kick-ass coffee machine after years of only using a French press. I can't believe I waited so long. Having a great cappuccino when it's dark outside and you're half asleep is a real treat.