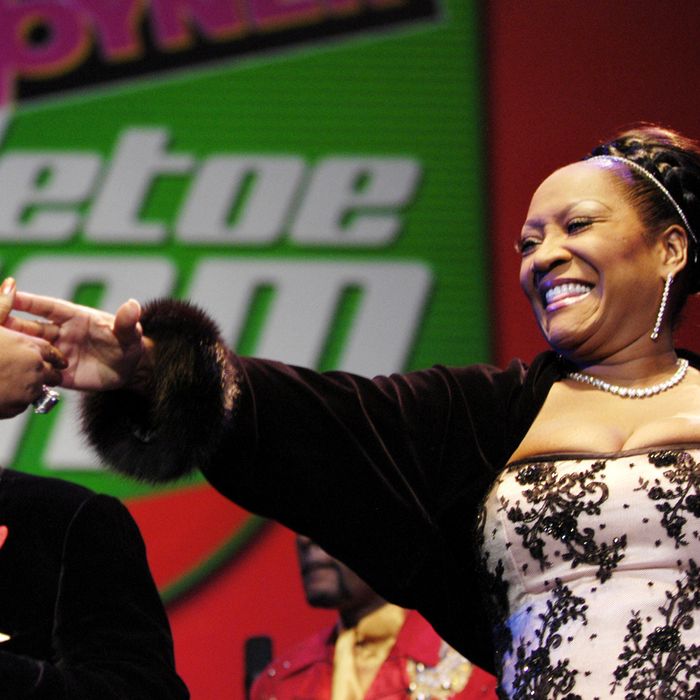 Photo: Paul Warner/WireImage/Getty Images
Much to the chagrin of 53 percent of white women in this country, it's still Black History Month. And as is always true, unpredictable things in black America always take place in February.
Earlier this week, we had one of those moments. The Queen of Soul, Aretha Franklin, announced that she was retiring on Detroit's WDIV Local 4. At the end of the year, the woman that gave us Amazing Grace, "Who's Zoomin' Who," and "A Rose Is Still a Rose" is hanging up her Obama inauguration church-lady hat (or, more accurately, putting it in a very ornate hat box) for good.
For many, this news will only trigger thoughts and emotions solely concerned with Aretha. A few people in the world, however, truly understand Aretha, have petty running through their veins, and upon learning the news, thought of one thing:
PATTI.
The rumored, long-standing beef between Aretha and Patti LaBelle has been both obsessed about and denied furiously through the years. Either way, they are two of Earth's greatest divas, each completely convinced that they are God's most blessed vocal gift, and because of this reality, any opportunity to discuss their rivalry should be seized upon.
So the question of the day: What do you think is going through Ms. Patti's mind today, learning about Aretha's retirement? Let's discuss.
Rembert: The beef between Aretha and Patti is Black History. It's on my Mount Black Beef Rushmore with Booker T. and Du Bois, Malcolm and Martin, K. Michelle and Tamar Braxton. And with this announcement, I can't stop thinking about that time Aretha said she hadn't tasted Patti's pies, and then announced she was going to come out with a line of her own pies, concluding with "Ms. Patti's gonna have to move that pie to the side."
I feel like I'm at my mom and aunt's hairdresser right now, just having this discussion. Hunter, what is going through your mind right now? And more importantly, what do you think is going through Patti's mind?
Hunter: First, I'm shocked that Aretha would break the news during this Black History Month — we need her now more than ever. But, given that my only aspiration in life from ages 4 to 7 was to be Patti LaBelle, Patti's response was my first thought. Somewhere in America, Patti LaBelle is sitting back on a chaise lounge, hair wrapped in a silk headscarf, just grinning. She may or may not be listening to Flame, but I certainly am.
Rembert: This is so rude — because it's Aretha's day — but I just went down the realest Ms. Patti YouTube hole. Her Top 10 live performances are untouchable by anyone — and yes, I'm including Michael, Prince, K. Michelle, and Beyoncé.
Speaking of Beyoncé: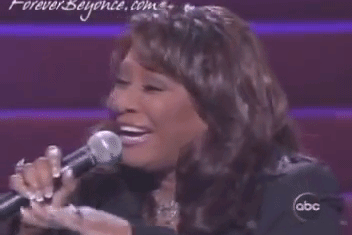 Honestly, I think Patti might announce she's going on tour tonight. Or she might find out when that Aretha album is coming out and drop one on the same day. Or — actually this is definitely going to happen — Patti LaBelle is 100 percent going to come out with a tribute album to Aretha titled To Aretha, My Best Friend, in which she covers 15 Aretha songs and just turns them into Patti revivals, concluding the ultimate troll (which is also what Aretha used to do to everyone else; see Live at Fillmore West, in which she makes you never want to listen to the Beatles or Simon and Garfunkel ever again).
I could keep going, but please take over, I just stumbled on the video of that time Patti's background singers didn't show up, right into Legends Ball Part 5 (which Aretha was a no-show for…) and I need 20 minutes to rewind Patti throwing her program in the air, hitting Sojourner Truth in the head, mid–Holy Ghost freestyle.
Hunter: I think, at the very least, there's a Patti rendition of "Ain't No Way" that will reappear in the near future. It's Patti's favorite Aretha song, which is another way of saying that it's Patti's favorite song to perform in front of Aretha, with just the slightest suggestion that maybe Patti does it better. Maybe it will come just as a retweet or during a live show, but as sure as Patti interjects a "well well well" into every song she sings, "Ain't No Way" is coming.
Looking through all this footage of Patti and Aretha's history is making me nostalgic for those days of real divadom. Mariah and J.Lo have a cute thing going, but they're shady in interviews and after the fact. Patti and Aretha were in a galactic ice battle: How many times in the '90s did Patti LaBelle stand onstage and just backstroke through octaves in her rival's own songs. That, in and of itself, is incredible to me, that she'd smile and twist the knife with Aretha's own material. Every time Patti sang for Aretha it was like, 'I am the captain now,' except bigger and louder than that, and with her edges laid.
Anyway, I just really miss those days when there were always 25 black divas in one room and no one knew where to look because everyone could bring the house down. Especially Patti, though, because she low key had beef with everybody.
Rembert: Exactly. If Diana Ross retired today, we'd be having the exact same conversation. And yes, I'd include this GIF, because it is a god dream, it is everything.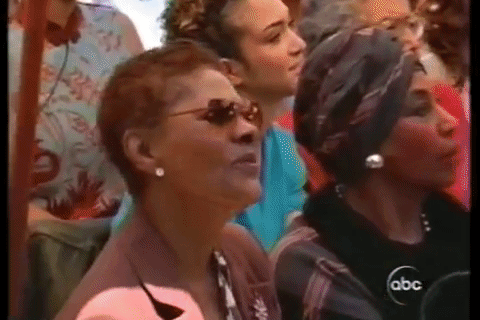 It should be stressed that the reason Aretha and Patti are actual rivals and peers and legends is because their voices are black church voices, which is the pinnacle of what a voice can be. Aretha's Amazing Grace might be the greatest live album, ever. And it may never happen, but if the Sydney Pollock–directed documentary about the recording of that album is ever released, the world would truly get to see peak Aretha, peaking. Hell, Aretha was so one-of-one, she had Mick Jagger in the front row of a church in Los Angeles, duck-facing all the way through "Mary, Don't You Weep."
As for Patti, she made a song in 1991 that I Mandela-Effected myself into thinking was in the hymnal growing up, "When You've Been Blessed."
My girl wore her baggiest NBA Draft Day suit on Arsenio and still shut it down, singing high notes while Arsenio hugged her, because Ms. Patti is not done until she says she's done.
We're so lucky to have ever had them, and to still have them. And if there is an angel that looks over Black History Month, that black angel will convince Aretha and Patti to go on tour together, making the Watch the Throne tour look like Da Band performing at Junior's in 2017. And not even the Brooklyn Junior's — the one in Midtown.
Hunter: I congratulate Aretha, she's got greatest voice in American history — a diva like her doesn't just retire. That powerful Baptist church voice is proof Jesus is black (white Jesus just can't inspire such rumblings). I fully believe she'll release her upcoming album and tour less frequently, but come on: There's not a reality in which a black grandmother doesn't answer when called, showing up with peppermint candies and a choral arrangement in her purse. Aretha will be back for this fantasy Watch the Throne: Church Hat Edition tour, with that staggered-style top billing with Patti — it'll be an OWN special.