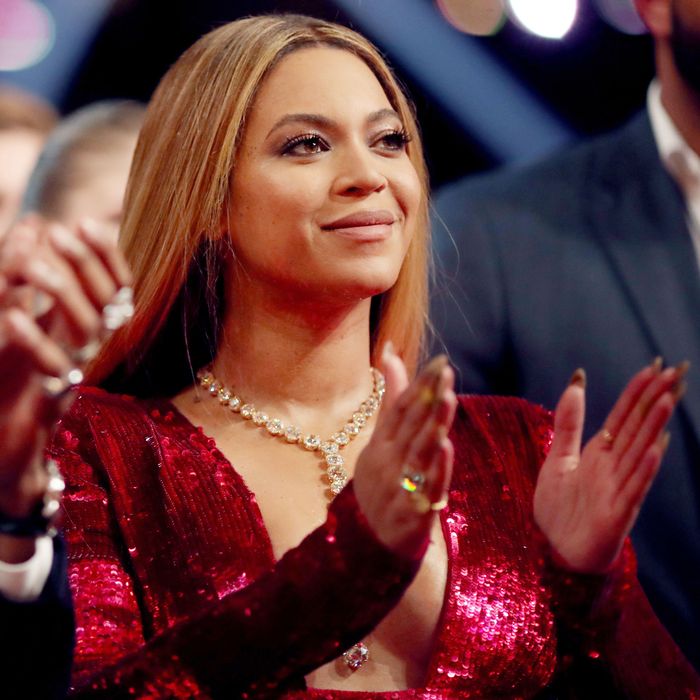 Photo: Christopher Polk/Getty Images for NARAS
Beyoncé lost. Again.
By now, you know what happened. For the third time, Beyoncé Knowles lost the Grammy for Album of the Year. But this time, it seemed beyond disbelief, not because she happened to lose to Adele for 25, but because Beyoncé's album Lemonade — the best and most important work of her career — still couldn't find a way to win.
What more is Beyoncé supposed to do?
A recap: This year it was 25 over Lemonade. In 2016, Taylor Swift's 1989 won AOTY over Kendrick's To Pimp a Butterfly. In 2015, it was Beck's Morning Phase over Beyoncé. In 2014, Daft Punk's Random Access Memories beat Kendrick's Good Kid, MAAD City. And 2013, Mumford & Sons' Babel beat Frank Ocean's Channel Orange.
It's a pattern too blatant, too in your face to ignore.
In the history of the Grammy Awards, only ten black artists have won Album of the Year. That's a stat that has been cited many times over the past two days, but simply stopping there drastically oversimplifies what it actually means. When you look at those ten artists (who accounted for 12 wins in total; Stevie Wonder won three times in four years), and understand who they were and what their albums represented, it's a sobering reminder that the Grammys are just a metaphor for this country, and that even the richest and most celebrated black people still are very much black.
For starters, of those 12 albums, five have an asterisk. In 1991, Quincy Jones won for Back on the Block, an album featuring a who's who in R&B and jazz, with some rap sprinkled in. It was a true flex for Quincy, showing how he was undeniably the connective tissue for three (or four) generations of black music. The next year, Natalie Cole won for Unforgettable … With Love. The album is gorgeous, and it is also primarily a covers album of songs performed by her father, Nat King Cole. In 1994, The Bodyguard soundtrack won, featuring one half Whitney Houston songs (including Dolly Parton cover turned Whitney classic "I Will Always Love You") and another half songs by other artists, from Kenny G to Lisa Stansfield to Joe Cocker. In 2005, Ray Charles's Genius Loves Company won, an album of duets with other popular singers (he won posthumously). And in 2007, Herbie Hancock won for River: The Joni Letters, a Joni Mitchell tribute album.
Those are all good albums. But none of them are forward facing. Three are basically lifetime achievement awards. Most of them celebrate yesteryear, with the majority defined by the term "Various Artists." And a decent amount of the music on these black albums are performed by white artists. They live in a completely different category from something like Lemonade, a singular piece of work by a black solo artist.
If we ignore those, the number of black artists that have won Album of the Year is cut in half to five: Stevie Wonder, Michael Jackson, Lionel Richie, Lauryn Hill, and Outkast.
Four of those five artists deserved to win Album of the Year. Lionel Richie's win for Can't Slow Down over Prince's Purple Rain in 1985 was a glaring mistake. Lionel's win is akin to 1989 beating To Pimp a Butterfly, or if Drake's Views would have bested Lemonade for AOTY — both reminiscent of some of the mistakes of the past decade: a pop album with little weight triumphing over a classic album built to stand the test of time.
Removing Lionel from the list and there were four artists — six albums total — that you can say were albums by black artists that deserved to win Album of the Year — and did. What else do these albums have in common? They are among the most classic albums in the history of recorded music.
Stevie won in 1974, 1975 and, 1977 for Innvervisions, Fulfillingness' First Finale, and Songs in the Key of Life. Those three albums are part of what's commonly known as his "classic period" — 1972 to 1976 — when he made five consecutive classic albums. His first two, Music of My Mind and Talking Book, were not nominated for Album of the Year. Innervisions, his first nomination and win, was Stevie Wonder's 16th album. The Grammys eventually got it right with Stevie, but it wasn't just that he made the best albums of those years that he won — he had to release "Best Albums of All Time"–level material to finally be recognized.
Michael Jackson's Thriller won in 1984, but his first classic, Off the Wall (a better album), wasn't even nominated for Album of the Year. He lost twice more for the award, in 1988 for Bad and 1996 for HIStory: Past, Present, Future. The Grammys got it right once for Michael, but again, only after they missed a classic. In order for Michael Jackson to win, he had to make the highest-selling album of all time.
Do you see a trend? Does this trend feel familiar in your own black life? Oh, it does? Of course it does. But there's more.
Lauryn Hill won in 1999 for The Miseducation of Lauryn Hill. This album, her solo debut, dominated the entire year leading up to the awards. It's widely regarded as a classic, one of the great albums of the 1990s, finding the balance between R&B, hip-hop, and pop in a way very few have ever pulled off. It was a landmark year for the Album of the Year category: all five nominees were women, including Madonna, Shania Twain, Sheryl Crow, Lauryn Hill, and Garbage (fronted by Shirley Manson). Lauryn won, and she deserved to win, and again, another black artist won Album of the Year, with an Album of the Decade.
Finally, there's Outkast. Similar to Stevie, Outkast made multiple classic albums that were ignored by the Grammys. Their fourth album, Stankonia, was nominated in 2002, but lost to the O Brother, Where Art Thou soundtrack. But then they finally — rightfully — won one, for Speakerboxxx/Love Below, an album that was too massive too ignore, even if it wasn't their true masterwork as a duo.
But that album, a double-album consisting of (basically) an André solo album and a Big Boi solo album, changed hip-hop forever. Yes, it was the Album of the Year, but it was also a landmark moment for an entire genre of music, which is what it took for them to win — changing music forever.
And that's it.
All of this is important to consider when attempting to answer the question of how Beyoncé could win.
Beyoncé and Lemonade are great, important works of art. It feels like we might look back on this time as the beginning of Beyoncé's classic period, something very few artists have. The unfair, fucked-up part of it all, however, is that it's actually going to take Beyoncé making an album as earth-shattering as Innervisions or Songs in the Key of Life to beat the next collection of Taylor Swift songs about road trips for the Album of the Year Grammy. In order to be celebrated as the artist that made the best album in one year, black artists have to make an album that stands up for 30 years.
The only reason the Grammys still matter is because they're a reminder of surface-level progressions serving as a convenient smokescreen for one of the stories of America — the never-ending push to keep so many of us in our place. Beyoncé and Kendrick's alternating losses for AOTY over the past four years stink of reminders of what happens when we don't stay in our lane. And their losses serve as a reminder that making "important" music — art that mirrors the discomfort of our times, art that disrupts the status quo — is not what these Grammy gatekeepers hold at a premium, or to some degree, even appreciate.
It's the plight of the nonwhite artist in the present day — responsible for critically carrying the load for an entire country while still not reaping the benefits of that hard work, of that self-induced trauma, beyond a pat on your sore, tired back.
Be it something as trivial as the Grammys or as relatable as getting a job, the gatekeepers still thrive on maintaining imbalance. And this will never change, until someone at the table finally steps up to the gatekeepers, risking their own comfort for the sake of others.
I truly thought that moment was coming, when Adele — appreciated for her genuine lack of a filter — won for Album of the Year. But, even in a speech thanking Beyoncé — a woman she clearly is inspired by and strives to be like — it wasn't.
Adele's win, which you can't blame her for, is a Grammy issue, but Adele's preparation for that moment is an indictment of the privilege of not understanding a world in which you, Adele, could probably beat Beyoncé. Yes, you can be shocked as hell, but to not understand why you may end up winning is to not understand this world you live in, and how your world differs. If you like Beyoncé, you cry, you salute her with pleasantries, you talk about how you don't deserve it and you break your statue in half out of tribute to her. But if you love Beyoncé, you prepare yourself for a moment in which you could beat her, and if you do, you address the Grammys and tell them that they have been fucking up for a long time now. And that it wasn't about her and that it wasn't about Beyoncé, it was about the gatekeepers of the Grammys, using their power to keep people — and messages — in their place.
But loving Beyoncé is loving black people, because Beyoncé is black people. And that's easier said than done, truly loving black people. It's hard work, it's uncomfortable, it's challenging, it's tiring. Which is why, when those big moments happen, and you're looking for that white person in your life that likes you so much to just stand up for you — just to once take the emotional load off of you — instead of fighting, they'll so often break you off a little something, cheer you on, pat you on the back, and then turn around and walk away.