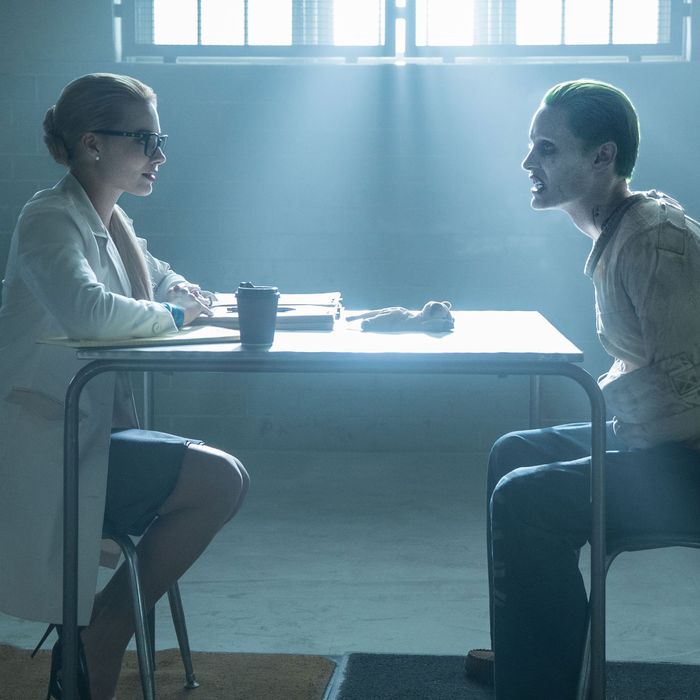 Photo: Clay Enos/Warner Bros. Entertainment Inc.
I'm not a big believer in conspiracy theories. Is Trump's latest Twitter salvo meant to be a distraction from his administration's agenda? Did Beyoncé stage her first pregnancy? My usual line on this sort of thing is "Nah." Conspiracies take so much work, and most people are either lazy or inept. The simplest answer is usually the truest.
But. But!
I think I have sussed out an honest-to-God, Oscar-related conspiracy, and this one has legs. How else to account for the fact that in advance of Sunday's big Academy Awards telecast, everyone is talking about whether La La Land's inevitable Best Picture victory will usher in an era of apocalyptic hellfire, and no one is preparing for the terrifyingly plausible and far more alarming notion that Suicide Squad might win an Oscar?
Wake up, sheeple. Fight the real enemy!
A reminder: Suicide Squad, a $175 million disaster that made Cara Delevingne look like a Garbage Pail Kid, is one of three Oscar nominees for Best Makeup and Hairstyling. It earned the same number of nominations as Martin Scorsese's last movie and more nods than worthy contenders like Paterson or The Handmaiden, neither of which did this to Common.
Since there are only three nominees in the Best Makeup and Hairstyling category and Suicide Squad certainly has the most makeup, there is a very real chance that a film that reconceived Harley Quinn as a tubercular Juggalo will win an Oscar. The visionary director David Lynch has never gotten an Academy Award but Suicide Squad, a film that covered Jared Leto in mall tattoos and paid someone to stencil "Damaged" onto his forehead, is within spitting distance of a win.
How can it be that after making Killer Croc look like Steve Bannon in a hoodie, Suicide Squad still has a one-in-three shot at taking the Oscar? Where are the rallies, the protests, the poster-board signs railing against Suicide Squad for making us not attracted to Jai Courtney anymore? The dominance of La La Land is a mere distraction from this far more consequential outcome, where Manchester by the Sea, 20th Century Women, and Hidden Figures may all take home fewer Oscars combined than Suicide Squad, a film where Viola Davis surely looked around at her castmates and then told the makeup person, "I'm good."

Can Suicide Squad really win? That depends. It's up against the foreign entry A Man Called Ove and Star Trek Beyond, which ought to win for creating clever aliens and never once dip-dyeing Margot Robbie's hair like a snow cone. Still, we live in a world where up is down, right is left, and A Dog's Purpose has made over $50 million. Quality is no longer tethered to reward and Suicide Squad, a feature-length adaptation of the phrase "no homo," could easily prevail on Hollywood's greatest night.

So while the rest of you are out there biting your nails over Casey versus Denzel or wondering whether any of the nominees can halt La La Land's march to an Oscars record, I'll be in my apartment stocking canned goods in case Suicide Squad, a movie created expressly to gay-bash Batman and Robin in a high-school hallway, somehow takes the gold. (Although if you happen to have a number for Lucas Hedges, DM it to me: I think we can convince him to pull a Kanye.)