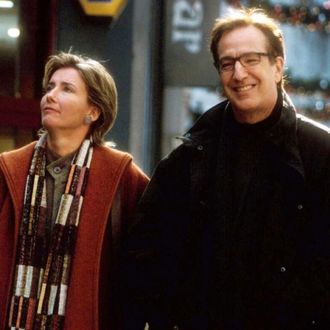 Photo: Universal Pictures
Fans of iconic British rom-coms were on the brink of hyperventilation with the news that Love Actually would be getting a ten-minute short-film sequel to support Red Nose Day, which brings back nearly all of the original cast to see "who has aged best" and "discover what they're up to in 2017." But out of all the returning actors — Hugh Grant, Martine McCutcheon, Keira Knightley, Andrew Lincoln, Colin Firth, Lúcia Moniz, Liam Neeson, Thomas Brodie-Sangster, Olivia Olson, Bill Nighy, Marcus Brigstocke, and Rowan Atkinson, to be precise — there was one glaring omission, with Emma Thompson not returning as her discontented-housewife character who discovers that her husband, played by Alan Rickman, was having an emotional affair with a younger co-worker.

"We're not doing everyone. We're doing about two thirds of people," writer-director Richard Curtis said, which explains why Laura Linney's name has also been absent from the cast list. He added that Thompson "isn't in it … she just can't do it," without elaborating further. Rickman, who played Thompson's husband in the movie, died last year at 69, and Curtis said there simply wasn't enough time to properly honor Rickman's character. "You know, dealing with Alan is very complicated, so not really," he explained to the Press Association when asked if a tribute of any kind would occur. Regardless, the sequel is sure to be an enjoyable ten minutes, and some behind-the-scenes photos are already being unveiled on social media.