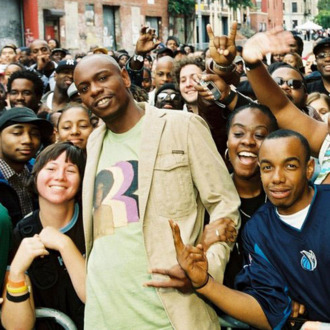 Each month, several films and TV shows leave HBO's catalogue. We provide a list of departing titles so you can watch them before they're gone forever (or are just available on a different site). For more comprehensive coverage of the best titles available on HBO and elsewhere, check out Vulture's What to Stream Now hub, which is updated throughout the month.
Killing Us Softly: Dave Chappelle's Block Party
Dave Chappelle is actually, finally mounting a comeback: first, by hosting one of the best Saturday Night Live episodes in years, and soon, with a trio of stand-up specials on Netflix. Return to simpler times with this infectious concert film, in which Chappelle, flush with cash from the Comedy Central deal he hadn't yet walked out on, brings the greatest names in hip-hop to Brooklyn for an epic bash. If the lineup — including Erykah Badu, the Fugees, Kanye West, and the Roots — doesn't get you on your feet, the backstage footage of Chappelle clowning around and celebrating life should warm your heart. Leaving March 31.
Dragged to the Spotlight: To Wong Foo, Thanks for Everything! Julie Newmar
Oh, to be a mainstream moviegoer in 1995, when Patrick Swayze and Wesley Snipes gleefully exploited their own macho images in this fish-out-of-water comedy about drag queens in a Rust Belt town. With the inimitable John Leguizamo rounding out the trio as Chi-Chi Rodriguez, To Wong Foo arrived alongside The Adventures of Priscilla, Queen of the Desert to celebrate drag culture, pre-RuPaul's Drag Race. To quote the film, "Nothing this pretty could be real." Leaving March 31.
The Not-So-Young Dopes: Youth
Still riding that heavenly high from The Young Pope? Check out director Paolo Sorrentino's most recent feature film, a lush drama about aging with (or without) grace. Michael Caine and Harvey Keitel are best friends who vacation together in the Alps, where they reckon with their mortality as that familiar Sorrentino style overloads us with a ripe-to-bursting musical score, hyperactive editing, and lots of old men talking about sex. Leaving March 31.
Noteworthy selections in bold.
Leaving March 24
AVPR: Aliens vs. Predator Requiem
Mr. Magorium's Wonder Emporium
Leaving March 31
The 33
Balls of Fury
Black Mass
The Boy's Life
Bride Wars
Brooklyn
Cold Mountain
The Danish Girl
Point Break (2015)
Suffragette
Capote
Cast Away
Confessions of a Teenage Drama Queen
Dave Chappelle's Block Party
Eastern Promises
Ella Enchanted
Jeepers Creepers
The Kingdom
The Longest Yard (1974)
The Place Beyond the Pines
The Soloist (1993)
Stephen King's Cat's Eye
To Wong Foo, Thanks for Everything! Julie Newmar
Vice (2015)
We Were Soldiers
Youth (2015)