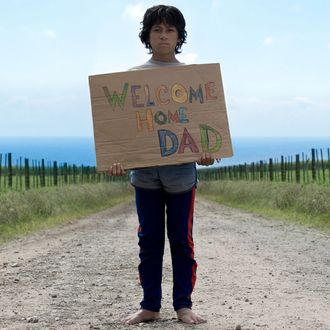 Each month, several films and TV shows leave Netflix's catalogue. We provide a list of departing titles so you can watch them before they're gone forever (or are just available on a different site). For more comprehensive coverage of the best titles available on Netflix and elsewhere, check out Vulture's What to Stream Now hub, which is updated throughout the month.
Treasure hunt: Boy
Taika Waititi is directing the next Thor movie, which means he's bravely storming the Marvel Universe Negative Zone, a creative abyss from which few directors have emerged unscathed. But there's reason to hope his uniquely ebullient sense of humor will make it out okay, as demonstrated in this 2010 crowd-pleaser about a Michael Jackson–loving Maori kid who reunites with his father just released from prison. Pop-culture obsessions merge with goofy, broad comedy and nonthreatening male bonding. Leaving March 15.
Why E.T. loved Reese's Pieces: Entertainment
Rarely will a film inspire much anger and bewilderment as Rick Alverson's singular, deeply mystifying horror show. Inspired by the "Neil Hamburger" character honed over many years by actor Gregg Turkington, the film drops the ironically terrible insult comic in the middle of the arid, lifeless Mojave Desert and sends him wandering through prisons, back-alley bars, and worse, in search of someone — anyone — to entertain. Or maybe he just wants an excuse to yell at people onstage. Whatever the reason for this doomed quest, Alverson's abrasive filmmaking style makes Entertainment, if not strictly entertaining, then at the very least unforgettable. Leaving March 4.
Ghibli greatness: The Kingdom of Dreams and Madness
If you're anything like me, you know and love the work of Studio Ghibli, the Japanese animation house behind Spirited Away, Princess Mononoke, and a host of other luminous features. With the recent announcement that Ghibli's artistic figurehead Hayao Miyazaki is stepping out of retirement (again), take the time to go behind the scenes with this 2013 documentary charting the making of The Wind Rises and The Tale of the Princess Kaguya. More than candy for animation junkies, the film also offers a vision of an idyllic workplace run by a benevolent, poetic soul. Leaving March 28.
Notable selections in bold.
Television
Leaving March 1
Monarch of the Glen: Seasons 1–7
Robin Hood: Seasons 1–3
Survivors: Series 1–2
Movies
Leaving March 1
Jaws
Jaws 2
Jaws 3
Jaws: The Revenge
Justice League: The Flashpoint Paradox
Justice League: War
Keeping Up Appearances
National Lampoon's Animal House
Leaving March 2
Black or White
Sweetwater
Leaving March 3
Bill & Ted's Bogus Journey
Misfire
Web Junkie
Leaving March 4
Entertainment
I Dream of Wires
Otto the Rhino
Seashore
The Discoverers
The Nanny Diaries
Leaving March 5
Food Chains
Jail Caesar
The Days to Come
Two Hundred Thousand Dirty
Leaving March 6
Pit Stop
Rigor Mortis
Leaving March 7
Hansel vs. Gretel
Leaving March 8
Love at First Fight
The Starving Games
Leaving March 15
Boy
B for Boy
My Girlfriend's Boyfriend
Sushi: The Global Catch
Leaving March 16
American Dreamz
Leaving March 23
Love Me
The Invincible Iron Man
Leaving March 25
All Stars Pup
The Perfect Wedding
Leaving March 27
Dragonwolf
Leaving March 28
Erasing Hate
The Kingdom of Dreams and Madness
Leaving March 29
6 Guns
Detropia
I Melt With You
Mega Shark vs. Mecha Shark
The Life and Crimes of Doris Payne