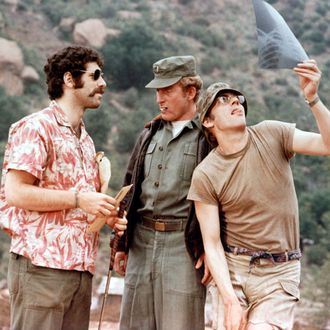 At the beginning of (and during) each month, HBO adds new movies and TV shows to HBO Go and HBO Now. Below, you'll find our March 2017 recommendations. For more comprehensive coverage of the best titles available on HBO and elsewhere, check out Vulture's What to Stream Now hub, which is updated throughout the month.
Hot as Hot Lips: M*A*S*H
Robert Altman's free-form antiwar comedy, the inspiration for the long-running, considerably tamer TV series that followed, was a radical effort to depict the gallows humor of the U.S. armed forces. The movie follows a group of irreverent medics in the Korean War but is clearly intended as a veiled commentary of Vietnam. This classic of the New Hollywood era is filled with off-color gags that feel deeply offensive today, but the film's dated qualities are all part of its uncensored, uncompromising attitude. Available March 1.
Immortal dumbness: The Last Witch Hunter
Yes, this Vin Diesel vanity project, in which he plays an immortal demon-slayer inspired by his own Dungeons & Dragons character, is not what one would exactly call "good." But just try to take in the image of this dude draped in his outlandish fur coat, fogging up the glass of an airplane window with his breath in order to "detect magic'" or audaciously pretending he's several centuries older and wiser than Michael Caine, and not admit The Last Witch Hunter is a secret comedy classic in the making. The ghost of Zardoz haunts this witches' brew of silliness. Available March 19.
Chord Cutters: The Music of Strangers: Yo-Yo Ma and the Silk Road Ensemble
Mixing two irresistible genres of documentary, the globetrotting travel picture and the music film, Morgan Neville's lighthearted jaunt follows everyone's favorite concert cellist as he shows off his collective of musicians recruited from along the Silk Road. Though they can't always communicate with words, the players — ranging in origin from Italy to Iran to China — bridge that gap by combining their various regional music influences in concerts all over the world. Be prepared for lots of talk about how music is the great communicator and healer, and Yo-Yo Ma's inescapable rendition of Bach's Cello Suite No. 1 in G. Available March 6.
Noteworthy selections in bold.
Available March 1
American Psycho
American Psycho II: All American Girl
Bullet to the Head
The Cider House Rules
Closed Circuit
Cocoon
Cocoon: The Return
Dragnet (1987)
End of Days
The Green Inferno
Grumpier Old Men
Grumpy Old Men
Hairspray (2007)
Live Free or Die Hard
M*A*S*H (1970)
Marley & Me
The Mothman Prophecies
Nights in Rodanthe
Parenthood (1989)
Powder
Rabbit Hole
Resident Evil
The Secret Life of Bees
The Tuxedo
Under Siege
Available March 2
UConn: The March to Madness
Available March 4
X-Men: Apocalypse
Available March 6
The Music of Strangers: Yo-Yo Ma and the Silk Road Ensemble
Available March 11
Jerrod Carmichael: 8
Neighbors 2: Sorority Rising
Available March 13
Cries From Syria
Available March 18
Ice Age: Collision Course
Available March 19
The Last Witch Hunter
Available March 22
Within
Available March 25
Independence Day: Resurgence
Available March 27
Rock and a Hard Place