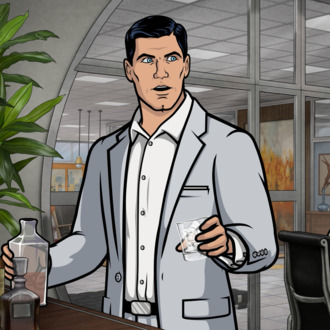 At the beginning of (and during) every month, Hulu adds new movies and TV shows to its library. Below, you'll find our recommendations for March 2017. For more comprehensive coverage of the best titles available on Hulu and elsewhere, check out Vulture's What to Stream Now hub, which is updated throughout the month.
Danger zone: Archer (season 7)
The brilliance of the later seasons of FX's gut-busting spy spoof is its approach to theme and variations. Archer and the rest of the idiots at his agency don't have to be literal spies for their comic potential to work. In the most recent season, the gang relocated from New York to L.A. and opened a private detective agency, one that technically boasted our beleaguered Cyril's name on the door but actually just let Archer get into his lowbrow, shoot-em-up tricks all over again. Riffs on James Bond get traded for classic noir conventions without missing a beat — or an opportunity for an atrocious pun. Available March 28.
Fame crime: National Treasure
No, not the movie where Nicolas Cage desecrates the Declaration of Independence. This is a Hulu-exclusive import of a four-part British crime mini-series — a ripped-from-the-headlines story of a beloved TV comic (played by Harry Potter's Robbie Coltrane) accused of raping a 15-year-old girl. Though it's formally based on Operation Yewtree, the U.K. investigation that ensnared children's host Jimmy Savile on sexual abuse charges, the series is charged with resonance for American audiences, bringing to mind any number of high-profile dismantling of formerly untouchable entertainers. All episodes available March 1.
Dick Laurent is dead: Lost Highway
An illustration of David Lynch at his most thrillingly elliptical, Lost Highway mashes up a terrifying nightmare about a succession of secret home-invasion videotapes with a noir-ish tale of intrigue about a mechanic who falls for a troublesome dame with connections to a savage crime lord. The film's breaking point comes when Bill Pullman's jazz musician, awaiting execution for the alleged murder of his wife, becomes a different person altogether. Why does this happen? Who is the mysterious stranger who seems to know all the players? Whose dream are we living in? At least we definitely know the answer to the last question: It is, and has always been, Lynch's dream. Available March 1 with Showtime add-on.
Notable selections in bold.
Available March 1
National Treasure (2017)
13 Going on 30
52 Pick Up
A Company Man
A Simple Plan (1998)
The Adventure of Buckaroo Banzai
The Adventures of Priscilla, Queen of the Desert
American Heart
American Sasquatch Hunters: Bigfoot in America
Ancient Aliens Origins
And While We Were Here
Badges of Fury
Battle Ground
The Big Kahuna
Born to be Blue (Showtime add-on)
Carrie
The Rage: Carrie 2
Cavemen
Charlie Bartlett
Clueless
Code 46 (Showtime add-on)
Commitment (2013)
Confession of Murder
The Courier
Curse of the Zodiac
The Cutting Edge
The Cutting Edge: Going for the Gold
Dead Man's Bounty
Doomsday Book
Dummy
Eastern Bandits
Enemy at the Gates (Showtime add-on)
The Final Cut (Showtime add-on)
Flash Point
Floating City
The Fog (2005)
The Four
The Gambler
Gang Related
The Ghost Writer (Showtime add-on)
The Guillotines
Hannibal (2001)
I Love You Phillip Morris (Showtime add-on)
Into the Arms of Strangers: Stories of the Kindertransport
The Karate Kid (1984)
The Karate Kid: Part 2
The Karate Kid 3
Kid Cannabis
Killer Klowns from Outer Space
King of the Mountain
The Kings of the Streets
The Last Tycoon
Legend of Kung Fu Rabbit
Little Big Soldier
Lost Highway (Showtime add-on)
Lost in Thailand
The Man from Nowhere
Miami Vice (2006)
Mr. Majestyk
Mystery Road
New World
Ninja Masters
Not Suitable for Children
On the Job
Ordinary People (Showtime add-on)
The Phantom of the Opera (2004)
Pele: Birth of a Legend (Showtime add-on)
Penelope
Possums
Radio Days
Requiem for a Dream (Showtime add-on)
Saving General Yang
Shaolin
Shark Babes (Showtime add-on)
Slightly Single in LA
Special ID
Staying Alive
The Substitute
The Substitute 2: Schools Out
The Substitute 3: Winner Takes All
The Substitute 4: Failure is not an Option
Surf's Up
The Taking of Pelham 1, 2, 3 (2009)
Tai Chi Hero
Tai Chi Zero
Terminator 2: Judgement Day
The Thieves
Things You Can Tell Just by Looking at Her
Top Gun
Up in the Air
Vampire in Brooklyn
A Viking Saga: The Darkest Days
War of the Arrows
What's Eating Gilbert Grape?
The Wrath of Vajra
Young Detective Dee
Available March 2
Last Girl Standing (Showtime add-on)
Available March 3
Young Ones
Available March 4
Out of the Furnace (Showtime add-on)
House of D
Available March 5
Food Chains
Available March 6
The Real Housewives of New York City: Complete Season 8
ChickLit
A Gamer's Life
Available March 8
Uncensored with Michael Ware: Complete Season 1
Available March 9
Burning Blue
Tom Papa: Human Mule
Available March 10
Steven Universe: Complete Season 3
Available March 11
Angie Tribeca: Complete Season 2
American Jihad (Showtime add-on)
Available March 13
Future Baby
Available March 15
Sheriff Callie's Wild West: Complete Season 2
Romy and Michele's High School Reunion
Available March 17
Counterfeit Cat: Complete Season 1
Fargo: Complete Season 2
Mr. Pickles: Complete Season 2
A Bronx Tale (*Showtime)
Everybody Wants Some!!
The Truth about Emanuel
Available March 19
Happy Birthday
The Suspect
Available March 20
Fear Inc.
Available March 21
Fear the Walking Dead: Complete Season 2
American Romance
Available March 24
The Powerpuff Girls: Complete Season 1 (2016)
Available March 26
Love & Vets: Complete Season 1
Available March 27
Skinwalkers
Available March 28
Archer: Complete Season 7
Available March 29
Star vs. The Forces of Evil: Complete Season 2
Available March 31
Dangerous Curves
Disgraced (Showtime add-on)