Get New on Netflix delivered every month.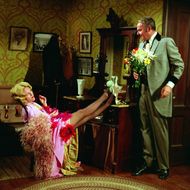 At the beginning of (and during) each month, Netflix adds new movies and TV shows to its library. Below, you'll find our March 2017 recommendations. For more comprehensive coverage of the best titles available on Netflix and elsewhere, check out Vulture's What to Stream Now hub, which is updated throughout the month.
Candygram for Mongo: Blazing Saddles
Pick your favorite reason for celebrating Mel Brooks's hysterical 1974 comedy masterwork. The perfect, bean-powered spoofery of the Western genre? The insidious racial satire, with a plot that tasks a black sheriff with protecting a town of white, bigoted idiots who hate his guts? The wonderful, blue-eyed magnetism of the dearly departed Gene Wilder as an alcoholic marksman playing sidekick to Cleavon Little's Sheriff Bart? Brooks recently took Saddles on a roadshow, and there was something liberating about laughing along with hundreds of strangers to the audaciousness of this humor in 2016. Available March 1.
Secret whisperings of the world: The BFG
You probably didn't see Steven Spielberg's latest family-fantasy epic, in which a lumbering Mark Rylance imbued Roald Dahl's lovable, simple-minded giant with a heart and pathos that towered over his physical height, because the film made only a tiny, Sophie-sized amount at the box office. But The BFG is a true gem, with that familiar Spielbergian-storytelling magic carrying us through set pieces both whimsical (the opening, with the BFG strolling London's streets at night, diving behind lampposts to avoid detection) and crass (a bit where everyone gets a little gaseous "whizpopping" action). Plus, Spielberg hews closely to Dahl's beloved source material, resisting his usual urge to bang out a superfluous 15-minute epilogue. Available March 15.
Talking out loud: The Carmichael Show
Not since the golden era of Norman Lear has one sitcom so effortlessly compressed the political and moral upheaval of our time into one family's living room. Jerrod Carmichael, the boyishly charming creator and star of the NBC series, wants us to see a modern black family argue about everything from gentrification to depression to gender roles — to have everyone present their perspective, forcefully, from armchairs and kitchen tables, and to find a wonderful kind of arch-comedy from the sorts of disagreements currently tearing America apart. The Carmichael Show just barely squeaked its way to a third-season renewal; this is a good time to catch up. Available March 31.
Noteworthy selections in bold.
TELEVISION
Available March 1
Angry Birds: Season 2
Dirt Every Day: Season 1
Epic Drives: Season 2
Head 2 Head: Season 2
Hot Rod Unlimited: Season 1
Ignition: Season 1
Kate and Mim-Mim: Season 2
Roadkill: Season 2
Available March 3
Greenleaf: Season 1
Available March 5
Señora Acero: Season 3
Available March 10
Buddy Thunderstruck: Season 1
Love: Season 2
One More Time: Season 1
Available March 16
Beau Sejour: Season 1
Available March 17
Julie's Greenroom: Season 1
Marvel's Iron Fist: Season 1
Samurai Gourmet: Season 1
Available March 18
The Vampire Diaries: Season 8
Available March 20
El Reemplazante: Season 1-2
Available March 23
How to Get Away with Murder: Season 3
Available March 24
Bottersnikes & Gumbles: Season 2
Grace and Frankie: Season 3
Ingobernable: Season 1
Available March 27
Better Call Saul: Season 2
Available March 28
Archer: Season 7
Available March 30
Life in Pieces: Season 1
Available March 31
13 Reasons Why: Season 1
Bordertown: Season 1
The Carmichael Show: Seasons 1-2
Cooper Barrett's Guide to Surviving Life: Season 1
Dinotrux: Season 4
Five Came Back
Rosewood: Season 1
Trailer Park Boys: Season 11
MOVIES
Available March 1
Blazing Saddles
Chicago
Deep Run
Friday After Next
Impossible Dreamers
Jurassic Park
Jurassic Park III
Know Your Enemy — Japan
Kung Fu Panda
Let There Be Light (1946)
Memento
Midnight in Paris
Nacho Libre
Nazi Concentration Camps (1945)
Rolling Stones: Crossfire Hurricane
San Pietro
Singing with Angels
Sustainable
Slums of Beverly Hills
The Craft
This Is Spinal Tap
Tenacious D in: The Pick of Destiny
The Lost World: Jurassic Park
The Memphis Belle: A Story of a Flying Fortress
The Negro Soldier (1944)
Thunderbolt
Tunisian Victory
Available March 4
Safe Haven
Available March 7
Amy Schumer: The Leather Special
Available March 8
Hands of Stone
The Waterboy
Available March 9
Thithi
Available March 10
Burning Sands
The Boss' Daughter
Available March 13
Million Dollar Baby
Must Love Dogs
Available March 14
Disney's Pete's Dragon
Jim Norton: Mouthful of Shame
Available March 15
Disney's The BFG
Notes on Blindness
Available March 16
Coraline
Available March 17
Deidra & Laney Rob a Train
Naledi: A Baby Elephant's Tale
Pandora
Available March 18
Come and Find Me
Available March 21
Ali & Nino
Another Forever
Evolution (2015)
Fire at Sea (Fuocoammare)
Available March 23
Welcome to New York
Available March 24
Déjà Vu
Felipe Neto: My Life Makes No Sense
Spider
The Square (2008)
The Most Hated Woman in America
Who Framed Roger Rabbit
Available March 25
The Student Body
USS Indianapolis: Men of Courage
Available March 26
The Life Aquatic with Steve Zissou
Available March 28
Jo Koy: Live from Seattle
Available March 31
FirstBorn
GLOW: The Story of the Gorgeous Ladies of Wrestling
The Discovery
Get New on Netflix delivered every month.