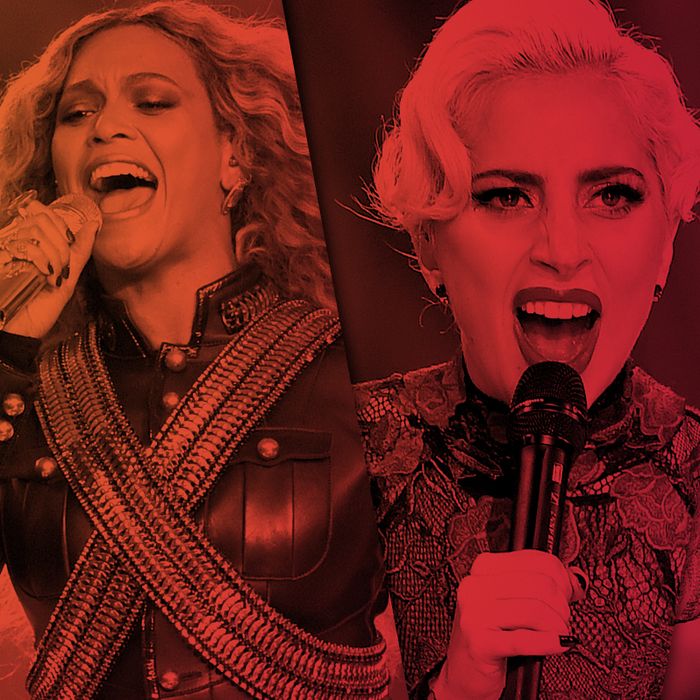 The pop stars will be out in full force.
Photo: Getty Images
With just days to go until music's biggest night, the list of performers for the 2017 Grammys has exploded. There'll be duets, tears, song debuts, baby bumps, you name it. Now that he's got the pick of the litter to aim for — save for that select few sitting out this year's show — who will Grammys host James Corden possibly choose to wrangle into the passenger seat of his car? Here are all the artists announced so far that will be getting in formation at the 2017 Grammys, on February 12.

Beyoncé
Beyoncé's twins will reportedly be making their big awards-show debut at the Grammys, meaning she's to perform on the big show a little over a week after announcing her pregnancy. Just in case anyone doubted whether or not Bey could still maintain world dominance and work a stage all while carrying Destiny's Children.

Adele
A year after the Grammys accidentally botched Adele's performance with the old guitar-falling-on-a-piano trick (which made for quite the audio disruption), Adele will return to the Grammys. This time, maybe clear the stage.

Katy Perry
Out of nowhere, the Grammys have announced that a very blonde Katy Perry will be making a surprise appearance at the Grammys. She hasn't released a new song since her Olympics-Hillary Clinton power ballad "Rise," so what, exactly, will she be there to sing? According to the KatyCat rumor mill (and briefly Billboard), she's set to premiere, on Friday, a new song called "Chained to the Rhythm" featuring Bob Marley's grandson Skip Marley, and debut it live two days later at the Grammys. Stealthy as a cat!
Lady Gaga and Metallica
And for her latest death-defying stunt, Lady Gaga will jump off the roof of the Staples Center and drop onto the Grammys stage. Next to Metallica. Well, she won't actually jump onto the stage, but the band did promise something "very special and unique"! Rolling Stone has confirmed that Gaga will duet with Metallica but, given singer James Hetfield's been sick and was forced to cancel a show just the other day, she might even just be fronting the band. Didn't Gaga tell you she's a heavy-metal lover? Metallica last performed at the Grammys in 2014, while Gaga was there just last year to pay tribute to Bowie. And now we know where the wormhole at the end of her Super Bowl halftime show leads.

The Weeknd and Daft Punk
The Weeknd isn't up for a single Grammy this year (eligibility rules), but he'll be there to perform his hits and he's bringing the robots. For their first live performance in three years, Daft Punk (or as some may know them, Daft Funk) will take the stage with the Weeknd, whom they collaborated with on "Starboy" and "Feel It Coming." The helmeted duo last performed on the Grammys with Pharrell and Stevie Wonder in 2014.

Chance the Rapper
As if making his momentous Grammy debut as the first artist to ever be nominated for a streaming-only album wasn't enough, Chance the Rapper will also perform. He hasn't said a peep about what he's got up his sleeve (though the Grammys have added his "Ultralight Beam" partner Kirk Franklin to the announcement), but here's to hoping it's big enough to fit a puppet and a piano.

John Legend and Cynthia Erivo
Last year saw one loss after another of music's biggest names — from Prince, to David Bowie, to George Michael, and that's just scratching the surface — and John Legend and Cynthia Erivo will be there to sing them all home. The two masters of soul have been tapped to perform the tribute song together during the Grammys' In Memoriam segment.

Bruno Mars
Bruno hasn't performed at the Grammys since 2013, but he'll be there this year, reportedly to deliver a 24-karat-gold Prince tribute with none other than the Time. (And, if we're lucky, with Beyoncé at his side once again.) Hot damn!

Sturgill Simpson
He's up for Album of the Year, which means Sturgill Simpson gets to have his big Grammy moment – even if he doesn't win – with a performance. It was previously unclear if he'd even be able to attend the show, given his wife is due to have their second child around the same time and he said he wouldn't "miss a birth for [the Grammys]."

Ed Sheeran
Fresh off a turn as SNL musical guest a day earlier, Ed Sheeran has confirmed he'll be at the Grammys to perform (and, if we predicted right, collect an award).

A Tribe Called Quest and Anderson .Paak
The Grammys love to mash up two completely unrelated artists so much, they nearly forced Dave Grohl on Anderson .Paak and A Tribe Called Quest for kicks. Amusing as it would've been to see Anderson and Dave have a drum-off with Q-Tip on the mic, there will be none of that. Turns out, the Grammys jumped the gun in their announcement and Grohl won't be performing with them (or at all, it seems). Good thing .Paak's one of the greatest performers of his generation.

Carrie Underwood and Keith Urban
Now here's a collaboration that makes sense. Underwood and Urban are set to duet to together on music's biggest night and they won't even have to semi-awkwardly blend two of their songs together to do it. Carrie guested on Keith's country-disco (don't laugh) "The Fighter"; expect to hear it Sunday.

Alicia Keys and Maren Morris
We told you it gets random. Alicia Keys will join forces with the Best New Artist nominee on … something. What, though, we can't imagine.

Little Big Town, Demi Lovato, Andra Day, Tori Kelly
Because no awards show is complete without Tori Kelly and Andra Day, they'll be joined by Little Big Town and first-time nominee Demi Lovato to perform a Bee Gees tribute. (Sort of like last year's Lionel Richie medley.) It's essentially to drum up excitement for the Grammys' other Bee Gees tribute, a concert special airing later this year on CBS to mark the 40th anniversary of Saturday Night Fever.

Kelsea Ballerini
As a Best New Artist nominee, rising country star Kelsea Ballerini joins all the other artists she's up against in that category in getting an invitation to perform. Currently, the Chainsmokers are the only BNA contenders not scheduled to perform, but don't think we're all getting off so easily.

Lukas Graham
Lukas Graham, who are a Danish band and not just one dude singing about being "7 years old" (get your Grammy trivia ready), are up for the night's highest individual song award: Song of the Year. Which means they get to perform "7 Years" and get it stuck in your head all over again.

Gary Clark Jr.
The Grammys must have Gary Clark Jr. favorited in their contacts because, every year, they invite him back to pay tribute to legends, both living and lost. He played in honor of B.B. King just last year and for Stevie Wonder the year before that. It's not clear if he'll be performing for anyone in particular this year, but the odds are high.

William Bell
At 77 and after decades in the business, William Bell is up for a Grammy for the first time in his life. In fact, he's nominated for two — Best Americana Album and Best Traditional R&B Performance — and to celebrate finally, he's going to treat us all to a performance.

Tributes
The Grammys aren't telling who'll do the honors, but the Recording Academy has confirmed that both Prince and George Michael will have stand-alone tributes this Sunday. But unlike last year's Bowie tribute by Lady Gaga, they won't announce the artists, songs to be performed, or any details beforehand, so stay tuned.

This post has been updated throughout.