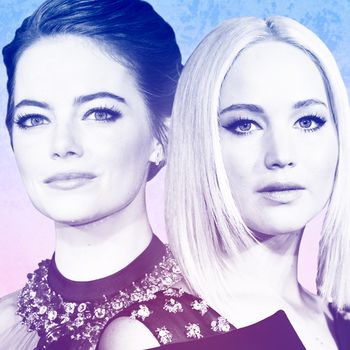 A-list actresses of previous decades made their careers in rom-coms, but Emma Stone and Jennifer Lawrence have kept their distance from the genre.
Photo-Illustration: Maya Robinson/Vulture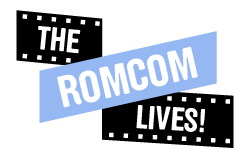 In the beginning, we had Julia Roberts and Meg Ryan. Christened "America's Sweetheart," Roberts lent her girl-next-door star power to many a 1990s romantic comedy, including Pretty Woman, My Best Friend's Wedding, Runaway Bride, and Notting Hill, while Ryan gave the genre some of its biggest hits, like When Harry Met Sally and You've Got Mail. In time, they begot Sandra Bullock — of While You Were Sleeping, Two Weeks Notice, and The Proposal — and Reese Witherspoon, who faithfully served a stint as the lead of films like Sweet Home Alabama and Just Like Heaven. In the land of the romantic comedy, these women acted as its smiling stewards: Meet-cutes were had, misunderstandings were worked through, and mixed-up matches generally became couples by the final reel.
Who have we got now?
Much has been written about how the romantic-comedy genre, once a cinematic staple, has fallen on hard times as of late. In its heyday, a film like Pretty Woman was the fourth-highest-grossing film of 1990, but in 2016, there's not a romantic comedy to be found in the year's 50 biggest movies. Tentpole blockbusters, animated spectaculars, and the occasional horror hit are the new order of the day, and mid-budget movies aimed at and starring women are increasingly lucky to eke out even a sliver of that studio pie. Box-office records are regularly rewritten in every genre but this one, where the list of the highest-grossing romantic comedies of all time has sat untouched for years.
Up against those long odds, the cruelest hand the romantic-comedy genre has been dealt is that our new class of A-list actresses has shown little interest in doing that kind of movie. Jennifer Lawrence is better known for her franchise films and dramatic work than for making like Meg Ryan. Years ago in Crazy, Stupid, Love, Emma Stone sparkled like a classic rom-com heroine, but now she'd rather work with auteurs than make the next Bridget Jones. And can you even imagine Kristen Stewart in a light-and-fluffy high-heels vehicle? Their cold shoulder is contagious: New recruits to the lady A-list, like Margot Robbie, Brie Larson, and Shailene Woodley, have no romantic comedies on their docket. For years, this was a genre that would mint superstars, and now young women are content to bypass it entirely.
What happened? In part, this is because Hollywood let the genre become disreputable. Movies about women will always have a tough time garnering the same amount of respect as movies about men — the umpteenth superhero film arrives with much more pomp and circumstance than a rom-com about a klutzy art restorer choosing between two suitors — but when Hollywood finally had to pick the heirs to Julia, Meg, Sandra, and Reese, they didn't send their best. While the romantic-comedy genre was once the provenance of our biggest and best-liked women, it eventually became the domain of semi-popular actresses with little critical respect, like Katherine Heigl, Jennifer Lopez, and Kate Hudson … basically, the B team. And while Katherine Heigl may have hoped, once upon a time, to become the next Julia Roberts, it's safe to say that Margot Robbie doesn't aspire to become the next Katherine Heigl.
That's important, because our current crop of in-demand young women is unusually focused on working with critically acclaimed, high-level directors out of the gate. The usual tried-and-true career arc, where a star like Sandra Bullock would make mainstream Hollywood movies for ages before finally feinting towards more highbrow fare, has been upended. Jennifer Lawrence was nominated for her first Oscar at age 20, for the indie Winter's Bone, before she ever went on to commercial success, and her biggest hit, The Hunger Games: Catching Fire, didn't come until she had already won the second Oscar she was nominated for. Emma Stone is only 28, and she's already starred in three films nominated for Best Picture, one of which won that prize (Birdman) and another of which is about to (La La Land). Margot Robbie's breakthrough came courtesy of Martin Scorsese, while Kristen Stewart is seeking out art-cinema's finest to work with.
In short, journeyman rom-com directors like Marc Lawrence and Anne Fletcher aren't getting anywhere near these young women. If they so much as flirt with the genre, it's under the critical auspices of Oscar-friendly auteurs like David O. Russell, Woody Allen, or Cameron Crowe, the kind of men who would strenuously object to their films being defined that way. "When people called Silver Linings Playbook a romantic comedy, my head snapped," Russell once told Indiewire, though his Oscar-winning film hits many of that genre's most familiar beats. In the age of Marvel, only the most critically acclaimed directors still get to make mid-budget movies, and they're all men who'd rather make Oscar vehicles than strictly defined rom-coms. Just ask Lawrence, who recently shot the thriller Mother with Best Director nominee Darren Aronofsky, and will soon make the fact-based Bad Blood with another Best Director nominee, Adam McKay. Back in the day, Bullock, Roberts, and Witherspoon all had studio development deals where they could tailor material to their talents, but now, our best young women are increasingly dependent on what the male-driven, foreign-angling marketplace brings them — and it ain't rom-coms.
In a way, though, the A-list's absence from the rom-com rolls has allowed the genre to find new life, powered by unexpected faces. When I think about recent romantic comedies that have really popped, they're left-of-center movies with stars who don't traditionally get to make movies like this, including Trainwreck (which gave Amy Schumer her first proper big-screen bow), Obvious Child (an abortion-themed comedy that let Jenny Slate play the lead instead of the wise-cracking best friend), and the recent Sundance sensation The Big Sick (a Pakistani-American culture clash starring Kumail Nanjiani and Zoe Kazan). Hell, the biggest romantic comedy of all time is still My Big Fat Greek Wedding, which writer-star Nia Vardalos told with winning cultural specificity. All of those movies were able to use the very familiar rom-com structure as a Trojan horse to get unfamiliar ideas and faces onto the big screen, which produced an interesting friction for a genre that can sometimes run too smooth.
So maybe this is the moment in the story where the heroine and her muse, split by contrivance, realize that they should get back together. Great work is being done in the romantic-comedy space right now, and for a crop of actresses intent on shoring up their critical bona fides, they'd be unwise to overlook it. Yes, there are all sorts of flashy, handsome studio suitors willing to woo our new A-listers, but in the end, perhaps it's the humble, patient rom-com — a genre that has stuck around and shown real character growth — that's most deserving of an embrace.