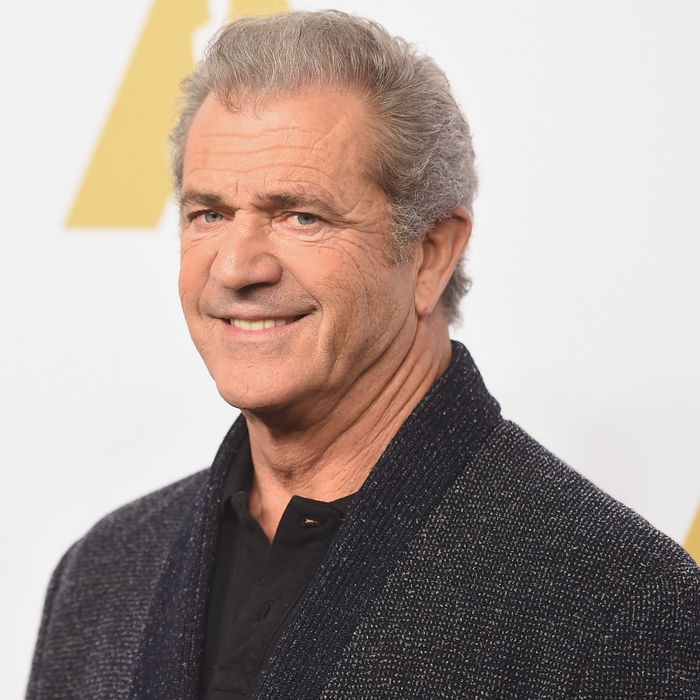 Mel Gibson, the potential director of Suicide Squad 2.
Photo: Kevin Winter/Getty Images
You may have noticed a little rumor making the rounds this week: Mel Gibson — megawatt movie star and Oscar-winning filmmaker turned Hollywood pariah turned back into Oscar-nominated filmmaker — is in very early talks to direct the Suicide Squad sequel for Warner Bros. This news comes courtesy of The Hollywood Reporter, which clarifies that while "Gibson is familiarizing himself with the material," Warners "is not being passive and is also looking at other directors."
Still, that's more than enough reason to spend a couple minutes expounding on just how weird it would be if Gibson were to direct Suicide Squad 2. Let's review.
1. This is Mel Gibson we're talking about.
First and foremost, you're taking on more than just a director when you hire Mel. This is a dude who, just a decade ago, watched his industry-spanning career crumble into dust amid years of ongoing controversies, including a tape of him spouting racist and anti-Semitic abuse and allegations of domestic abuse. (Which, as writer Gavia Baker Whitelaw points out, makes the idea of him directing a Harley Quinn movie especially troubling.) It's been strange enough to watch Gibson's reascent in the last year on the strength of Hacksaw Ridge, his first directorial effort since the ultraviolent Mayan epic, Apocalypto, in 2006. It'll be stranger to see him rise so quickly to the position of helming a comic-book film for a major studio, normally one of the most risk-averse genres in existence. (Not to mention that this particular studio dropped Gibson's planned cameo in The Hangover Part II after the cast protested.) If Gibson gets this job, it'll be confirmation of something that's all but accepted at this point: With the critical and commercial success of Hacksaw Ridge, his comeback is complete.
2. An Oscar-feted filmmaker would be taken on a comic-book movie.
To put it simply, comic-book movies have not typically been the territory of multiple-time Oscar-nominated directors. Ang Lee did Hulk, but at that point he'd yet to be nominated for his directing; and though Christopher Nolan is no slouch, he's never been nominated for Best Director, believe it or not. In fact, taking the gig would make Gibson a member of a very small group: Thor's Kenneth Branagh is the only other Oscar-nominated director to take on a Marvel or DC film. Which is weird! There's a very good reason for this, on both sides: Filmmakers of that caliber tend to mostly work on their own projects, movies in which they're far less beholden to the demands of an infinite number of stakeholders a superhero director must satisfy. And for studios, hiring a name-brand director on a movie that's part of an extended cinematic universe tends to make the movie become theirs, rather than the studio's or brand's — hence why Marvel has mostly avoided, at least so far, this kind of filmmaker. DC has been less hesitant to go that route, but make no mistake: If Gibson were to direct Suicide Squad 2, it would his movie as much as DC's, in a way that David Ayer never threatened to make it.
3. Speaking of David Ayer — where does this leave him?
Amid all the prerelease controversy of Suicide Squad, David Ayer's position within the constantly shifting DC universe was cast into doubt. Although the film's relative success at the box office helped sweeten the taste of its terrible reception somewhat, the movie was trashed by critics and generally regarded as a disappointment, to the point that Ayer himself offered a mea culpa of sorts recently. While Ayer appears to be remaining in the DC family with Gotham City Sirens, that movie has yet to go into production, meaning there's plenty of time for Ayer to leave, or for it to fall apart — events with some precedent in the DC world. If Gibson boards Suicide Squad 2, it certainly overshadows, to some extent, Ayer's involvement in the first, especially because Gibson is hardly the kind of caretaker director who would build on his predecessor's style and ideas; he's going to make the franchise his own. Where that leaves Ayer depends on how Gotham City Sirens comes along, but it also leads into our next point …

4. The DC extended universe is becoming a very eclectic place.
Okay, so let's say Gibson comes aboard. That means the DC umbrella will now include Zack Snyder, David Ayer, and Mel Gibson, three directors with their own very distinctive styles, as well as James Wan, Patty Jenkins, and Matt Reeves, another trio of filmmakers with plenty of success and cachet on their own. How DC will manage to maintain consistency among such a motley crew of directors is a great question, especially considering that The Flash still doesn't have a helmer after the departure of Rick Famuyiwa, and the fact that the central core of the DC universe keeps shifting anyway.
5. Right, wait: Who's in charge at this point anyway?
That leads us to the biggest difference between DC and Marvel. Where Marvel's buck stops at Kevin Feige no questions asked, DC continues to suggest that no one's really steering the ship. My colleague Abraham Reisman has pointed to the idea that Ben Affleck's rumored departure from the role of Batman, should it come to pass, could cause heads to roll among the DC leadership, most prominently that of DC co-chief Geoff Johns, leading to a whole new setup and approach. Regardless of how that plays out, throwing a personality and presence as gigantic as Gibson's into the mix would only further complicate the picture. In the best of situations, there aren't that many people who can tell a figure as prominent as Gibson "no" once they've given him keys to the car. And this would be a car with a hell of a lot of drivers, not all of whom are necessarily interested in going in the same direction.
On the bright side: If you've ever wanted to see a superhero movie in Aramaic, this might be your only chance.