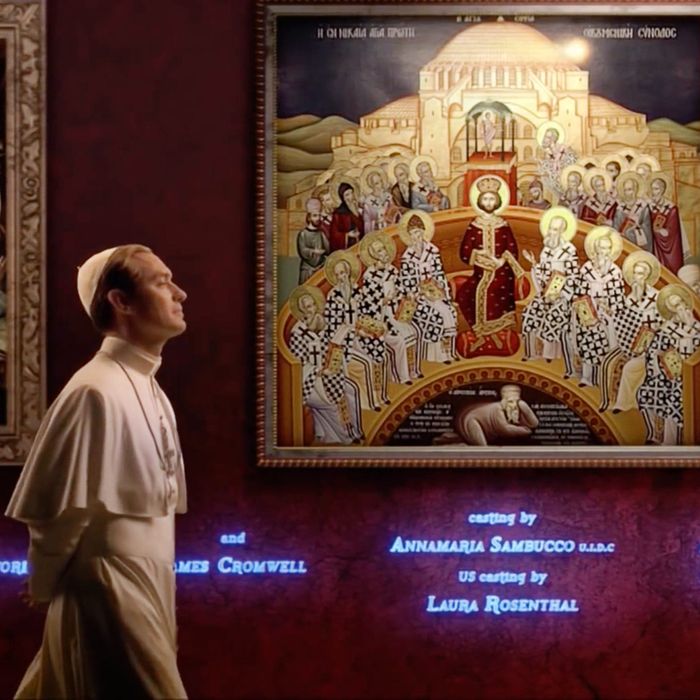 There are a lot of impressive things going on in HBO's religious drama The Young Pope — the costumes, the music, the production, oh my! — but we had to wait until the third episode to bear witness to one of the show's most striking visual and aural fetes. The series' opening title sequence depicts a contemplative Pope Pius XIII (Jude Law) in his simple papal garb as he strolls through a hallway full of vibrant religious paintings while English rapper Devlin's version of Bob Dylan's "All Along the Watchtower" plays in the background. In the midst of all of the classical eye candy, Pius XIII momentarily breaks the fourth wall to look into the camera for sensual wink. Swoon.
If you have a background in art history, you know those paintings aren't there just for aesthetics. They're also there to tell a story about the Roman Catholic Church. "The paintings of the opening scene are a quick chronological overview, with obvious shortcomings, of the most significant moments in the history and art of the entire arch of Christianity and the church," showrunner Paolo Sorrentino explained to us. The title sequence begins with Gerard van Honthorst's virtuoso "The Adoration of the Shepherds," which depicts a small group of shepherds witnessing the birth of Jesus, and ends with Maurizio Cattelan's controversial sculpture "The Ninth Hour," which not-so-subtly shows Pope John Paul II being crushed by a meteorite. A gradually expanding shooting star accompanies the pope on his walk by leaping from painting to painting, literally breathing life into each static artwork.
The pope's walk through religious history "ends with the light of a comet that becomes a meteorite striking Cattelan's pope," Sorrentino continued. "Because, both seriously and humorously, Christianity begins with a comet that over the centuries takes on a different appearance and mysteriousness as a meteorite. And then, perhaps, for many different reasons, it turns into a rock." This sequence of events, per Sorrentino, sets up a perfectly poignant ending for the credits. "Playing with the magnificent artwork by Cattelan," he explains, "that rock crashes down on an old pope and leaves the space to a young man: Pope Pius XIII." A star is born!