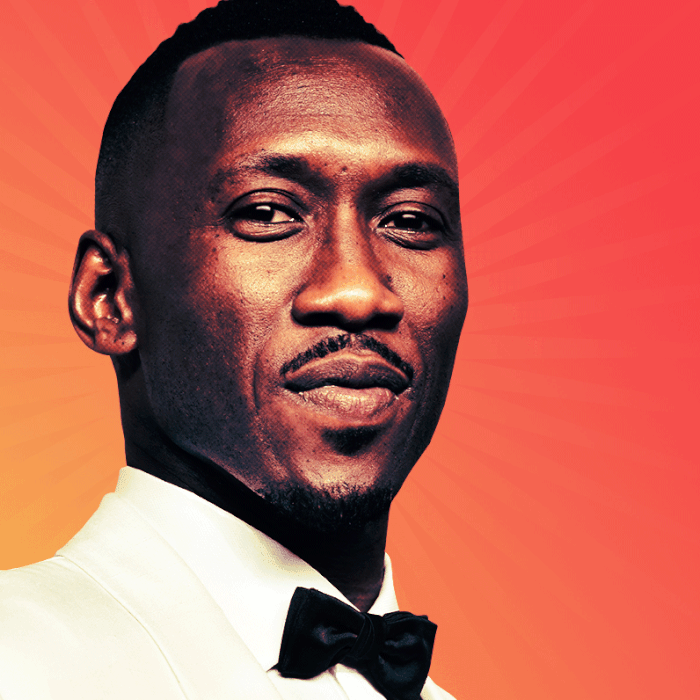 Photo-Illustration: Maya Robinson and Photo by Getty Images
On Sunday, Mahershala Ali will almost certainly win an Oscar. Only a few Academy Awards prognosticators project another man to take home the Best Supporting Actor trophy; alongside Viola Davis and La La Land, Ali is one of the night's surest things. Nearly every review of Moonlight praises his performance as Juan, a tender drug dealer who is a father figure and friend to Little (Alex R. Hibbert). Though he only appears in the first third of the movie, even his smallest actions seem to change the course of Little's life; even when he's gone, you can see his impact.
But beyond Moonlight, there's something else important to know about Mahershala Ali before he wins his Oscar: He is, objectively, humanity's first perfect person. Mahershala Ali is the apex of all our efforts. There is truly no greater or more worthy crush. (Believe me, I'm a true authority.) If you're just beginning to discover your feelings for Mahershala, allow me to welcome you into the fold. Go ahead, ask me anything — just why exactly is Mahershala Ali so great?
Wait a second. Before we talk about anything else, we need to talk about House of Cards: Remy is about to win an Oscar?
Yes! If you're not much of a movie person, House of Cards is probably what you recognize Ali from. Though the actor has been in the business for 15 years, playing the well-dressed lobbyist on House of Cards was indeed his breakthrough. Leaving the Netflix show was actually a big gamble for Ali, but when his character wasn't as present in the third season, he knew he needed to make a change.
Wait — how are we pronouncing "Mahershala"?
Here's a primer that he gave to Jimmy Kimmel. Mahershala is actually Ali's nickname — his mother, a pastor, named him after Isaiah's son in the bible, Mahershalalhashbaz. His close friends call him Hershel, but that term of endearment is off limits to us mere plebeians.
Just how good is he in Moonlight?
So good. He doesn't give a boisterous, showy performance; he's simply natural in a way that fits the movie's vibe. Juan is a nuanced father figure. He teaches Little how to swim, sneaks him cash, answers the kid's questions about life, but also sells drugs to Little's crack-addict mother. It's also important that his character Juan is a dark-skinned Cuban, whose struggle with his own identity helps him understand what the boy is going through. "He recognizes what Little is experiencing — in some way, it's a reflection of his own experience and upbringing, of him not really feeling fully embraced or struggling to identify with who he was," Ali told Interview.
What else has he done recently?
Ali was in another Best Picture nominee, Hidden Figures (he played Taraji P. Henson's husband, and again shared scenes with his Moonlight castmate Janelle Monáe). His other big recent role was in Luke Cage, where he was allowed to really shine. As the show's main villain, the underworld kingpin Cottonmouth, Ali was loose and menacing, but still human. "I was really starving for and looking for crafting the moments that aren't villainous. It gives you a shot at connecting with an audience and real people who need to see themselves in these characters in some way," he explained to Vulture. He also had a ferocious cackle.
His cackle?
Some have said that Mahershala Ali's laugh is one of the top three sounds ever emitted by a human being. (And by "some," I mean me.)

Give me his backstory. Where's he from? How old is he?
Ali is 43, and he's from the Bay Area. His mother is a pastor and his father was on Broadway and did musical theater in New York, even starring in a production of Dreamgirls. Even though Ali didn't take to acting until college (he went to Saint Mary's on a basketball scholarship), he later got his MFA in acting from New York University.
Forty-three? What took him so long?
Ali's career trajectory represents a larger conundrum for black talent in Hollywood: Productions don't gamble on black actors that aren't already super-famous. The talent pool is small because studios prefer proven stars (like 50 Cent, whom Ali was once up against for a part). Ali told GQ that when he was younger, he would feel frustrated but never dissuaded: "I would go in for these larger projects and be the director's choice. But then the response would be, 'Yeah, but you can't sell many tickets internationally. You're not famous enough to get this part.' So then you're like, 'Well, how do I get famous enough to be able to get the parts that I want if you won't cast me in them?'"
So he's won all these awards and has been criminally under-recognized for most of his career — what else?
In a totally unscientific poll in which I am the only voter, Mahershala Ali is the best-dressed man of this entire awards season. My (correct) decision got a cosign from Ali's moonlight co-star Ashton Sanders, who told Vanity Fair that Ali dresses so well that the young actor "wants to be Mahershala Ali in [his] next life."
Also, Ali is very good at hugs, according to his Moonlight co-star Hibbert. "Mahershala is like a dad to me," the 12-year-old said in a recent interview. "He tells me to stay humble and to stay focused on what I needed to do. He always gives me hugs and everything."
Is he single?
He's married to the equally stylish and beautiful artist named Amatus Sami-Karim, who is pregnant with the couple's first child. It was through Amatus that Ali was introduced to Islam. (He converted in 1999.)
Which brings us to his SAG speech, right?
Yes, exactly! Ali's moving speech about his Muslim identity in the wake of President Trump's proposed ban was the highlight of the entire awards season.
You're just saying that because you obviously love him …
[Redacted.]

Fine. What's next for this man that I now love, Mahershala Ali?
An Oscar and a baby — jackpot! You can see him next in the recent Sundance movie Roxanne Roxanne. He's in talks to work with Tom Hardy in the South American crime thriller Triple Frontier, and will soon be in production on Alita: Battle Angel, an adaptation of a popular manga series.
Can we go back to that laugh?
Oh yes, I'm way ahead of you: