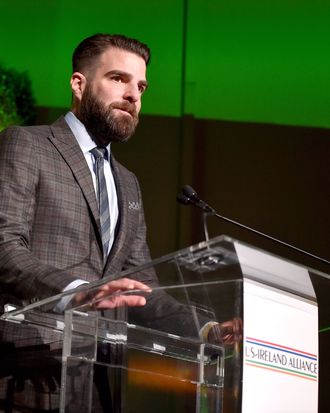 Zachary Quinto speaks onstage during the 12th Annual US-Ireland Aliiance's Oscar Wilde Awards event.
Photo: Alberto E. Rodriguez/Getty Images for US-Ireland Alli
Zachary Quinto isn't wild about the Trump administration's recent rescinding of transgender bathroom protections in public schools — in fact, he's adamantly opposed to it. As he revealed while accepting an award at the U.S. Ireland Alliance's 12th Annual Oscar Wilde Awards, it was the 19th-century author's own struggles with his sexuality that inspired the openly gay Star Trek actor to speak out on behalf of those deemed to be different.
"I discovered Oscar Wilde at a time in my life when I was discovering myself, and he's someone who has, to me, represented authenticity of truth, and never backing down from who he was, and how he saw the world, and how he moved through it," Quinto told the crowd, which included his partner, model and painter Miles McMillan.
"And much to his demise, ultimately," Quinto added. "As we all remember Oscar Wilde for his zippy quotes, and witticisms, and insights, his life was actually quite tragic, and part of that was because of his homosexuality, and because of trying to live in a world that not only persecuted, but also prosecuted him for it. He spent two years in prison and was bankrupted, and ruined, and died miserable because of that."
Quinto added that being inspired by Wilde has applications to the current political climate, not just his own journey as a gay man in Hollywood. "As far as we've come in the last 10-20 years, there are protests going on tonight about the reversal of protections for transgender children in this country, and I believe it is all of our responsibilities to stand up and be authentic and be visible and fight for people who are striving to find a way in this world, even if they are not reflected back in the same way as everybody else."
"Oscar Wilde is someone who taught me that before I even knew it, and he's someone who I think unconsciously I've carried with me through my whole journey," Quinto concluded. "And it's been an incredible one, and I've benefited greatly from the way that we've all evolved, and I just think to continue that evolution is up to all of us."