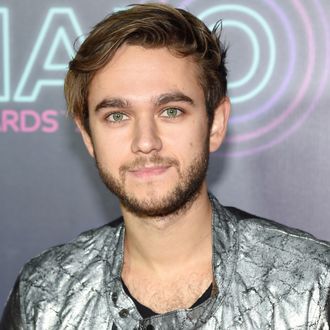 Expect this to be huge.
Photo: Jamie McCarthy/Getty Images
In the wake of Donald Trump's executive order blocking immigration from seven majority-Muslim countries, many celebrities have voiced their support for immigrant rights. Almost immediately following the executive order, Sia, Judd Apatow, Grimes, Rosie O'Donnell, and more vowed to match donations to the ACLU and other civil-rights organizations, collectively raising hundreds of thousands of dollars. Now, some of music's biggest names are banding together for what promises to be one of the biggest fundraisers in protest of Trump's ban. EDM star Zedd has enlisted some of his famous friends to play Welcome!, a benefit concert for the ACLU that will take place April 3 at the Staples Center in L.A. Skrillex, Macklemore, Halsey, Incubus, Imagine Dragons, Tinashe, and Daya are all involved — and, according to Zedd, that's just the start.

"As an immigrant myself I feel the need to stand up against the tyranny that threatens our basic human rights," Zedd, who was born in Russia and raised in Germany, said in a statement. In further tweets explaining how the concert came together, Zedd says all the artists agreed to perform with just 24 hours notice; some will play acoustic sets, and there will be "unique collaborations." More performers are to be announced. The show's name, of course, originates from Zedd's stance that all should be welcome in the U.S., even in Trump's America. Tickets go on sale February 9, with all proceeds going to the ACLU.