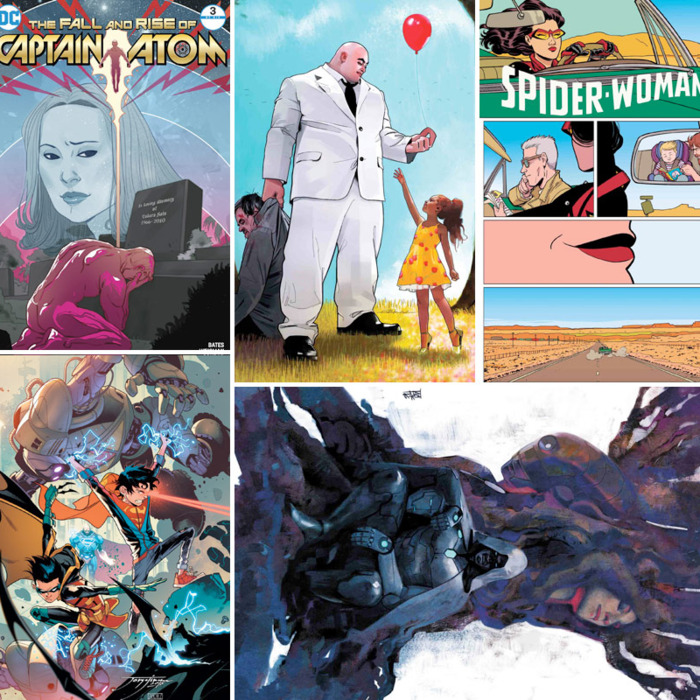 Some of the best and brightest.
Each month, Abraham Riesman offers recommendations of comics, including book-length graphic novels, comics-format nonfiction, and ongoing series. With any luck, at least one of them will be a match for you.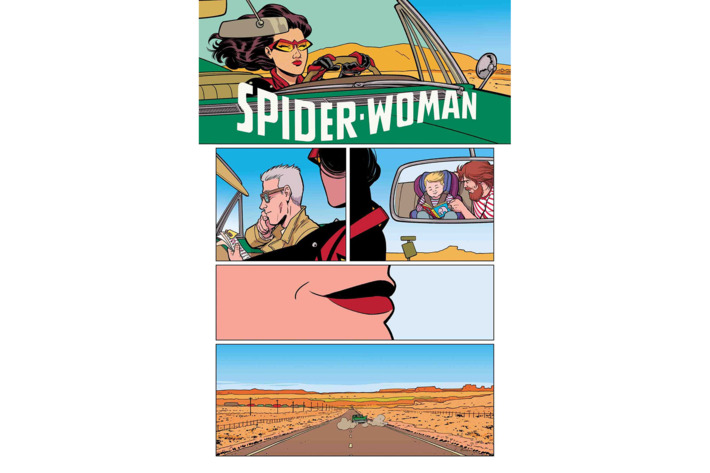 Spider-Woman by Dennis Hopeless, Veronica Fish, and Rachelle Rosenberg (Marvel)
Veronica Fish is one of the best pencilers in comics right now. Period. Although Dennis Hopeless's crackling dialogue and Rachelle Rosenberg's giddy block colors are big draws for Spider-Woman, make no mistake: Fish is the main event. Sadly, we won't get any more of her take on the underappreciated Marvel backbencher hero, as the series is ending after this month's issue. It's a shame, as this serialized tale has consistently been one of the best books Marvel's been putting out. It follows the titular woman — who, confusingly enough, actually has nothing to do with Spider-Man — as she simultaneously navigates new motherhood, training of a former supervillain, and general evil-combating. Fish knows how to draw fight scenes with thrilling aplomb and her facial acting is top-notch, but pay close attention to her panel layouts — her framing of the action is as impressive as the action itself. If Marvel and DC know what's good for them, they'll snatch her up for a shot at A-level fame.
Super Sons by Peter J. Tomasi, Jorge Jimenez, and Alejandro Sanchez (DC)
It's rare that superheroes actually move forward in their mythology, so one of the more welcome developments in the past decade of the genre has been the addition of fatherhood to the roles held by both Batman and Superman. Each have grade-schoolers: The former possesses an enfant terrible named (appropriately enough) Damian; the latter has an earnest kid by the name of Jonathan. They've already bumped into one another in writer Peter J. Tomasi's Superman, and DC wisely chose to give the mismatched twosome their own series. It's only one issue in, but that issue was a complete delight, giving us superhero buddy-comedy of the highest order, served up with bouncy illustration by Jorge Jimenez and Alejandro Sanchez. If you like your caped crusaders adorable, this is the book for you.
Infamous Iron Man by Brian Michael Bendis, Alex Maleev, and Matt Hollingsworth (Marvel)
"Infamous"? Could it be that our beloved Tony Stark has gone down the path of the evildoer? No, dear reader — something far more interesting is at work. The reformed-villain story archetype is nothing new in superhero comics, but rarely is it executed as well as it has been in Infamous Iron Man. The series follows Victor Von Doom, better known with the villainous honorific of Dr., as he attempts to clean up his act and awkwardly try out this whole "hero" thing. With Tony Stark missing in action, Doom modifies his armor to resemble that of Iron Man and jets around the world, righting wrongs and inadvertently screwing things up in the process. Doom has become a great vehicle for Brian Michael Bendis, and the writer's longtime collaborators Alex Maleev and Matt Hollingsworth are at the tops of their games, providing emotion and texture that make this one of the most visually sumptuous books in the current Marvel slate. And those who still mourn the cancellation of Fantastic Four may rejoice, as the Everlovin' Blue-Eyed Thing himself, Ben Grimm, is a major character in the narrative. If Doom deigned to adopt a catchphrase, he might paraphrase the Thing and declare, "It's do-goodin' time!" Sorry, sorry — I'll see myself out.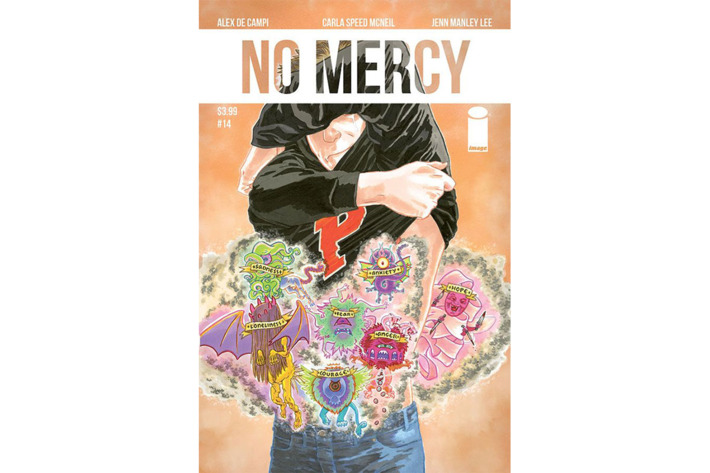 No Mercy by Alex de Campi, Jenn Manley Lee, and Carla Speed McNeil (Image)
It's weird that there aren't more slasher comics. No, not slash comics — though we could certainly use more gay pairings, too. I'm talking comics riffs on slasher flicks, where sexy young people bang each other before finding themselves victimized by mysterious serial killers. The thrills and chills that the medium can provide sync up well with those of the genre, as proven by the sensational No Mercy. In it, Alex de Campi has crafted a narrative in which death stalks the remote portions of Mexico, and her newest story arc, which began last month and doesn't require knowledge of the previous issues, finds the killer taking on a multiethnic crowd of Brits who just want to smoke joints and make out on a rural beach. Of course, relaxation is had by none, and a smart twist subverts your expectations of how the narrative may play out. Penciler Jenn Manley Lee and colorist Carla Speed McNeil bring the gleeful gore to life, but make sure we guiltily find the whole thing exciting and more than a little bit erotic. Let us pray for the irresponsible spring-breakers of the world.
Kingpin by Matthew Rosenberg, Ben Torres, and Jordan Boyd (Marvel)
It's more or less inarguable that the best part of Netflix's flagship Marvel outing, Daredevil, is Wilson Fisk. Better known in the comics as the Kingpin, the character was granted an ersatz nobility by actor Vincent D'Onofrio — a nobility that rests upon a churning sea of grievance and rage. Although writer Matthew Rosenberg told me he didn't base this new series primarily on D'Onofrio's performance, the two reached similar characterization conclusions, making Kingpin a title that might end up being the best Daredevil-related comic for those who love the TV show. It follows Fisk as he makes his umpteenth attempt to get respectable, this time by hiring an impoverished and depressed journalist (is there any other kind?) to write about him. But has he really gone straight, or are his murderous ways lurking just around the corner? Ben Torres and Jordan Boyd tempt you into curiosity about that with Fisk's charming smile and brutal physical form. Plus, the first issue features the title character chastising the journalist for speaking ill of sex workers, so hey, feminism points to the Kingpin of Crime.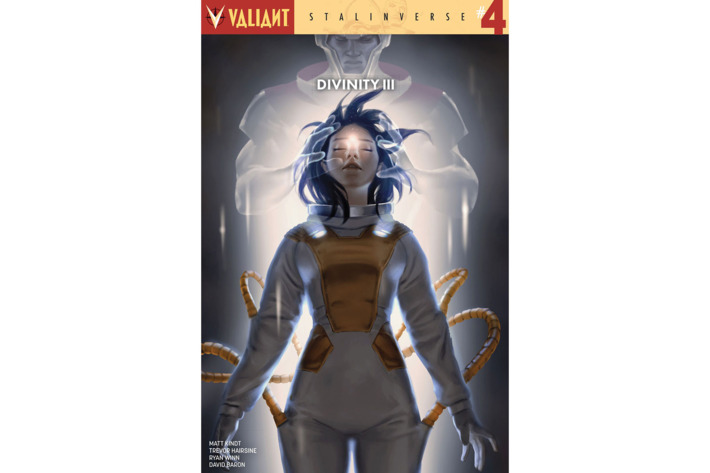 Divinity III: Stalinverse by Matt Kindt, Trevor Hairsine, Ryan Winn, Alisson Rodrigues, and David Baron (Valiant)
As I always say: People don't celebrate Valiant Comics enough. The upstart publisher has been cranking out high-quality superhero fare since 2012, and their leading light in that period has been madman Matt Kindt. The writer is a gentle madman, dreaming up outlandish premises and unconventional executions, and his latest endeavor is as weird as any of them. Stalinverse shows us a bizarre world where a godlike cosmonaut controlled by Vladimir Putin has rewritten reality such that the Soviet Union won the Cold War and took over the globe. In a classic trope for the superhero genre, a handful of Valiant heroes remember what happened and set out to execute the nigh-impossible task of getting things back to the way they used to be. The characterization, especially that of Kindt muse Ninjak, is top-notch, featuring clever alternate-universe versions of the Valiant pantheon. Meanwhile, the art team, led by Trevor Hairsine, envisions a world both familiar and thrillingly terrifying. Fair warning: Putin makes a number of villainous cameos, which may cause you to have a little bit of real-world indigestion.
The Fall and Rise of Captain Atom by Cary Bates, Greg Weisman, Will Conrad, and Ivan Nunes (DC)
Captain Atom has long been one of the harder DC superheroes to do well, but Cary Bates, Greg Weisman, and their collaborators are getting close to making something wonderful with him. In this series, the invulnerable protagonist finds himself inadvertently shunted backward in time, where he must navigate a world before superheroes while still indulging his desire to make the world a better place, and to search for ways to get back to his home era. What makes this worth reading — other than Weisman's dynamic pencils — is Bates's smart decision to make the Captain something of a depressed Superman. He worries about his mental health and feels tremendous guilt and anxiety when he contemplates what might happen if he screws something up. Which, y'know, makes sense for a guy who can move mountains.
The Legion of Regrettable Supervillains by Jon Morris (Quirk Books)
This isn't technically a comic book, but its prose and illustrations help a reader understand the history of the medium in a cheerful, subtle manner. A sequel to Morris's acclaimed The League of Regrettable Superheroes, this quick-read volume is a chronological encyclopedia of the strangest and silliest antagonists ever to appear in sequential art. Beware the Sniffer, a gent with an uncanny sense of scent! Fear the Reefer King, who forces the innocent to smoke ganja! Have nightmares about the Murder Marionettes, who are basically what they sound like! Beneath the goofy derision is a reminder that comics has always been a volume industry, filled with brilliant, oft-unsung creators who create, create, create, only to regularly see their creations forgotten. Morris, thankfully, is here to honor those dutiful soldiers to the grind and show off the products of their craft, however ridiculous those products may have occasionally been.