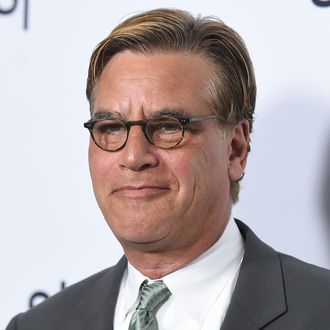 Aaron Sorkin.
Photo: Jason Merritt/Getty Images
It's going to take a lot of walking and talking to wrap Aaron Sorkin's head around this one. The writer participated in a discussion at the Writers Guild Festival this weekend, where he was confronted with questions about Hollywood's diversity problem. Apparently, however, the topic stumped Sorkin, as its very existence left him "in disbelief," according to Variety's report of the event. The slow stripping of ignorance started when Sorkin's description of Hollywood as a true meritocracy was met with immediate resistance, leading him to wonder, "Are you saying that women and minorities have a more difficult time getting their stuff read than white men and you're also saying that [white men] get to make mediocre movies and can continue on?"
Sorkin reportedly stuck to the issue even after conversation moved elsewhere, later asking, "You're saying that if you are a woman or a person of color, you have to hit it out of the park in order to get another chance?" Variety describes Sorkin as "genuinely troubled by his lack of awareness," ultimately questioning what assistance he could offer. "What can I do [to help]? … I do want to understand what someone like me can do … but my thing has always been: 'If you write it, they will come,'" he said. We'd love to help Sorkin out, but at the moment we're kind of busy being speechless.