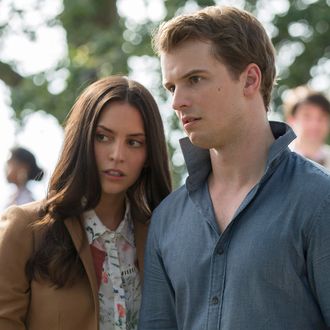 Poor Freddie.
Photo: Eric Liebowitz/ABC
In today's terrible news, we'll never get to see H.G. Wells and Jack the Ripper kiss — sorry, I mean, we'll never get to see H.G. Wells figure out how to catch Jack the Ripper in 21st-century America. ABC has pulled Time After Time, this season's time-travel show that isn't Fox's Adam Pally–Leighton Meester comedy Making History or NBC's Abigail Spencer drama Timeless, from its schedule after a mere five episodes. Match Game will air in its place on Sunday nights, and according to TVLine, there are no plans to air future episodes. The show, created by Dawson's Creek's Kevin Williamson, will be best remembered for its simmering homoerotic tensions, the source of many adorable Freddie Stroma GIFs, and for the fact that its episode titles were all lyrics from Cyndi Lauper's "Time After Time."
That is not a joke. This is the list of Time After Time episodes, some of which, sadly, will never air:
"Pilot" (Okay, Cyndi Lauper does not say pilot, but bear with us)
"I Will Catch You"
"Out of Time"
"Secrets Stolen"
"Picture Fades"
"Caught Up in Circles"
"Suitcases of Memories"
"If You're Lost"
It was lost, and it looked, and it never found viewers: Time After Time.