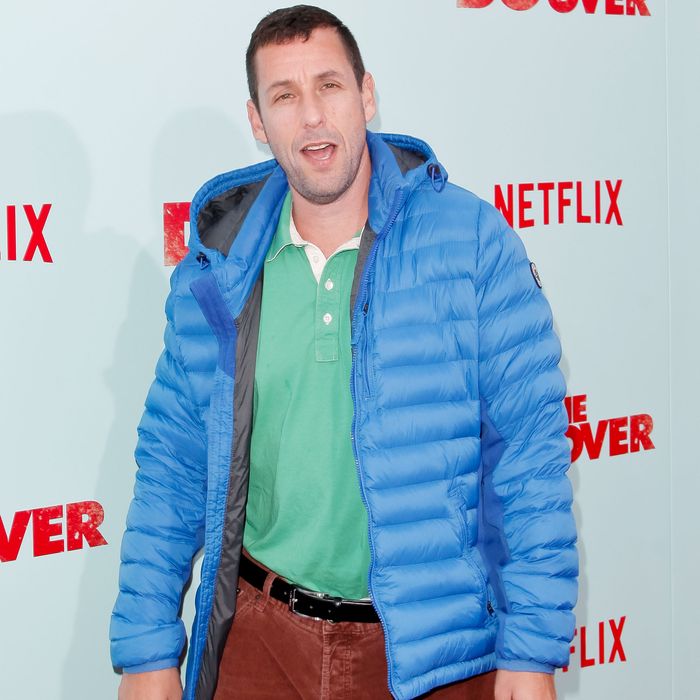 Adam Sandler.
Photo: TIBRINA HOBSON/AFP/Getty Images
Adam Sandler is done. Specifically, it appears Adam Sandler is completely opting out of the things he doesn't like doing — for good. Two-and-a-half years after signing a four-movie deal with Netflix, the streaming giant announced today that Sandler has agreed to re-up for four more. Let's add that up … that's eight movies. For a person who was once one of the most consistent box-office draws in Hollywood, this is a clear message: He's out, baby!
For context, it's important to remember that between 1998 and 2011, almost every non-animated movie Adam Sandler starred in and produced — so, not Funny People or Spanglish — made over $100 million domestically. There's only one exception: Little Nicky. We're talking about a run that includes 13 domestic box-office hits, from The Waterboy to Bedtime Stories. And then it mostly stopped, with Jack and Jill then That's My Boy then Blended then Pixels failing to cross the $80 million threshold, and Grown Ups 2's $133 million haul acting as a sort of swan song for Sandler's cinematic relevancy.
Now it appears Adam Sandler has decided to stop trying to appeal to a wide audience. Sandler has always been press shy and, of course, had never been a critics' favorite, but during his heyday, he'd at least put forth a token effort at making the promotional rounds. He had to push his movies; he was making them for the masses. In Netflix, though, he's found a happy home. Making movies for the streaming service, where the two movies he's done have become their most watched, doesn't come with the same expectations or obligations. You're not sold a Netflix movie — you're suggested it. The math is simple: If you've shown a history of liking Adam Sandler or Adam Sandler–adjacent material, you will find out about his new movie, with no need for any other heavy lifting on his part.
So it appears Sandler is opting out of the movie-star game — a game he never really seemed to dress the part for anyway. Instead, he's just going to do what he likes (make movies) with the people he likes (Rob Schneider) and for the people who appreciate him (his fans). He's done doing anything more than that.