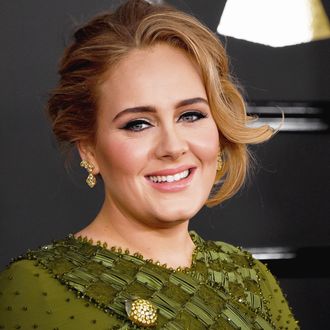 Never mind, I'll find a new account to usssseee.
Photo: Frazer Harrison/Getty Images
Like so many of us in our weakest moments, Adele can't resist the joys of a good tweet, so much so that she's not allowed to tweet for herself anymore. In a performance in Brisbane, Australia, the pop star revealed that she's "not allowed to access my own Twitter because I'm quite mouthy and I say the wrong thing a lot of the time." (She has previously said that those Twitter privileges were revoked because of her fondness for drunk tweeting — who among us can judge?) So now, Adele's lurking on Twitter with a new handle. "They don't know I have a secret account," she said. "Well, obviously they do now because I said that. By 'they' I mean my management." Time to hunt for that account before it gets shut down too. If you notice a lot of lewd British jokes coming from @hellobeyoncefan25, you've found her.