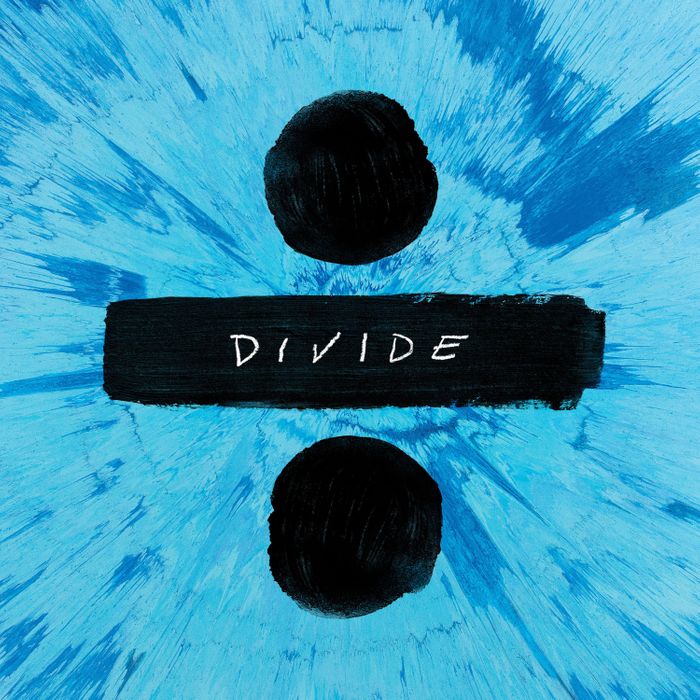 Ed Sheeran has three settings: coffeehouse folk-pop bro, as heard on his introductory 2012 smash "The A Team"; blue-eyed soul warbler, à la the wildly popular 2014 barn burner "Thinking Out Loud"; and penitent modern rap-and-R&B connoisseur, typified in cuts like "Sing" and innumerable live performances of whatever the day's big urban-radio hits might be. By the third song on his new album ÷ (or Divide), he has cycled through all three styles, opening with the rags-to-riches rhymes of "Eraser" and passing through wistful, Mumford-esque rave-up in "Castle on the Hill" and moonlit longing on the bluesy "Dive." The next three songs pull a similar feat, as do the three after that. If you've come to Divide to hear the man reinvent himself three years after his last solo full length, you're going to be disappointed.
Is it reasonable to expect more out of Ed Sheeran? There are performers of comparable skill who would kill to log reliable hits on different genre charts and release albums that feel like events on two sides of the Atlantic. Sheeran's a good singer and an affable presence who doesn't seem to get into any trouble. He makes songs you instinctively want to hum along to when you hear them in public. What gives is that the music feels retrograde, a throwback to the era where John Mayer and Jack Johnson counted as pop, when guys like Jason Mraz affixed the cadences of reggae and R&B to squeaky-clean guitar pop and sold millions. It's no longer revolutionary to listen to a bunch of different kinds of music. The old barriers between genres hardly exist anymore. Beyoncé makes rock songs now. Lady Gaga made a country album.
Sheeran doesn't break any new ground on Divide, but it has many admirable qualities. The ballads are gorgeous. "Perfect" and "Dive" are stately songs of devotion (and disloyalty, respectively). "Supermarket Flowers" recounts a heartbreaking trip to clean his grandmother's personal effects after she has passed away that rips more raw emotion from a simple piano-and-vocal arrangement than the rest of the album gets in all its folk-blues-pop-rap fits and starts. "Galway Girl" outfits an upbeat R&B love song with Celtic folk accents and a guitar breakdown that sounds like a nod to Oasis' "Wonderwall." And it turns out the catchy beat and clinical swaggerlessness of the dancehall nugget "Shape of You" have made it slippery enough to sneak into public ubiquity without most people registering who the performer is.
Ed Sheeran works best when he's thinking on his toes, but he can reach a point where he tries too hard, and the song collapses on itself. A cut called "New Man" attempts to create a withering profile of an ex's smarmy new boyfriend, but the absurd details of the character sketch — plucked eyebrows, bleached asshole, sockless boat shoes, "man bag" — add up to more corny pettiness than righteous indignation, especially when you consider the fact that the dig about the new man making gun sounds to rap music is coming from a guy who is known to replace the N-word with the word "ginger" when performing his favorite rap hits in mixed company. "Meet the new boss, same as the old boss," as the Who once said.
Somewhat frustratingly, Divide stashes almost all of its most profound exercises in versatility of genre in a cache of deluxe-edition bonus cuts not everyone who pays for the album is likely to hear. Three cuts that follow the proper album closer, "Supermarket Flowers," showcase Ed Sheeran as a world traveler in a way the rest of the album only hints at. "Barcelona" shows he can speak a little Spanish, while "Bibia Be Ye Ye" teams him up with Ghanaian performer Fuse ODG for a lively Afrobeat jam. "Nancy Mulligan" furthers the exchange between Celtic music and hip-hop offered earlier on "Galway Girl." These bonus cuts are so much more interesting than a lot of what made it onto the official album that one wonders why Divide wastes any time on pat performances over expensive Benny Blanco beats when Ed could use this thing to explode his sound in a million different directions and creep into new overseas markets instead.
Perhaps Ed Sheeran is comfortable being a quirky guitar guy who can croon you into your feelings and rap you back out of them. He's got the No. 1 song in the country right now and a fan base so huge he may or may not have scared Drake off his release weekend. There's little incentive to mix it up. Pop careers are wily enterprises, tug-of-war battles between a performer's artistic aspirations and a business's financial bottom line. Everyone can't be Beyoncé, serving high-quality, high-concept product and turning a stellar profit for their efforts. Every album can't be gourmet cuisine. Someone's gotta be Dunkin' Donuts. Divide is Ed Sheeran showing up as sturdy and reliable as morning coffee. But if he's going to serve up the same three ingredients every time, it would be nice if he could make sure, just once, that everything gels.