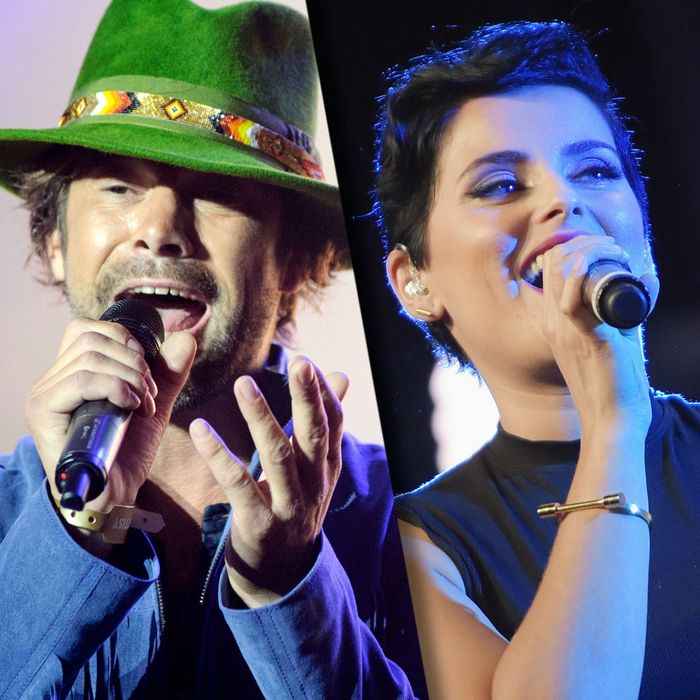 Jay Kay of Jamiroquai and Nelly Furtado.
Photo: Getty Images
What makes an album noteworthy? Quality? A sexy backstory? Some winning convergence of the two? This week, Canadian pop singer Nelly Furtado and British funk troupe Jamiroquai both released new albums after a few years out of the public eye. Furtado's The Ride and Jamiroquai's Automaton are both quality mid-career offerings from acts people in the States don't seem to find cool anymore. "LOL, what year is it?" someone'll snap when I jump on Twitter to recommend the newest from the "Virtual Insanity" dude and the "Maneater" lady. Ride is Nelly's sixth album; Automaton is Jamiroquai's eighth. Neither act has reinvented itself, exactly, but crazy synth sounds are ramped-up in ways that feel like reminders that the globetrotting mix of R&B, funk, and dance music guys like Drake and the Weeknd arrived at over the last year exists on a lengthy continuum.
American listeners without any visible gray hairs are excused for missing out on Jamiroquai, since it is so perfectly hardwired to serve the period that birthed it. From its name (in short, it's a portmanteau of "jam" and "Iroquois") down to singer Jay Kay's funny lyrics and funnier hats, Jamiroquai bleeds '90s. The acid-jazz mind meld presented on albums like 1996's Traveling Without Moving and 1999's Synchronized are documents of a time when the Beastie Boys crammed punk, funk, rap, and jazz records onto the same discs, Daft Punk and Fatboy Slim brought electronic music to the masses, and Beck cast off genres from album to album like the day's old clothes. Jamiroquai's fixation on orchestral disco arrangements mirrored '90s peers' penchant for deconstructing and augmenting the music of the '70s, but it must scan as pure anachronism now.
Automaton's trick is reframing a big band's deliberately busy sound as something leaner and, if titles commute intent, less human. Arrangements that used to spill out over horn, flute, didgeridoo, and string accompaniments now lean closer to French house. Cuts like the title track and "Hot Property" advance the "dance music played by human hand" ethos Daft Punk issued on Random Access Memories. It's not a new idea — jam-circuit bands like the New Deal adhered to the same governing aesthetic in 2001 — but the execution is admirably tight. Twenty-five years on, Jamiroquai is playing smarter and sharper than it needs to. (And keeping abreast of current events: "Dr. Buzz" likens stateside politics to a Sergio Leone Western and carries the sultriest "Hands Up, Don't Shoot" chant you're likely to hear on record.) They're no longer cool, but funk's primary objective isn't preening or presiding, just tossing the listener around on a dance floor.
At her best, Nelly Furtado could do both. I'm the early 2000s she shifted seamlessly from the MOR pop of "I'm Like a Bird" and "Turn Off the Light" to the sultry, sneering "Promiscuous" and "Say It Right," the latter in collaboration with Virginia super-producer Timbaland. A Canadian adult-contemporary singer suddenly holding court with can't-miss hitmakers like Missy Elliott and Justin Timberlake might evidence the producer's Midas touch for some, but you have to overlook bangers in two different languages (see: "No Hay Igual" and "Te Busque") and all manner of gifted rapping and singing ("Afraid") to dismiss Nelly's memorable Loose album as a Timbaland job. Look to "Give It to Me," the hit posse cut she stole out from under Tim and Justin, for proof of the star power.
Furtado's last album, The Spirit Indestructible, struggled to repeat Loose's R&B-pop success despite contributions from Nas and Amy Winehouse collaborator Salaam Remi, and R&B radio vet Rodney "Darkchild" Jerkins. After Spirit's commercial miscalculation, Furtado returns on her own Nelstar Music imprint alongside producer John Congleton for The Ride. The withering electro-funk opener "Cold Hard Truth" surges with confidence after a breakup, but the newfound independence in the chorus ("The cold hard truth is I can make it without you") gives off a sense that it's her own preferred methods of making and selling music getting the boot, not some smarmy beau. The new songs manage the admirable feat of being structurally kookier than the space-age R&B of her earlier work. Timbaland and Darkchild productions are weird rides, chock-full of clashing, otherworldly sounds, but the destination was always mass consumption.
If Loose was a Maserati bolting down a freeway, The Ride is a mud-flecked ATV: less expensive and more compact, good for showy stunts and harsh terrain. Lead single "Flatline" races with synth embellishments whose reverberations slip in and out of time with the song's plodding beat. Arrangements flit between indie rock, synthpop, and downcast balladry, as on the New Wave bop "Magic," or "Pipe Dreams," which opens as soulful robot funk and closes out with a tasteful backing choir and organ solo. The Ride's distaste for boundaries is brash, if not exactly new. It's worth noting that among the Explosions in the Sky and Swans gigs that pepper John Congleton's formidable studio résumé sit four of the last five St. Vincent albums. Once you spy a trace of Annie Clark's mutant-pop designs on "Right Road" and "Paris Sun," it's hard to shake the notion that The Ride is a careful indie-pop genre exercise, another calculated gear shift in a career built on them, but there's ultimately much more to love than to loathe.
Familiarity breeds contempt, and the whim of American fans and critics errs more frequently on the side of fresh, untapped cool than records like The Ride and Automaton, where artists in their 30s and 40s warm us to voices we've known for years. Consistency is getting pushed aside with complacency as a mark of timid artistry. Simply playing up your strengths while minding your shortcomings isn't enough anymore. Look no further than Katy Perry and Lana del Rey soldering a moral compass onto their trademark hedonism for proof that the bar has been raised. That sucks because not everyone can pull off the wild artistic left turns of the biggest album statements of the last few years. Not everyone ought to have to. Are we in the twilight of the low stakes, feel-good pop album? If so, it's a damn shame to see 'em go.