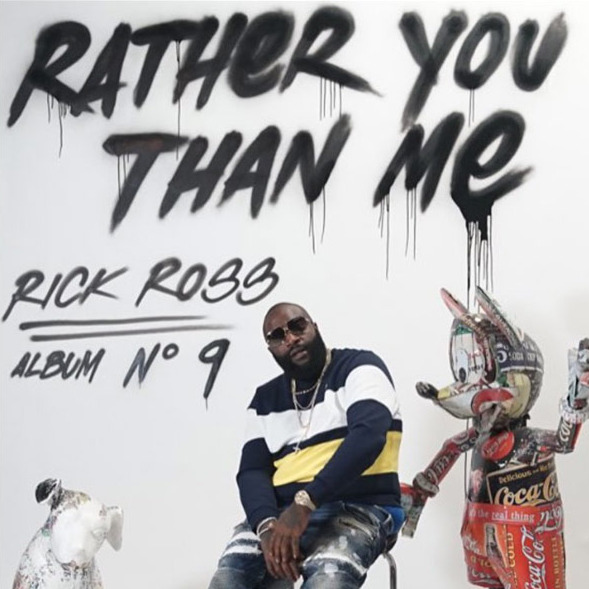 Since their mid-2000s debut albums, Port of Miami and M.I.A.M.I. (Money Is a Major Issue), Rick Ross and Pitbull have ridden rap skills, business smarts, and massive charisma from local renown to worldwide celebrity, and grown to become the yin and yang of contemporary Florida commercial rap. On record, Ross is the eagle-eyed kingpin, Tony Montana in act two of Scarface, when everything he touches turns to money and blow. Pitbull, for his part, has played the role of international lover; his music is designed to make you feel like royalty on a dance floor, anathema to jealous onlookers. Both artists empower listeners by embodying the extravagant happy endings we envision on the other side of our everyday hustles, although the means to each rapper's end appear diametrically opposed.
Pitbull's club anthems and Rick Ross's trap stompers seem a world apart in 2017, but the two didn't always work such different circuits. Pitbull's early albums throb with the sounds and cadences of Southern rap, thanks to the support of Miami bass pioneer Luther Campbell and the collaboration of Atlanta crunk architect Lil Jon, who gifted M.I.A.M.I. beats as coolly unruly as Pit's cocky, unpolished delivery. The true gamble of M.I.A.M.I. and its follow-up El Mariel, though, was the Cuban rapper's placement of reggaeton songs next to the R&B and crunk ones and nimble shifts from English lyrics to Spanish ones. What seemed like dueling interests united audiences, and following the one-two punch of the platinum dance hits "I Know You Want Me (Calle Ocho)" and "Hotel Room Service," Pitbull veered into EDM and never looked back. Album titles — Planet Pit, Global Warming, Globalization — indicated the expanding scope of the rapper's aspirations. The smart-mouthed, drug-dealing Mr. 305 had suddenly evolved into the smirking, white-suited Mr. Worldwide.
Rick Ross broke through stranger pivots. His first two albums albums topped charts immediately, but the singles were hit or miss. Away from home, Ross was a star that didn't feel large, in spite of his booming voice and portly figure. Placements on Miami sensation DJ Khaled's platinum posse cuts "We Takin' Over" and "I'm So Hood" kept Ross in Top 40 rotation when his own cuts lacked legs. In 2009, a grueling war of words with 50 Cent exposed Ross's secret past work in corrections to the world, a blow that ought to have ended a career in coke rap. But in the face of public ridicule, Rick Ross did something absurd: He stopped explaining himself and got right back to the drug raps like nothing had ever happened. He talked meaner, brasher shit and called on the producers making the finest, most brutalist Southern trap, and his lie became his truth. In two years time, 50 Cent's "Officer Ricky" became Ricky Rozay, A-list mafioso rapper and founder of the formidable Maybach Music Group collective.
Today, nearly a decade after breaking through commercially, Rick Ross and Pitbull both release new albums with hopes of keeping interest up a few records after each artist's peak. Ross's Rather You Than Me and Pitbull's Climate Change find both rappers scaling a craft down to its signature components, because albums nine and ten aren't the ones where you run ragged reinventing yourself. For Ross, this means plush production and tight rhymes about the life of a mogul, à la his 2008 opus Deeper Than Rap. Pitbull advances with his plot to woo every demographic on the planet and serves up a platter of huge team-ups that feels market researched half to death but still inexplicably fun.
Climate Change's track list tells you most of what you need to know. Old pals Jennifer Lopez and Enrique Iglesias are there for support. Ty Dolla $ign, Jason Derulo, R. Kelly, and Robin Thicke amp up the R&B bona fides. Flo Rida shows up for the surefire pop-rap meteor "Greenlight." Blink-182's Travis Barker and Aerosmith's Joe Perry appear for the rock kids. Fans in the Caribbean get the underrated Marley kid, Stephen. Kiesza pops up for the glow-stick gang. Things get even hairier when you press play. The Enrique spot "Messin' Around" is woeful EDM-country. Robin Thicke, Travis Barker, and Joe Perry sound like INXS reborn on the ebullient "Bad Man."
Rather You Than Me has its fair share of guests, but Rick Ross doesn't offer them up as collateral for potential radio play, as Climate Change often does, so much as call on peers' specific talents to augment and offset his own. "Maybach Music V" cedes considerable ground to rising Detroit rapper DeJ Loaf, where previous installments in the series sprung for A-list cosigns, and reflective album opener "Apple of My Eye" relies on R&B legend Raphael Saadiq as its anchor where earlier albums would've gone with something faster and ruder. Rather You centers Rick Ross as its star where predecessors God Forgives, I Don't, and Mastermind belonged to whichever guests showed up with the most killer bars. It's a shock to hear Ross go toe to toe with Young Thug in full maniac mode on Rather You's "Trap Trap Trap" and stand his ground.
"Trap Trap Trap" is an outlier on Rather You Than Me, which is, itself, something of an outlier in Ross's discography. Post–Teflon Don, Rick Ross developed the industry's finest ear for beats that rattle and boom like freight engines, but there isn't much of the sort to be found here. The rage is in the words, and a good bit of it is trained at Cash Money Records head Birdman. Spats between Birdman and Lil Wayne, Birdman and DJ Khaled, and Drake and MMG's Meek Mill have soured Ross on his old friend, so Rather You Than Me's grizzled kingpin stories are riddled with shots at a fellow entrepreneur Ross believes is handling business wrong. This outrage crystallizes into the full-on diss track "Idols Become Rivals," a damning trip back through three generations of Cash Money financial squabbles, although elsewhere, Ross works hard at making this batch of gooey beats and pained reflections feel light and succeeds, especially on cuts like "Santorini Greece," where he speaks of his darker days like necessary steps toward the present bounty.
Lightheartedness is supposed to come naturally to Pitbull, but Climate Change's party feels labored in spots and too reliant on obvious hooks from older hits. "Freedom" reimagines the Rolling Stones' "I'm Free" as '80s Eurohouse. The Kiesza cut "We Are Strong" is a trop-house cover of Pat Benatar's "Love Is a Battlefield." J.Lo's guest spot on "Sexy Body" cannibalizes Swedish pop star Zara Larsson's "I Would Like" the very same day Larsson's own album So Good comes out. Now, deconstruction and recycling are cornerstones of dance music, and hip-hop as well, but Climate Change makes corny, capitalist business of it. The ones where Pitbull's just happily bouncing lines off guests and calling out orders for shots in the club are leagues more engaging, anyway. When it's not second guessing itself, this album can be a riot.
Climate Change lays out the spoils of Pitbull's trek "from selling perico and reefer / to New Year's Eve with Snoop and Latifah," but sometimes it feels like he made some wrong moves. He still enjoys success here and overseas — "Greenlight" is charting in about half a dozen countries and will serve as theme music for next month's Wrestlemania XXXIII — but he continues to make grating creative choices to stay relevant, lagging behind the current trends when he ought to at least be perched on top of them. Rick Ross, however, eased off of chasing trends after the frosty reception for the star-studded Mastermind and receded into the business of playing around in the lavish yacht-rap world he invented for itself. Rather You Than Me is his best work in years and proof rap careers don't have to start with a bang and die in a whisper.
There are two ways to age in hip-hop. Either you keep hitching your trailer to the fastest thing moving until the wheels give out underneath you, or you stop rolling and set up a place to call home. Either you chase the radio or you lure the listeners to you. Pitbull has always done the former, while Rick Ross favors the latter. There's no right or wrong way to navigate a career in placating finicky rap fans' whims, but ultimately Climate Change suffers under its paucity of new ideas, while Rather You Than Me cleverly presents artistic conservatism as its calling card, and makes Ross's younger Miami contemporary look the out-of-touch elder for trying too hard.