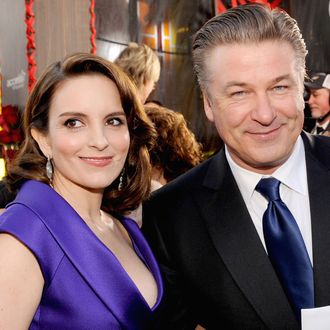 Can you blame him?
Photo: Kevork Djansezian/Getty Images
In a new Vanity Fair cover story, Alec Baldwin has shared an extended excerpt from his upcoming memoir, in which he reveals his thoughts on the heroes and villains of New York City. We don't have to tell you who he names the biggest villain ("In New York, his hometown and base of operations, Trump is endured, at best," Baldwin says of the role that's reignited his fame), and you can probably also guess who he's always found to be the city's reliable antidote to that poison: Tina Fey. Baldwin, of course, first met Fey on the set of SNL, where she was the head writer; Baldwin was that week's host. Upon their introduction, he behaved as any reasonable person with good taste in humans would: like a smitten teen. "When I first met Tina Fey — beautiful and brunette, smart and funny, by turns smug and diffident and completely uninterested in me or anything I had to say — I had the same reaction that I'm sure many men and women have: I fell in love," he writes.
So, naturally, despite all hints that she wasn't into him, he had to find out if Fey was available. (Though little did he know just how much she did want him, but only for 30 Rock.) Baldwin recalls: "When Lorne finished giving his notes after the dress rehearsal, I asked Marci Klein, who coordinated the talent, if Tina was single. She pointed to a man sitting along the wall. Or maybe he was standing? This was Jeff Richmond, Tina's husband." At first, Baldwin wondered what Fey saw in him, but he soon came to realize while working with them both on 30 Rock (Richmond was the composer and music supervisor) that Richmond fit perfectly in Fey's league and complemented her where Baldwin just simply could never. So like Liz and Jack, the spark Baldwin felt for Fey at first sight will forever remain fizzled out.