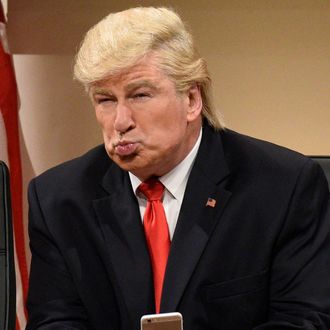 Laugh it up while you still can: According to Alec Baldwin, the Alec Baldwin impersonation of Donald Trump is not a forever gig. Speaking to Mario Lopez on Extra, Baldwin tore into President Trump, declaring that the leader "overwhelmingly lacks any kind of sportsmanship" and that "the maliciousness of this White House has people very worried." Because of people's anxiety, Baldwin told Lopez, "That's why I'm not going to do it much longer, the impersonation. I don't [know] how much more people can take it."
Watch a supercut of Baldwin's best moments doing Trump here:
Baldwin, who was on the show to promote his movie Boss Baby (no, that's not a nickname for the 45th president), also addressed the rumors that he might play Trump at the White House Correspondents' Dinner. "I don't think that's going to happen," Baldwin said, adding that he thought that the planners had another idea in mind for handling the president's absence during the occasion. "If they wanted me to do it I'd probably do it, but I'm not sure they do," the actor said. Sounds like it's your move, correspondents.
Watch the interview here.