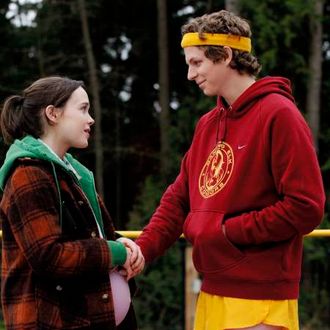 Ellen Page (Juno) and Michael Cera (Paulie) in Juno.
Photo: Fox Searchlight
Get excited, homeskillets. Jason Reitman is resurrecting his dormant live-reads series in honor of the #resistance, and he's starting out with a bang (and its consequences): an all-female live read of his 2007 film, Juno (which was written by Diablo Cody). As Entertainment Weekly reports, the event will reunite Juno co-stars Ellen Page and Jennifer Garner in their original roles; however, the remaining roles, male and female alike, will be filled by actresses to be announced. The all-female angle is a hat-tip to Planned Parenthood, which is where ticket-sale proceeds are headed in this case. Conveniently, this need to fight back against governmental ills coincides with the tenth anniversary of Reitman's film; there will be some Juno memorabilia for sale, too, with proceeds also going to PP. If you're planning to be in Los Angeles on April 8, get thee to a ticketry. And keep watching Reitman's Twitter for casting announcements — personally, we're excited about "female Michael Cera" and "female Jason Bateman," especially.