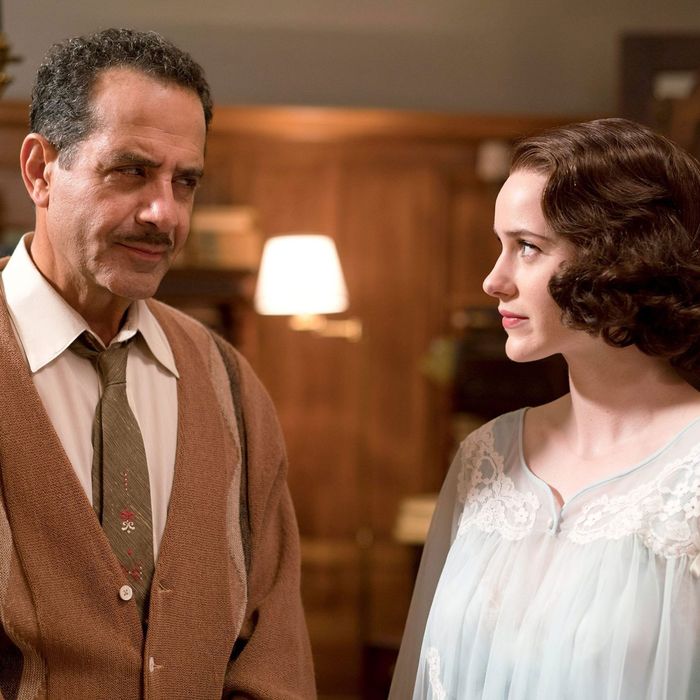 Tony Shalhoub and Rachel Brosnahan.
Photo: Sarah Shatz/Amazon
Amazon released its latest batch of TV pilots on Friday, and in keeping with this still relatively young streaming TV tradition, viewers can now weigh in to help choose which episodes will merit a full season. Don't forget to vote!
Of course, not every pilot will be a winner. To help separate the great and good from the utterly forgettable, here's my breakdown of all five potential shows, from strongest to weakest.
The Marvelous Mrs. Maisel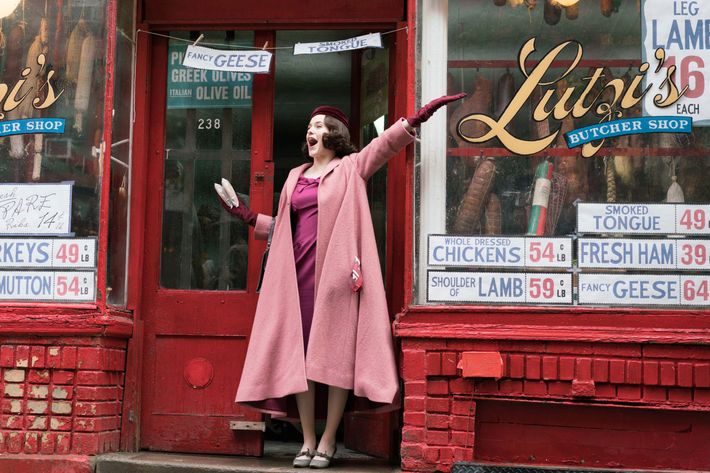 This hour-long dramedy from Amy Sherman-Palladino and Daniel Palladino, the husband-and-wife duo responsible for Gilmore Girls, has the strongest chance of getting picked up for a full season. That's partly because Amazon would seem foolish for not getting into the Sherman-Palladino business at a moment when Netflix is apparently building on its relationship with them, and also because this first episode, though problematic in spots, shows a lot of promise. Of Amazon's five spring pilots, this is the one that most obviously cries out for additional episodes.
Mrs. Maisel — the story of a late '50s, Upper West Side housewife who supports her husband's stand-up comedy hobby, then thrusts herself into the laugh-getting business — shares some things in common with Gilmore Girls. Like Lorelai Gilmore, Midge Maisel, played winningly by Rachel Brosnahan (House of Cards), comes from privilege and maintains a close relationship with her conservative, wealthy, and judgmental parents, played by Tony Shalhoub and Marin Hinkle. Like Lorelai and Rory, Midge can also be judgmental and a bit callous in a way that's intended to be charming but doesn't always land. (While reminiscing about her time at Bryn Mawr, she mentions that her freshman year roommate was "friendly and fat," a benefit because it meant Midge had "someone to eat with who won't steal my boyfriends." Oy.)
The pilot gets more interesting in its second half. The cracks in its protagonist's facade are revealed, and Sherman-Palladino, who wrote and directed the episode, begins to lay the groundwork for a potential season-long bird-flipping at the sexist conventions of the era. Brosnahan is great, and so is Alex Borstein (a veteran of the Sherman-Palladino universe from Gilmore Girls to Bunheads), as the comedy-club manager who spots potential in this mother with a smart mouth. Basically, this is Gilmore Girls Revolt, with a dash of Crashing.
The Legend of Master Legend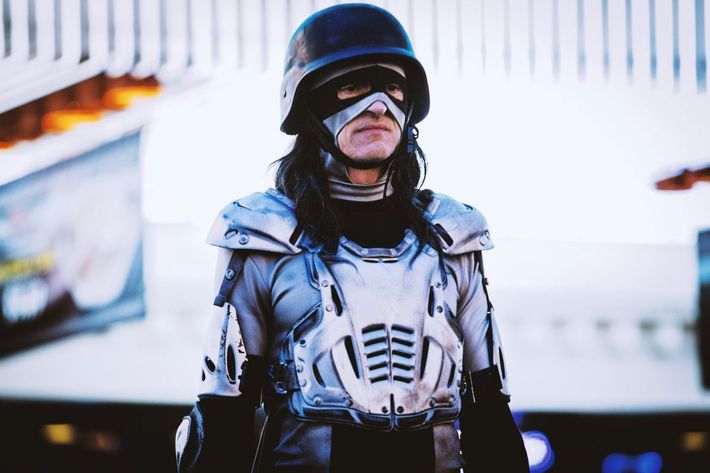 This half-hour pilot casts the always superb John Hawkes (Winter's Bone, Eastbound & Down) as Frank Lafount, a father and handyman who's estranged from his wife (Dawnn Lewis) and daughter (engaging newcomer Anjelika Washington), largely because he spends his nights assuming the identity of Master Legend, a self-proclaimed superhero who fights crime on the Vegas strip.
Based on a Rolling Stone story about a vigilante justice-seeker and executive produced and written by Transparent's Micah Fitzerman-Blue and Noah Harpster, this is, yes, yet another superhero series. But it's one that's also distinguished by its indie sensibility — James Ponsoldt (The Spectacular Now, The End of the Tour, and the forthcoming The Circle) directed the pilot, which favors relationship dynamics over fight sequences and ultraflashy visuals. It's also a perfect vehicle for Hawkes, whose wiry frame and gentle insanity is perfectly dressed in DIY body armor. Amazon: Pick this up, please.
Oasis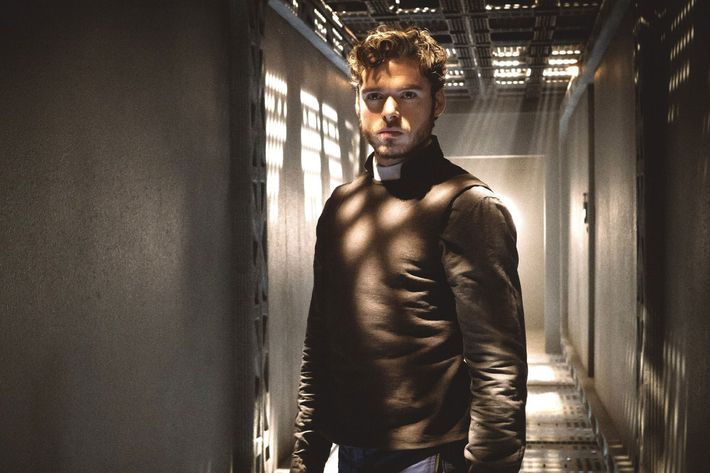 The second hour-long entry in this Amazon pilot season, Oasis is an outer space mystery that puts Richard Madden, a.k.a. Robb Stark from Game of Thrones, in yet another situation in which people around him are dropping like flies. This time, there's no Red Wedding. Instead, Madden's character must investigate unexplained mind-control phenomena within a colony that humans are attempting to establish on another planet, circa 2032.
The cast is strong: In addition to Madden, who plays the colony's chaplain, Oasis' ensemble includes Anil Kapoor, Haley Joel-Osment, and Mark Addy, another Game of Thrones alum. As directed by The Last King of Scotland's Kevin MacDonald, the pilot also has a polished visual aesthetic and serious tone that smacks of green-light-ready prestige sci-fi drama. The problem is that it's a little too serious and slow to get going, and its setting may feel overly familiar, especially to anyone who saw Neill Blomkamp's Elysium. Bottom line: I need to see more episodes to issue a final verdict. There's a decent chance that other viewers and the team at Amazon will feel the same way and give this one a go.
Budding Prospects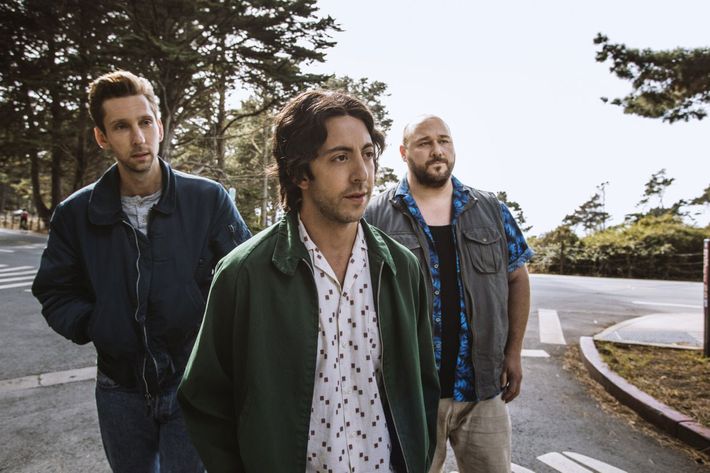 An adaptation of T.C. Boyle's second novel, Budding Prospects focuses on three San Francisco slackers in 1983 who get the opportunity to work on a colony of a much different sort: a marijuana-growing operation located well outside city limits.
It's particularly hard to gauge the potential of this pilot, directed and produced by Terry Zwigoff, because it's steeped so deeply in setup. Within this initial half-hour, our main characters — played by Adam Rose, Joel David Moore, and Will Sasso — don't even get to the location where they're supposed to set up pot shop. Tonally, it leans toward comedy, although I don't think I laughed once. (I did snicker ruefully when Moore's character, reading a 1983 newspaper, says, "Those Republican slime bags are defunding the NEA.") Budding Prospects feels like a tryout that, like its aimless characters, is still trying to figure out what it's doing. Still, I'd watch a few more episodes to see if develops a greater sense of purpose.
The New V.I.P.s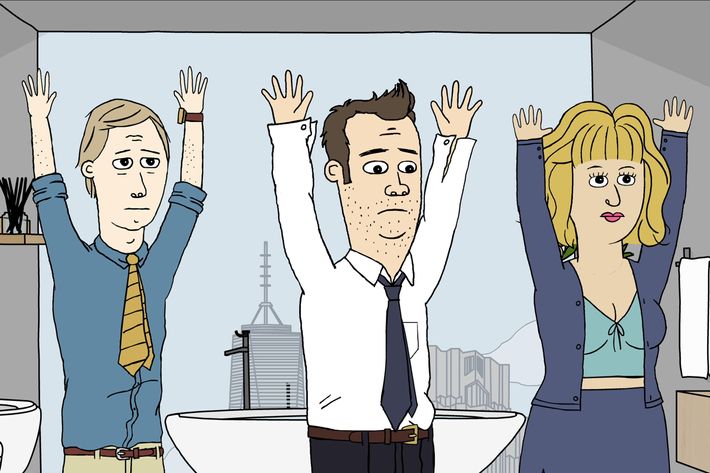 If you counted yourself a fan of HBO's The Life and Times of Tim, you'll probably enjoy The New V.I.P.s, created by Tim mastermind Steve Dildarian. Full disclosure: I was not a fan.
Animated in a similarly blunt, primitive style, The New V.I.P.s is about three office workers and a security guard who get involved in an elaborate cover-up scheme after their company's CEO drops dead under compromising circumstances. The comedy aims for the supposedly edgy; within the first ten minutes, I lost track of the number of dick jokes and references to pee. The caliber of the voice talent — Ben Schwartz, Missi Pyle, Kerri Kenney-Silver — is top-notch, so I can imagine it getting a full series order. But as a single episode, this pilot proves there's a fine line between tasteless fun and just plain tasteless.