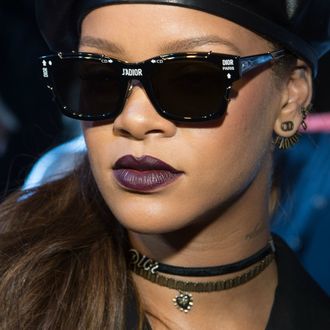 Rihanna.
Photo: Stephane Cardinale-Corbis/Getty Images
Variety reports that Amazon Studios has purchased the U.S. and Canadian distribution rights to Annette, a musical drama from Holy Motors director Leos Carax with music from the band Sparks, who also wrote the screenplay. Adam Driver and Rihanna are allegedly set to star, though the departure of Rooney Mara reportedly has producers on the hunt for another female lead. Apparently the film focuses on "a widowed stand-up comedian" who, after the death of his opera-singer wife, discovers his toddler daughter "has a surprising gift." Unless the surprising gift is she's secretly Muppet Baby Rihanna, we're pretty sure you need to see this movie. If she is Muppet Baby Rihanna, then you definitely need to see it.

Update: As Pitchfork reports, Rihanna won't star in Annette after all.