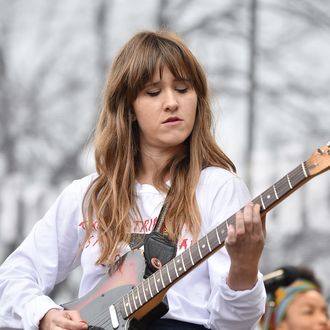 Amber Coffman
Photo: Theo Wargo/Getty Images
While Amber Coffman prepares to release her first solo album, the former Dirty Projectors member also faces the aftermath of the release of her ex Dave Longstreth's breakup album – which he made under the Dirty Projectors moniker and titled Dirty Projectors – that is intensely blunt about their relationship's end. Previously, Longstreth and Coffman worked together on her solo album after their relationship had ended and during a time when they were on friendly terms — terms Longstreth admitted to Vulture that were not maintained after the music was recorded. Now, Coffman has spoken up about the aspects of her private life that have gone public in her ex's music and released a statement about her departure from the group to Stereogum.
"Dave and I indeed broke up in the summer of 2012, after a 6 year relationship," Coffman wrote. "After a long tumultuous period, we managed to patch things up enough to leave the future open, and in 2014 we gave working together on my music a test run. Eventually I brought him on in a greater capacity as a producer." Though Coffman explained that the friendship took "an unfortunate downturn" after her album was recorded, she still expressed shock at how things turned out:
It was never my intention or wish to leave the band or end my friendship with Dave. It was a surprise to me to learn last September about his album plans, the content, timing, use of the band name, etc… I consider it a loss to no longer be involved with Dirty Projectors, but ultimately walking away was the only healthy choice for me.