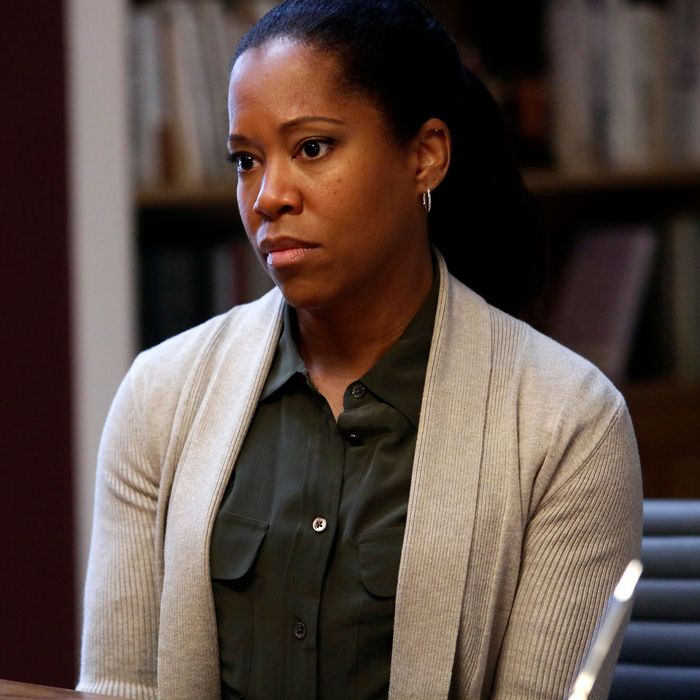 Regina King.
Photo: Nicole Wilder/ABC
The best show on network television returned tonight with an ambitious season premiere, introducing us to an entirely new cast of characters for the third season of American Crime, with a few familiar faces playing them, along with some talented new additions to the ensemble. Season three of American Crime will deal with one of the most controversial issues of our current administration — immigration — and it will tackle it from several angles, including the men who come to form the labor force in many parts of the country, what that does to the economy, and how farms that don't use cheap labor fail when the competition undercuts their prices. The premiere is an engaging, detailed setup act, reminding you how smart and nuanced this show can be. Most of the characters and subplots have not yet intertwined, so let's break them out individually for the sake of coherency, likely just for the premiere.
LUIS SALAZAR
The first man we meet this season is Luis Salazar (Benito Martinez), and we meet him on the journey many immigrants have taken in their lives, coming from his country to the United States. He crosses a barren desert with other immigrants, crouches through a hole in the wall, and meets with a man trying to get him work. While he's encouraged to go to California or Florida, he insists on going to North Carolina. Why? He doesn't say that he knows anyone there, but he clearly has a specific place and possibly even person in mind as he agrees to pay more for the unique request. Later in the episode, Luis is working an immigrant labor job when he's told that his handler will keep some of his pay for lodging, expenses, and what it cost to get him here. This is essentially indentured servitude — a man forced to work for passage to another country, and then his basic human needs. It's a dynamic of the immigrant labor situation that I'm sure the program will continue to investigate this season.
COY HENSON
Connor Jessup, so fantastic and heartbreaking as Taylor last season, returns this year as Coy Henson, a homeless teenager willing to walk an hour in the sun to get a few cheap prescription drugs. When an employee of Hesby Farms named Isaac Castillo (Richard Cabral, from both previous seasons of the show) sees him walking, he lures him in to join the immigrant workforce with a cold beer and the promise of $200 a day. That's if he can pick enough tomatoes. Why do I think Isaac is exaggerating? Already, the writers of American Crime are drawing fascinating parallels between Coy's subplot and that of two young prostitutes we also meet in the first hour. Those sex workers were also lured by the promise of easy money for physical labor, and they, too, were forced to work through a handler or pimp to get their cash. The idea that the off-the-books workers of this country on farms and in other manual labor jobs are being handled not unlike hookers is a dramatically and thematically rich one that should be fascinating to explore.
SHAE REESE AND KIMARA WALTERS
The aforementioned prostitute is a young lady named Shae Reese (Ana Mulvoy Ten), whom we're introduced to in a few heartbreaking scenes, and will clearly be a major voice this season. We first meet Shae getting free makeup at a department-store counter, harassed by a brutish man who is obviously controlling her and who we learn is her pimp. Meeting her john later that night, the older businessman makes her wipe the makeup off and seems happy that she's "18" (in quotes because she's probably not). Later in the episode, Shae tries to convince another young lady to join her in the oldest profession in the world, but the episode ends with Shae on the wrong side of the law, arrested when one of her paid encounters is busted by the cops. At the end of the episode, she finds herself across the desk from Kimara Walters (Regina King, Emmy winner for the last two seasons), whom we met earlier in the episode trying to get help for a young male prostitute named Ishmael. Walters, who is trying but failing to get pregnant herself, appears to be one of those rare people who lives to help others, trying to get young people off the street.
THE HESBYS
Finally, in this world of prostitution and immigrant labor, we also meet the owners of the family-run Hesby Farms. There's Laurie Ann Hesby (Cherry Jones), forced to take control of the business after her husband falls ill. There's Laurie Ann's sons JD (Tim DeKay) and Carson (Dallas Roberts), and there's Carson's wife, Jeanette (Felicity Huffman). Hesby Farms is being pushed out of their industry by competitors willing to undercut their prices, and so they're forced to turn to cheaper and cheaper labor. Meanwhile, Jeanette's sister Raelyn (Janel Moloney) is struggling after her husband left her. Jeanette wants her to work for the farm again, but bad behavior from her past — she once stole from the Hesbys — makes that unlikely.
How will these narratives intertwine? Does Luis have a connection to the history of Hesby Farms? Will Shae take the helping hand being extended by Kimara? And how will that prostitution narrative tie in with the Hesbys? Perhaps most mysteriously, whose body is floating in the water in the first shot of the season when we hear a voice call 911 and say, "Es un muerto"?
Other Notes:
• As great as it is to see the returning faces of people like Huffman and King this season, it's almost more exciting to see whom they've brought in, including the Emmy- and Tony-winning Cherry Jones, Sandra Oh, and the great Tim DeKay and Dallas Roberts. This has always been one of the most well-cast shows on TV, and it's not surprising that more and more quality actors want to work on it.
• I'm reminded that Regina King is one of the best actresses alive when it comes to doing a lot with very little. In only a few scenes, Kimara Walters already feels like a fully realized, three-dimensional character.
• American Crime could be the first major drama to really address the issues of Trump's America. While much of it was likely written and filmed before the election, it was certainly being developed during the campaign, when building a wall along the Mexican border became a talking point.
• John Ridley's scripts don't get enough credit. The dialogue here feels both natural and purposeful — illustrating character while also driving the plot and themes forward. The ensemble is great, but television is a writer's medium, and it's the writing that makes this show so powerful. And it's why I can't wait to see where it goes.