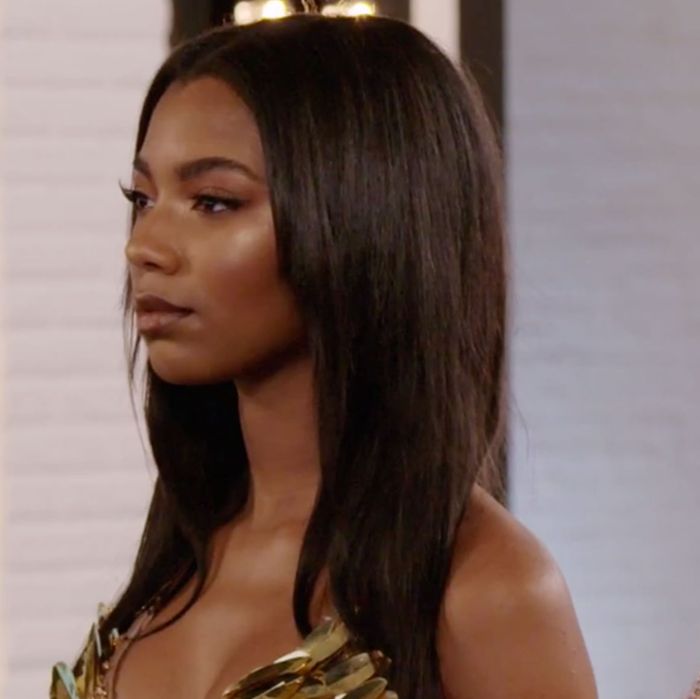 Just one visit from Mother of Models Tyra Banks is all it takes for this finale to feel like the most classic of America's Next Top Model episodes. There's tension, there's sparkle, there's a runway, and, of course, there's the age-old refrain: "They both have what the other one needs."
In in the end, it comes down to Tatiana and India — and folks, we've got ourselves a classic ANTM showdown between commercial and editorial, personality and photo, boss and beauty. All along, the judges have been saying they're looking for someone who embodies "business, brand, boss," but what happens on a show called America's Next Top Model when one of the final two embodies those things, but the other is just a flat-out better model? I'll give you a hint: It's not called America's Next Top Business Brand Boss (… at least not yet).
Heading into the finale, India, Tatiana, and CoryAnne have only one photo shoot for Paper magazine and walking in a fashion show for the Blonds standing between them and the coronation of cycle 23's winner. We jump right into it, too; there's no time for house drama or bathroom breakdowns or challenge prizes. This finale's narrative is a simple one of personal growth: CoryAnne feels more confident, Tatiana thinks she has the potential to build the empire the judges are looking for, and India has gone from blending into the background to standing out in every single shoot.
These final three really do seem like models now, and they're total professionals in the shoot for their Paper spread with Charlotte Rutherford. As a photographer, Charlotte seems really fun and communicative, and were I ever to shoot a six-page spread with the concept "being a boss, but having fun with it," I would want her behind the camera. Drew says Tatiana gives them amazing body shots, but she's looking a little less editorial in the face. CoryAnne gets positive feedback about her unusually edgy poses. India starts the day off strong, but as the shoot wears on, Drew says she starts to fizzle.
Everyone does reasonably well, so the next and final opportunity to separate the models from the top models is at the runway show. It occurs to me that this season has not put much emphasis on runway challenges. Are we to believe that in this age of branding and moguls that Snapchat has actually replaced runway modeling? Or did the ANTM producers know that too many runway challenges would make the Miss J-sized hole in this VH1 reboot too obvious? Hopefully it's the latter, because runway is still hugely important in all levels of modeling, but luckily, cycle 23 managed to end up with three pretty strong walkers on its hands.
The final fashion show consists of three runways, video projections, and choreographed lights, two outfit changes, and a live performance by Tinashe in the middle. The Blonds tenth-anniversary collection is half golden eagle warrior princess, half ethereal flower rock star, and other than the part in the middle where Tatiana, India, and CoryAnne have to stand in awkward lines around Tinashe, they all kill it. There are dramatic poses at the top of the runway, fierce looks at the end, and a few sassy nods to the judges cheering them loudly from the front row.
With that, and following a few pep talks from former contestants and congratulations from the judges, it's time for the final panel — and what a final panel it is. First, the judges review each model's best shot from the Paper shoot to instantly eliminate one model, bringing us down to the final two competing for $100,000, a fashion spread with Paper, a commercial for Rimmel London, and a one-year talent deal with VH1.
All three look incredible in sexy sparkling dresses from the Blonds, and Tatiana is up first. She's at a slight advantage with this final shoot because the neon-bright office setting is perfect for her entrepreneurial personal branding. Though she's taken many a tough comment for being too commercial, Ashley thinks she's all editorial here, and Law, her harshest critic all season, says he can see her in the pages of Paper. India's review is slightly more mixed, in that Rita thinks it shows off the mysteriousness she has that can't be taught, but Law thinks that mysteriousness is her downfall. Drew agrees that she might have the strongest personal presence, but she always blows him away, and because of that, she's a superstar.
Unfortunately, it's CoryAnne who takes the fall. Even though her Paper shoot is one of her best from the competition, Law says he simply can't see her on the cover, so she's sent home before the final round of judging. And that is when things get really juicy.
Tatiana and India both get nothing but positive feedback about their runway work because, let's face it, at the end of the competition and with a runway that didn't involve a single giant, swinging pendulum, this was never going to determine the winner of cycle 23. It all comes down to their body of work, and as the judges deliberate over Tatiana's superstar personality and presence versus India's superstar face and ability to take an amazing picture … Tyra Banks shows up. I don't know if it was just some top-notch acting, but even the judges seemed surprised that she was there. But you know what isn't a surprise? That Tyra immediately pulls up a seat right in the middle of the table and begins conducting the show.
Thank goodness she is there. With Tyra present, a feeling that the right decision would be made suddenly washed over me, even though I still didn't know what the right decision was until the judges made their choice. Tyra proposes the type of wise hypothetical that could only come from someone with 22 cycles of experience in facing amateur models against each other in a battle of beauty and music video prowess. To Law, she asks who he thought he could style and make other people want to buy the clothes she was wearing; to Drew, she asks who he thinks his competitors would want to book; to Ashley, which of these girls could really put the word super in front of model nine months from now; and to a particularly confused-looking Rita, "Who do you think is more than just a model?"
After a quick Jenner comparison — Tatiana is like mogul Kylie, India is like high-fashion Kendall — Tyra leaves us. She doesn't make a final decision, but instead offers this koan: "Do you choose the one that is a model-model and then put a machine behind her to make her work? Or do you choose the one that is the brand, business, boss, and put a machine behind her to make her … werk." Y'all, it is just so good to see Tyra again.
Then it's back to the four judges who must now make the all-important decision about these young women. It gets a little heated! Ashley is all-in on Tatiana — she says her own personality is what's made her a supermodel — while Drew is clearly rooting for India, saying if he could restyle her and work on her social-media presence, he could make her a star. Law says he could do the same with Tatiana if he took her to Fashion Week and simply got her in front of the paparazzi. Drew pops back, "You can sell lotion and I will sell a brand."
Before things turned up so much, Law said something that kept ringing in my head throughout these deliberations: "I was always told never to fall in love with someone's potential." It could be said about either girl, but in the end, the judges awarded India five wins throughout the competition, whereas Tati only got one. Tatiana and her drive to build a brand will still benefit from running the ANTM gauntlet, but it's India whose true brand is "MODEL," and it's that undeniable face that earns her the cycle 23 title of America's Next Top Model. And she did it all with purple hair!