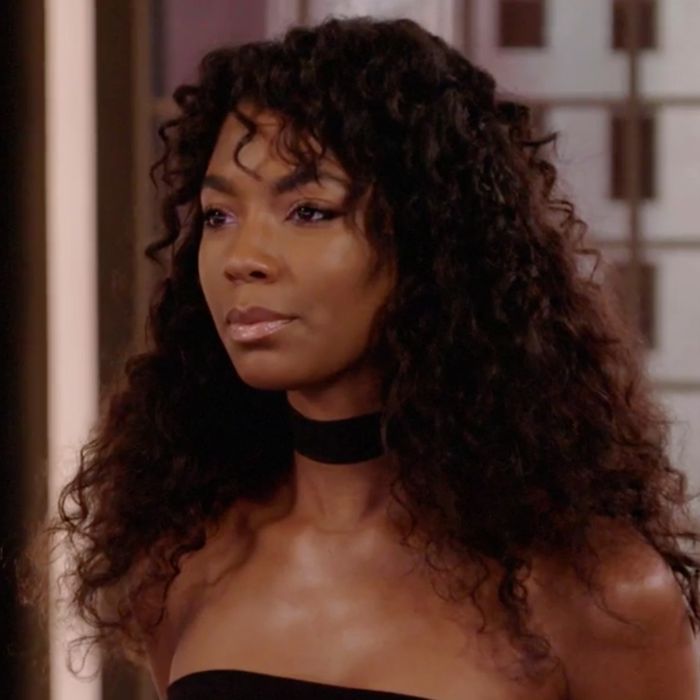 It's finally time to get down to the real model business! Sure, models sometimes appear in music videos, and sure, they might have to put makeup all over their faces and act crazy, but you know what models really have to do? Do you know what they really want to do? Beauty campaigns. That's where the big bucks are.
Gone are the ANTM days of models trying to nail "easy and breezy" while saying, "Easy, breezy, beautiful: CoverGirl!" against a jewel-tone background while tilting their head with each word. But "Get the London look" is pretty catchy, too, and the commercial the girls shoot actually seems like it could end up on television … or at least like something you have to watch for five seconds on YouTube before enjoying "Best 2015 Vines About Cats, Pt. 1."
That's because, unlike shooting a "cover" for Paper magazine that is definitely not going to be the cover of Paper magazine, or shooting a music video with French Montana that's not actually for French Montana, shooting a campaign for Rimmel London that will really be used as a campaign for Rimmel London is a pretty big deal for any up-and-coming model. It's very possible that Rimmel is the entire reason why I know who Rita Ora is — possible, but not entirely clear, because I still don't know how I know who Rita Ora is, just that I know every single thing about her, and I can no longer see the VH1 logo without hearing her say "V-hech-1."
Of course, Rimmel isn't just looking for a model out of their contractually obligated ANTM winner. They're looking for a brand ambassador, so this week's challenge is all about knowing the Rimmel product. The final four are given materials to study up on beforehand, and at the challenge, they're introduced to makeup artist Kathy Jeung. As a brand ambassador, Rita explains, you should be able to both talk about your products and know how to use them. The models are tasked with doing each other's makeup while telling Rita and Kathy what products they're using and why.
That's a pretty hard challenge. Something tells me that Rimmel Brand Ambassador Rita Ora has never had to do someone else's makeup while talking about it like she's a very hot medical sales rep. Rita says it's not about the models being great makeup artists, though — it's about showing off their attitude and knowledge of the products. India is a bundle of nerves trying to get all the details right; Tatiana isn't nervous at all, but ultimately she's a little too cool-as-a-cucumber and doesn't show off any personality; Courtney starts off well, but then gets caught up on a question about some lip liner and implies that it (gasp) is not long-lasting; and CoryAnne, somewhat surprisingly, is the perfect combination of humor and engagement while, y'know, giving the London Look.
Her prize is a boatload of makeup, and a surprise that she and her chosen prize partner, India, won't find out until later. When they got a RitAlert that night announcing the surprise had arrived, and CoryAnne got to the door only to have her eyes go huge in true shock — well, it suddenly clicked for me, and I was crying before CoryAnne and India's mothers even walked through the door. Surprise family visits are perhaps my favorite reality television trope, and ANTM did an excellent job weaving CoryAnne's complicated but very sweet relationship with her former-supermodel mother into the episode prior to her arrival. Both moms give different but equally inspiring pep talks, and you have to assume that kind of extra motivation is quite the advantage this far into the competition.
For their long-awaited commercial shoot, the final four models must highlighting Rimmel's Scandalize mascara and eyeliner, the very products we've just seen advertised by Cara Delevingne during the commercial break, so … dream big, ladies. The commercial requires each model to shoot video inserts that show them applying the eye makeup in extreme close-up, as well as the commercial's central story where they get caught in the rain, retire to a very British phone booth to apply their waterproof Rimmel products, then reemerge emboldened enough to dance slow-motion in the downpour. Of course, the segment ends with that all-important phrase: "Get the London look." It's all pretty fun!
After being in the bottom two last week, Tatiana gets back in boss mode to impress the judges. Rita thought she looked approachable, friendly, and fun which is what Rimmel is supposedly all about, but Law is starting to wonder if Tatiana really has the face for modeling. Drew agrees that she's very commercial, but given that this is a commercial shoot, Tatiana gets through to the final three.
In the end, though, this is India's commercial through and through. She wears so many different looks so well, she's great in motion (especially in the rain and slowed down — who knew?!), and as Law says, "That face, motha.'" The judges are blown away by India's commercial: Ashley says India has the face for a cosmetic contract, and Law says he has no doubt that she'll be making model deals left and right once she graduates ANTM. She wins best photo again, so India is surely the model to beat in next week's final showdown.
That just leaves one open spot and two models left. CoryAnne has come a long way in showing off her personality along with her supermodel looks, and while her commercial is fun, she biffs it in the final seconds. She got the London look, but she couldn't say, "Get the London look," and Law tells her that not being able to pull it out in the commercial's most powerful moment is concerning. In contrast, CoryAnne's potential to be versatile earns her a ticket to the final round, pushing Courtney out of the competition once and for all. The judges tell Courtney she looks beautiful in her commercial, but the performance fell flat, and at this point, they're looking for more than just beauty.
So there you have it: Three "bosses" left, with only one runway and photo shoot standing between them and the crown in next week's finale. Even more important, we're getting an appearance by the ANTMotha' herself! WELCOME BACK, TYRA.