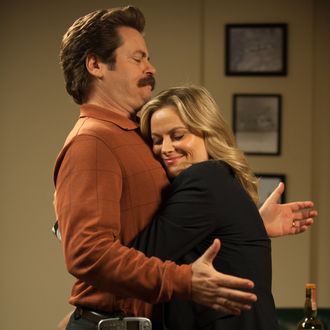 Commence the tomfoolery.
Photo: NBC/NBCU Photo Bank via Getty Images
No disrespect intended to Ya Heard? With Perd! or The Johnny Karate Super Awesome Musical Explosion Show, but we may have found the next best thing on non-regional television. Leslie Knope and Ron Swanson — er, sorry, Amy Poehler and Nick Offerman — will be hosting a new crafting competition series on NBC called The Handmade Project, which, per Deadline, "celebrates artisanship and the makers who can create amazing things" with their hands and tools. Six episodes have been ordered, with each episode following a format of eight contestants tackling different crafty themes and disciplines in the hopes of impressing their celebrity judges; it also promises the Zen-like and cheeky competitive tone most recently exhibited by The Great British Bake Off. Much like his Swansonian character, Offerman is quite the accomplished craftsman and owns a woodshop in L.A. Poehler is, however, more of an ethusiastic novice. "I'm looking forward to finally conquering my fear of papier-mâché," Poehler said in a statement, with Offerman adding, "Amy and I have a strong tradition of tomfoolery so let's see if we don't have some good fun." Challenge No. 1: A tasteful patchwork pillow bearing the face of Li'l Sebastian.